About This Project
As top level trophic members, seabirds are bioindicators for contaminants in the marine environment. Eating at the top of the food chain means that environmental contaminants, like metals, can be accumulated in their tissues, eventually causing both lethal and sub-lethal effects. By assessing the level of metal concentrations, we can begin to understand the health of the marine-associated birds of South Florida.
Ask the Scientists
Join The Discussion
What is the context of this research?
The wide diversity and feeding niches of marine-associated birds allow them to be successful in even an increasingly developed coastal marine environment. However, they still face significant threats from habitat loss, overfishing of prey items, and pollution (e.g., oil spills, street runoff, and discarded plastics).
South Florida is an important migratory stopping point for many species, but the region is also home to many resident and charismatic marine-associated bird species. We have developed working relationships with several local wildlife rescue centers over the past several years, such that unsuccessful recoveries of injured birds from these centers can be used for scientific purposes.
What is the significance of this project?
With growing concerns over climate change and pollution, it is important to establish long-term or comprehensive baseline data sets for ecosystems before major changes occur, such as oil spills. The levels of metals in the seabird species in the South Florida region have never been examined, despite the roles of some of them as apex predators. Through our years of sample collection for this complex of marine-associated birds, we can provide such a baseline for the region, as well as evaluating whether current levels of contaminants may be affecting local populations.

We also hope to evaluate both the feather and muscle tissue for these metals. Ideally, future evaluations of contaminants will be done non-lethally, such as with feathers.
What are the goals of the project?
The goals of this project are to assess the prevalence and levels of metal contaminants in seven species of marine-associated birds of South Florida, and to evaluate the use of non-lethal sampling methods (e.g., feathers) in these assessments.
If funding is received, we are hoping to add these same analyses for three new species in the wading bird complex. Samples have already been collected from these species, although they will need to be sub-sampled for analyses. The ability to include these species will make our study a much more comprehensive evaluation of the marine-associated birds of South Florida.
Budget
Analyses of a suite of metal contaminants (including mercury, nickel, lead, and copper) has been funded from another source for seven species of seabirds (including Osprey, Brown Pelicans, and Double-Crested Cormorants) that feed from inshore to pelagic environments. However, expanding this seven-species group to an additional three wading bird species (Green Herons, Great Blue Herons, and White Ibis) will help to provide a more comprehensive study of the South Florida ecosystem because they will allow us to include the inshore coastal marshes, wetlands, and mangrove habitats.
Endorsed by
Dr. Kerstetter and Ms. Nay have a great background together to provide substantial information on the potential problems of heavy metals in the aquatic, particularly marine, avian fauna of the southern Florida area. This study would expand current knowledge beyond the current marine-only birds to include the marshes and mangrove areas which are essential to understanding the fuller marine realm.
Meet the Team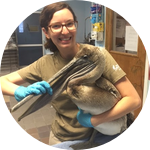 Caitlyn Nay
Administrative Assistant and Student, NSU Halmos College of Natural Sciences and Oceanography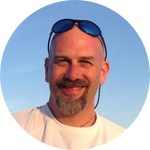 David Kerstetter
Assistant Professor, NSU Halmos College of Natural Sciences and Oceanography
Affiliates
South Florida Wildlife Center, Pelican Harbor Seabird Station, Florida Keys Wild Bird Center, Key West Wildlife Center
View Profile
Caitlyn Nay
I have always been an avid animal lover, with a special interest in veterinary medicine. This project has opened the doors to allow me to gain valuable experience with wildlife rehabilitation and rescue. I have also grown to love birds even more and I hope to pursue a career in the field of ornithology after I complete my master's degree.
David Kerstetter
I've been working on marine science and policy issues for over 20 years, with a specific focus on human impacts to our coastal ecosystems. While my research group initially focused on fisheries, we've continued to broaden our ecological questions to include the marine-associated birds of South Florida.
---
Project Backers
4

Backers

4%

Funded

$104

Total Donations

$26.00

Average Donation