About This Project
NanoBioFabLab is a research, development and innovation concept focused on 3D biofabrication using nanomaterials as essential building blocks for biomimetics. In the present project, we want to know if silver nanoparticles will confer antimicrobial activity on biological scaffolds. If so, this may prevent the contamination of biological scaffolds by microorganisms. The team of this visionary project accepted this challenge!
Ask the Scientists
Join The Discussion
What is the context of this research?
NanoBioFabLab concept was born from an exhibition at Campus Party Brasilia 2017 as an innovative academic initiative. This initiative goes beyond what is currently developed in the area of 3D bioprinting, where knowledge, scientific and technological production are still very scarce and restricted to few laboratories in the world due to the high investment and also incipient scientific dissemination.
In addition, it's known that some nanomaterials such as silver nanoparticles exhibit in vitro and in vivo antimicrobial activity; avoiding, controlling or eliminating the growth of a wide range of microorganisms. It's currently difficult to achieve some favorable properties on a scaffold (e.g. assepsia), which are built primarily for applications in tissue engineering and regenerative medicine.
What is the significance of this project?
With biological antimicrobial scaffolds it will be possible to grow plant and animal cells without the undesired contamination by microorganisms such as bacteria. Then, we will have more sterile scaffolds and apply in the research and biomedical areas - such as implants. And all this approach intents in avoiding the contamination of the cell culture in 3D bioprinted scaffolds.
This project will help the NanoBioFabLab initiative get off the ground. With this initial investment, you will be collaborating for the development in the frontier field of 3D bioprinting. We want to overcome one by one the major challenges of this area by working simply, with low cost materials, thinking about sustainability and investing on the training and formation of human resources.
What are the goals of the project?
This first project of the NanoBioFabLab initiative aims to start the production of scaffolds using a 3D bioprinter. For the production of these scaffolds, we will use gelatin and chitosan as biopolymers and silver nanoparticles produced by green synthesis routes. The antimicrobial activity of the scaffolds will be evaluated according to the potential inhibition of microorganisms' growth during periods of 24 h, 48 h and 72 h.
The NanoBioFabLab initiative is much more than one research project, it's a concept. The first project of the NanoBioFabLab will help us establish a way to produce antimicrobial scaffolds structured by gelatin, chitosan and silver nanoparticles. In addition, it will allow us to develop future scaffolds with other biopolymers and nanomaterials.
Budget
We have been working for several years on the development of nanomaterials and biopolymers. However, we do not yet have an available 3D bioprinter to get the results we dream about. Funding for this project will contribute to the investment of human resources, such as the development of a master's degree project. Therefore, the funds raised through this campaign are fundamental to begin the goals of our purpose in contributing to scientific, technological, and educational development.
Endorsed by
Beatriz has been working in my research team since her undergraduate final project. Now, I am really excited for the possibilities of this new project since I am a fervent supporter that nanomaterials are the best choice as building blocks for bio-engineering functional scaffolds (e.g. those exhibiting antimicrobial properties). I am really proud of Beatriz efforts during her MSc project because even without a scholarship and with limited resources she has sought and above all she believes in innovative possibilities for achieving her dreams.
The biotechnologist Beatriz has great potential for success in her research. Acting actively in the Laboratory of nanobiotechnology (LNANO), Beatriz participates in different innovative activities, achieving promising results and high impact in the academic environment. High capacity for observation and questioning, focus and determination are some of the main qualities of Beatriz. It's an honor to meet her.
Beatriz has been working in the Laboratory of Nanobiotechnology (LNANO) since her undergraduate final project. Currently, she is developing her master's degree in nanobiofabrication, and even without a scholarship, she has been active in finding innovative solutions to achieve her goals and dreams. It's very gratifying to work with her and I'm really proud of her efforts.
Project Timeline
During and at the end of this project, we will post updates here and on our social networks. We will be very grateful for your support!

We will publish the results as best we can. Be in the form of scientific articles, webinars, or other forms of publications.
We need your contribution to help develop the 3D bioprinting field. Help us to bioprint with sustainable nanotechnology!

Oct 19, 2017
Project Launched
Dec 03, 2017
End of campaign
Dec 15, 2017
Scaffolds of gelatin and chitosan containing silver nanoparticles
Feb 15, 2018
Antimicrobial activity tests
Mar 15, 2018
3D bioprinting scaffolds of gelatin and chitosan with silver nanoparticles
Meet the Team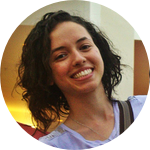 Beatriz Santos Carvalho
MSc in Nanoscience and Nanobiotechnology
Affiliates
Embrapa Genetic Resources and Biotechnology
View Profile
Beatriz Santos Carvalho
Graduated in Biotechnology and Master in Nanoscience and Nanobiotechnology. She works on research lines with green nanotechnology, microbiology, digital manufacturing and 3D biofabrication. She is co-founder of startups Bioprint3D and CyclePrint3D.
---
Project Backers
18

Backers

21%

Funded

$1,041

Total Donations

$57.83

Average Donation