About This Project
We are testing the hypothesis that wild animals such as squirrels and deer prefer non-GMO corn, and avoid GMO corn.
Ask the Scientists
Join The Discussion
What is the context of this research?
Anecdotal reports suggest that animals avoid eating genetically engineered or GMO corn when given a choice, while others suggest that animals have no preference. With the right materials, this is an easy experiment to do, but there are no peer-reviewed, published scientific studies to answer this question - yet.
In this experiment, we will send ears of GMO and non-GMO corn to volunteers. Adults and children, individuals and classrooms can be part of the first Citizen Science experiment to test claims about GMOs. Everyone's results will be combined in a peer-reviewed scientific journal article
What is the significance of this project?
If there is something that makes animals avoid GMO corn, we should know about it. Such a finding would have widespread impacts. If animals don't have a preference, then we can focus on other issues.
In addition to answering an important scientific question, this experiment is an opportunity for people from diverse backgrounds to connect with science. How many people get to test popular claims about an emerging field of science?
Volunteers of all ages will learn how to conduct an experiment. They will develop critical thinking skills as they collect data, interpret results, and see how research is published. Volunteers can share their results with friends and even present the results at school!
Please read the FAQ below for more information about the experiment!
What are the goals of the project?
Our goal is to assemble and distribute at least 250 experiment kits to our Citizen Scientist volunteers. Each kit includes a feeding stand and corn for two experiments: two ears of GMO corn and two ears of non-GMO corn.
We will provide clear instructions so each volunteer can conduct two experiments to test the research hypothesis. They will send pictures of their corn to us for analysis. Once we have collected the results, we will analyze the data, present the results to our volunteers, and write a paper that we will submit to a scientific journal.
If we exceed our initial fundraising goal, we will make more experiment kits (up to 1,250) and provide the kits for free to kids and schools!
Budget
We want many people to be a part of this experiment, so we will make every dollar count! We need to buy supplies and rent equipment to assemble the feeding stands. We will hire some people to help us with the stands, to sort and barcode the ears of corn, and to package the kits for shipping. The publication fees are needed to publish our results in a peer-reviewed scientific journal.
Your generosity will make it possible for more kids to be Citizen Scientists. This budget covers 250 kits, but we have enough corn for up to 1,250 experiments. If we raise more than $6,200, we can make more kits and provide them for kids and K-12 classes for free!
Endorsed by
I wholeheartedly endorse the GMO corn experiment, which is a crucial undertaking to dispel ubiquitous myths about genetically engineered foods. As a mother, I'm excited that the project is a citizen science experiment; a hands-on opportunity to demonstrate the scientific method to kids. As a science advocate, I believe experiments like this one are imperative in the face of popular yet non evidence-based internet memes that only serve ideology.
People have been told a lot of things about GM crops - for example, that wild animals prefer conventional crops - that aren't based on sound science. What better way to get people to understand GM crops, and how they are or aren't different from conventionally-bred crops, than to see them side-by-side and to participate in experiments themselves?
It is great to see Biofortified.org engaging the public to test popular internet claims. The scientific community sees a great benefit of transgenic crops, but the fear mongering and misinformation are tremendous and affect public perception. This effort to actually do the test, by recruiting citizen scientists, is a great step forward in promoting the scientific method at the same time as debunking low-quality information.
Those who are skeptical of genetically engineered food often support their claim with statements like 'We see the claim that animals won't touch genetically engineered crops all the time'…but is that really true? Only way we can know is through sound science. I am pleased to to see that this hypothesis is now put to test by real scientists through a study that will conclusively answer the question.
I like the way you have turned around the 'Frankenfood' slur and made it into a fun support site for GM foods. Secondly, the corn project might be a template for all kinds of experiments which kids can do to learn about science. As the data comes in, you should have a site for the analysis, and include a statistical interface so that kids can run their own hypothesis testing such as looking at results by postcode, effect of the label and whether the corn on the left or right was the best (are squirrels right handed?).
Meet the Team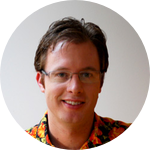 Karl Haro von Mogel
Science & Media Director
Affiliates
Biology Fortified, Inc.
View Profile
Karl Haro von Mogel
is the Science & Media Director at Biology Fortified, Inc., and earned his Ph.D. in Plant Breeding and Plant Genetics with a minor in Life Science Communication at the University of Wisconsin-Madison, and recently completed his first Post-Doc with the USDA. He is passionate about helping people to understand how crops have changed and the importance of these changes for the future. He keeps bees and makes awesome plant-themed shirts.
Anastasia Bodnar
Anastasia Bodnar formerly served as the Policy Director at Biology Fortified, Inc. Originally from Florida, Anastasia has a BS in Biology from the University of Maryland and a PhD in Genetics, with a minor in Sustainable Agriculture, from Iowa State University. In her research, Anastasia used both biotech and breeding to enhance nutritional traits in corn and investigated potential unintended effects of genetic engineering. She is currently working in science policy.
Press and Media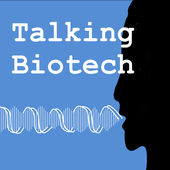 Additional Information
Frequently Asked Questions:
1. How do I sign up as a Citizen Scientist? Do I have to donate?
Everyone who donates $25 will get to be one of our Citizen Scientists. Donations of more than $25 will help pay for kids and schools to participate. If you want to be considered for a free kit, sign up to be added to our waiting list.
2. Why can't I just get my own corn to do the experiment?
There are good scientific reasons why we are providing the corn for this experiment. First, this GMO and non-GMO corn are from very similar varieties. That way, we know the main difference between them is the genetically engineered traits, not other traits like taste or color. Usually, scientists use nearly identical varieties called "isolines" to make sure no other genetic differences could explain the outcome of their experiment. Since the original reports of feeding preference involved commercial hybrids, we chose to use similar commercial hybrids to closely mimic the original experimental conditions. Second, these ears were grown in side-by-side plots, meaning that the growing environment was nearly identical. (The plots were separated to limit cross-pollination between the two different varieties.) Third, all of our Citizen Scientists are repeating the same experiment with the exact same varieties of corn, so we can combine the results together. If we find a difference between GMO and non-GMO corn, we can rule out other genetic or environmental factors as possible causes. Lastly, the corn was donated by Monsanto, at our request, so we could do the experiment with the latest varieties. We did all the legwork to get a signed "Material Transfer Agreement" that allows us to publish the results.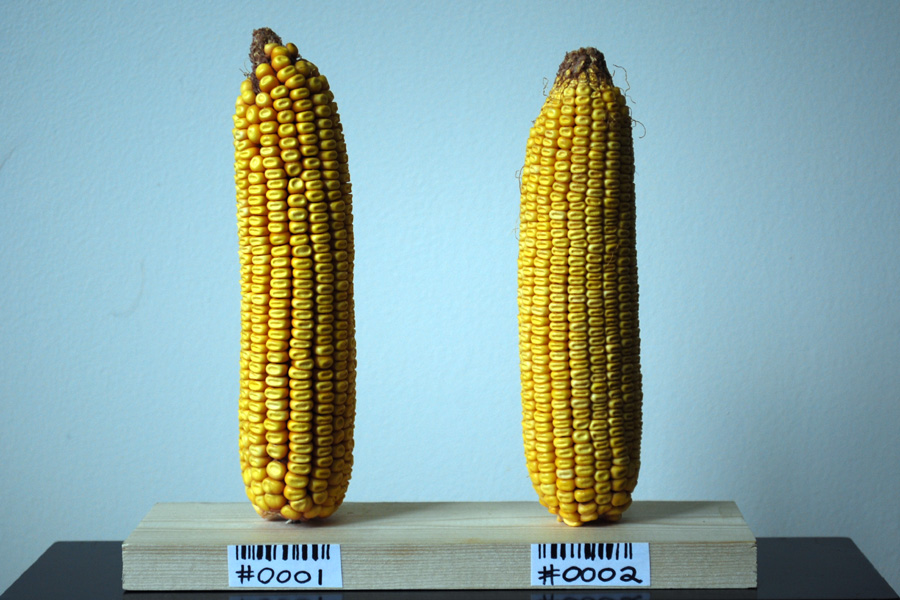 3. Is it safe for animals (and people) to do this experiment?
Yes! This corn we was grown for the purpose of being eaten, and the genetically engineered traits have been approved by the FDA, EPA, and USDA. There's nothing experimental about these varieties, which are grown by farmers every year. Feeding squirrels corn in your backyard is a common practice, and is even suggested by the Humane Society as a way to keep them away from your bird feeders! There will be no touching or handling of wild animals in this experiment, the corn is just being left out for them to nibble on and our volunteers will take pictures of the results.
4. How will I know which ears are GMO and non-GMO?
The ears in each experiment kit are labeled with a number, but the labels do not say which ears are GMO. Why? This is called "blinding" and is an important part of the experiment. This keeps Citizen Scientists from accidentally (or purposefully) altering the results. We will keep track of the labels and will tell you which ears were which once the experiment is complete. In addition, this information will be posted online in a password-protected file before the experiment, and we will publish the password when the experiment is done. That way everyone can verify that the results are true. Think of it like a surprise waiting for you after you finish your experiment!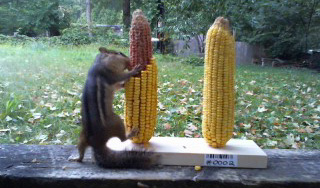 5. I do not live in the United States - will I be able to participate?
Every country has different laws regarding the approval of genetically engineered crops, and the movement of seeds in and out of the country. A lot of this is for very good reasons such as preventing the movement of plant pests and diseases around the world. The corn we are using in this experiment was grown in the United States, and contains traits that are approved for the United States. Currently, we are only offering to ship the experiment kits to addresses in the United States, but we are currently working on making it possible to ship them to Canada as well. We will make an announcement when and if we are able to include our northerly neighbor in this important experiment!
6. Can my child do this for their science fair project?
Yes, we totally encourage your child doing a science fair project around this! We are asking our volunteers to agree not to share their results publicly until we have a chance to analyze all the data and prepare it for publication. In fact, for students who want to go the extra mile with their experiment, we will provide guidance on how to record extra data that will make it more useful for a science fair project. Then, once the big paper with everyone's name on it gets published, everyone can unleash their projects on the world in unison!

---
Project Backers
416

Backers

218%

Funded

$13,523

Total Donations

$32.51

Average Donation