About This Project
This project seeks to experiment with haptic sensory substitution ("a way to bypass one traditional sensory organ by using another"), as a mean to augment human perception in relation to other living beings and the environment. That is, couple the human central nervous system (through the feeling of touch) to the state/activity of other forms of life, so as to empirically explore the qualia, cultural, and ecological implications of such entanglements.
Ask the Scientists
Join The Discussion
What is the context of this research?
It all started with the book "The Secrete Life of Plants" and its empirical accounts of the sentience of plants. Fascinated by it, I began to research and prototype DIY electronic systems that would allow me to replicate some of the described findings.
Shortly after I started reading my first "biodata", I encountered the work of researchers and artists who were making music with this kind of signal. And so I embarked on a
journey to the world of BioData Sonification
.
A year and a half into this process I came across the astonishing work of Dr. David Eagleman et al. around Sensory Substitution/Augmentation and it all clicked together! The possibility of developing a direct perceptual experience of another being's aliveness became an immediate goal. And so the SymBioWare was born.
What is the significance of this project?
It's no hyperbole to argue that humanity is facing major existential crises throughout the world: ecological, social, economic, and so on. I endorse the thesis that "these are all different facets of one and the same crisis – a crisis of perception". One rooted in the artificial separation of humanity and nature.
If so, comes the question "how to effectively shape change in the world?"
There is no clear-cut answer. However, my experiences with public Bio-Sonification have shown me that translating the aliveness of beings such as plants/fungi to our sense of hearing can fundamentally shake people's perception of reality forever.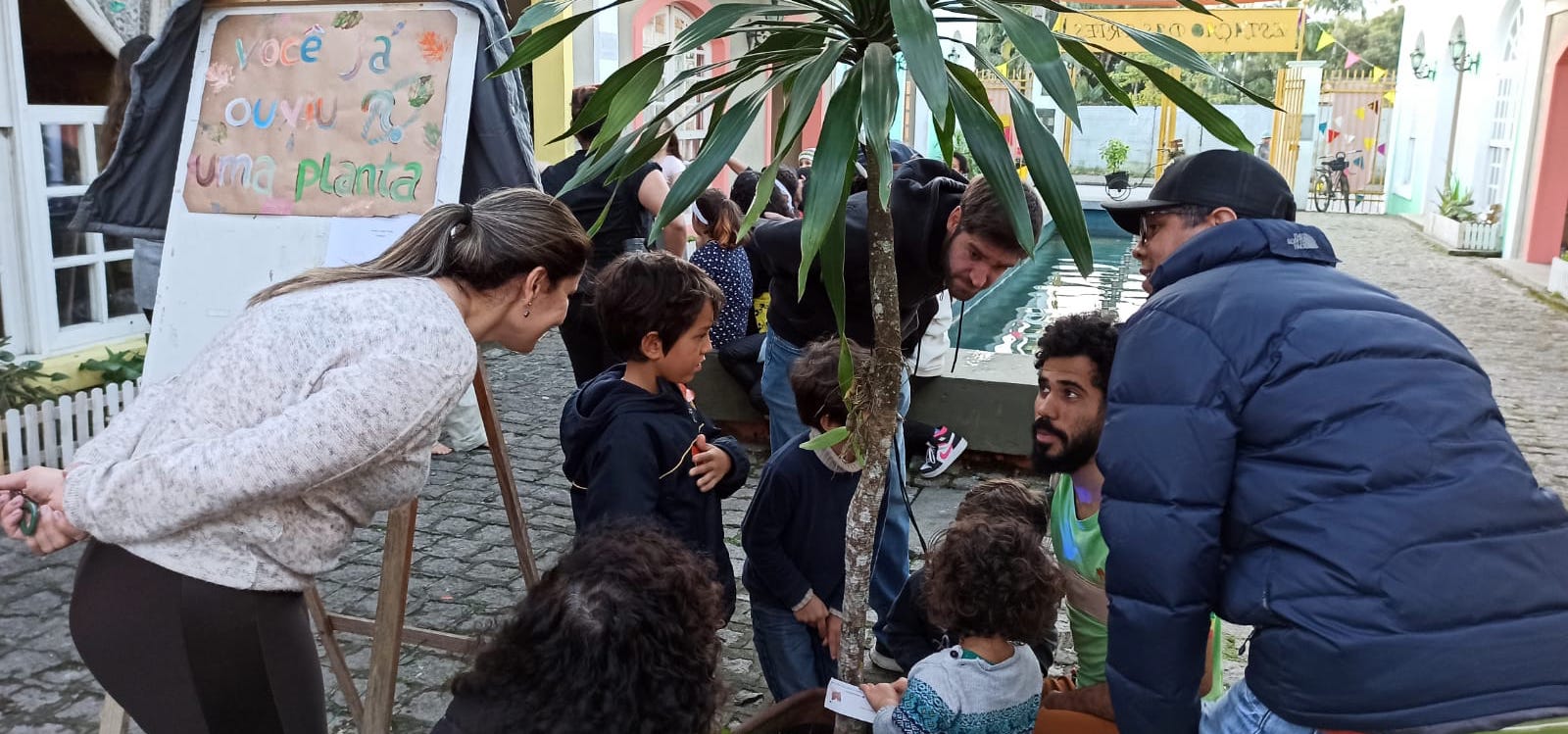 Now, if we could somewhat perceive as other living forms, we'd firsthand experience the unrevealing of entire new worlds. What could that mean to us?
What are the goals of the project?
My hypothesis is that a person wearing a bio-data driven haptic interface for an adequate period will grow an ability to assertively intuit about the state/activity of another being who feeds the interface with its bio-signals.
To test it, I plan to connect myself to another being for as much as possible (over the period of one month), relying on visual cues to compare vibratory stimuli and being's states/activities. I will also test different kinds of biodata to address questions of signal I/O mapping and temporal scales.
My final goal is to share my experiment accounts as an academic paper - including a first Protocol for Biodata-to-Haptics Wearable Systems - and a sci-fi story that integrates such ideas and practices into an exciting and hopeful vision for the future.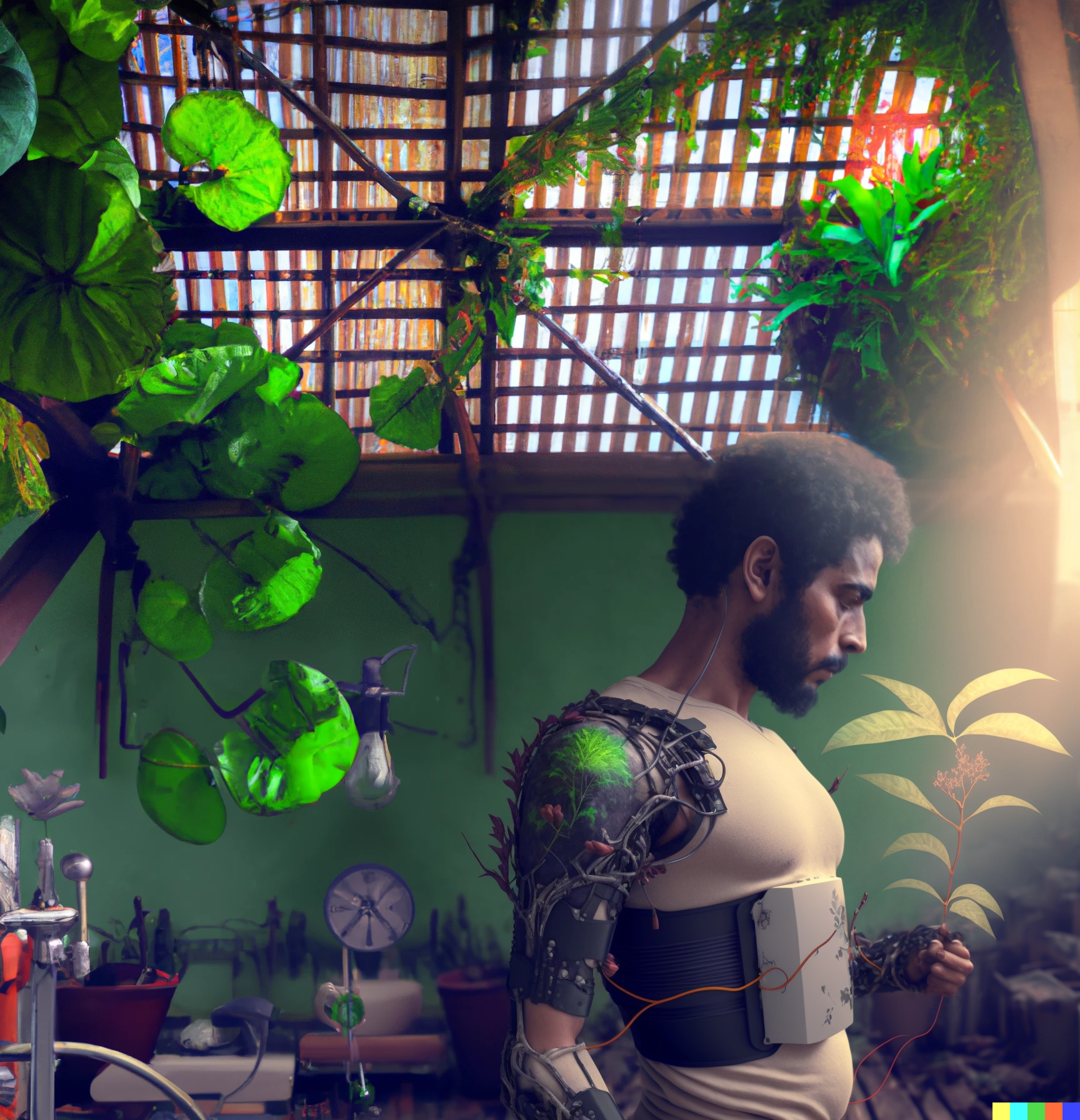 Symborg's Lab
Budget
Sensory substitution/augmentation research is based on the use of sensors to capture signals, coupled to a system that interprets and delivers them via haptic interfaces.
I've put together a proof-of-concept capable of doing that for electric data from plants and fungi: the SymBioWare (V1). This prototype has gained the attention of people and organizations who have trusted me with enough equipment to build a top-noch SBW version, commensurate with state-of-the-art sensory augmentation tech.
Now, having everything that I could dream of in terms of sensors and devices, I'm faced with the challenge of priorities: although it being what I want to do the most, allocating my time to this project means not being able to engage in other activities that provide me with a financial income.
Thus, with this campaign I seek to raise enough funds so as to be able to fully dedicate myself, for at least four months, to the Growing of Symbiotic New Senses for Humans.

Endorsed by
Novel and wicked challenges of the Anthropocene call for novel and much less wicked ways of conceiving our place among this living Earth. This Experiment advances Danilo's broad, long-time engagement in a variety of creative explorations surrounding the ideas of symbiosis. SymBioWare equips us with a new perspective on life with the other and more than human, and in doing so, discloses the possibility of new epistemic, pragmatic and axiological niches.
Project Timeline
Research is already in course with literature review and equipment assembly, but some devices are still on their way. The campaign should run during the whole of Feb (alongside many biodata sensing tests), and by the end of it I should have received the last gadget needed - the Vibrotactile Haptics Platform. Then March would be a month to integrate the haptics platform to the existing stack. April would be dedicated to a focus experiment with a specific being. And May, the writing of it all.

Feb 04, 2023
Project Launched
Mar 07, 2023
🌕 Campaign Funded! Research Begins
Mar 28, 2023
🌓Have the SymBioWare board, Emotibit, Nicla Sense & Vibrotactile Haptics Platform fully operational.
Apr 05, 2023
🌔 Have conducted enough bio-to-haptics tests to arrive at a draft protocol/mapping algorithm of signal inputs to vibratory outputs (for at least one kind of biodata).
Apr 06, 2023
🌕Begin Sensory Substitution Literature Review/Outreach
Meet the Team
Danilo
Weaver of people, ideas, and creative flows. Life transformed by extraordinary educational opportunities (scholarships for: high school at Colégio Sidarta, and undergrad program in a "#1 most innovative university in the world"). Since 2015, digital nomad. Since 2017, freelancer and independent researcher of the Complexity Sciences. Since 2020, father, neo-rural and instructor in digital education platforms. Recently, self-proclaimed amateur artist.
Additional Information
I really must thank a lot of people and organizations who have supported me thus far in this journey. Both emotionally, conceptually, technically and financially! As well as all the non-human beings who have allowed me to learn from them.
So my big thank you to Samara Tanaka, for having co-gestating the SymBioWare with me, to the InterComVerse Cycles folks, especially Luana, Vini, Nathalia, Tim, Anthony, Vania and Viola! To the Danilos, who have fully trusted me uncountable times. To the guys from RH Info, who donated my first coin vibration motor. To Sam Cusumano, who have taken the time to design a SymBioWare pcb and ship me stuff! To Mundo Dos Cubensis for offering mushroom cultures for the project's experiments. To PCBWay (via Liam at Hackster), who generously offered to provide free PCB prototyping for this project. To prof. Andrew Adamatzky, director of the Unconventional Computing Laboratory at UWE Bristol for his inspiring research and thoughtful comments on this project. And to the Society for the Protection of Underground Networks (SPUN), for having granted me one of the 2022 SPUN Research Grants: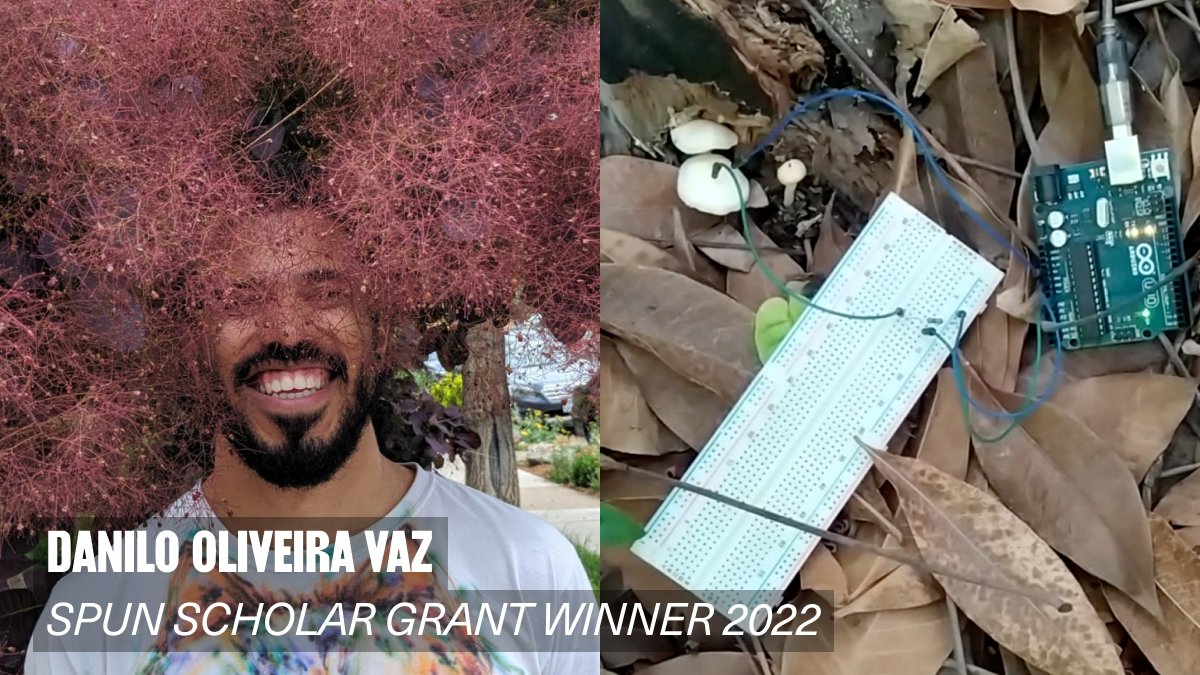 And a big thank you to you, who have read thus far and is considering to support this!
---
Project Backers
18

Backers

100%

Funded

$4,520

Total Donations

$251.11

Average Donation