About This Project
How did Rome become a preeminent Empire? How did they serially incorporate regions? To answer these questions we are conducting the archaeological excavation of Libarna, a unique Roman colonial site in North-West Italy. It was founded in 148 BCE right after the Second Punic War when Rome became the dominate power in the Mediterranean. By studying the material culture of the inhabitants we hypothesize we will be able to detect changes to the local indigenous and immigrant populations.
Ask the Scientists
Join The Discussion
What is the context of this research?
One of the fundamental questions of Roman Archaeology is how did Rome "learn" the techniques and policies it needed to be the dominant power in the Mediterranean? Rome experienced a period of rapid expansion following the Punic Wars, but the means by which it did so are not well known. To better understand this expansion we need to study the acquisition processes of the Roman empire. The Libarna Urban Landscapes Project (LULP) will investigate how the ancient city of Libarna functioned as an administrative and cultural tool of imperial expansion. With properly contextualized material culture we can illuminate changes to local culture, immigrant colonizers, and regional landscape. In this way we will contribute to the study of colonialism broadly.
What is the significance of this project?
Rescue excavations have taken place sporadically at Libarna for nearly two centuries, and our understanding of the site is somewhat piecemeal. Furthermore the past investigations have focused predominantly on public buildings, with limited excavations of industrial and domestic areas of the site.
While there is evidence of Iron Age peoples near Libarna, no excavations so far have identified the exact location of a pre-Roman urban or rural settlement. Thus, we believe that the site of Libarna was created de novo by the Romans. Libarna offers a unique opportunity to understand how an indigenous Gallic landscape was transformed into a Roman colony and how that colony fit culturally into the wider region.
What are the goals of the project?
Our major goal for the 2021 season is to identify the archaeological markers of the transition to and consolidation of the Roman occupation of Libarna. We will accomplish this with excavation and carefully contextualized examinations of the material culture we unearth. The funds raised by this crowdfunding effort will be used to examine, preserve and store these important archaeological finds.
An additional goal of LULP 2021 is to train field school students in small finds analysis, utilizing the artifact collections. We believe that the teaching students proper heritage management is one of our responsibilities.

Budget
Through grants and student fees, we have already secured our food, lodging and excavation equipment. However, archaeological digs cost the most when the digging is over. Roman urban sites produce tens of thousands of artifacts, more than any other time period until the Industrial Revolution. Due to the sheer quantity and variety of these finds it is necessary to have a robust plan of preservation.
Libarna is a publicly accessible archaeological site which poses some unique challenges in storage and preservation. Our main cost is building a shed in which we can securely store, catalog and analyze our finds.
Another way we will be preserving the site is to backfill our trenches. This removes the hazards of an open pit, prevents erosion and discourages vandalism.

With the site and its finds properly preserved the data we uncover can be a resource for future archaeologists and add to the cultural heritage of Italy.

Endorsed by
This project will broaden our understanding of Roman urban development, imperialism, and colonial expansion. It is led by a team of experts with many years experience in the field in Pompeii and northern Italy. It will be an excellent project to train archaeology students thanks to its important and fundamental research questions and the fact that its leadership is specialized in many areas of archaeological work.
Project Timeline
Our 2021 summer season will be our most exciting yet as we finally begin excavation! Based on our survey work of the past three years we believe a meadow, "Field U", will be the perfect place to start. We will break ground in June 2021 and backfill in July. But the field work is only the start- we also analyze all of our data and turn it into a comprehensive report for the Italian Government.
However most important is to properly store and study all the finds we uncover.

Mar 04, 2020
Project Launched
Apr 03, 2020
Meet our funding goal
Mar 04, 2021
Launch Experiment Campaign
Jun 14, 2021
Build the storage shed and set up clean lab
Jun 21, 2021
Begin excavation in Libarna
Meet the Team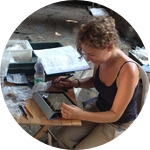 Katherine V Huntley
Associate Professor
Affiliates
Boise State University, Dept. of History
View Profile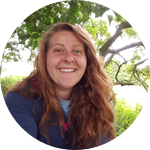 Nicole Inghilterra
Curator
Affiliates
Idaho State Historical Society
View Profile
Hannah Friedman
I am an archaeologist interested in the Roman economy and the daily life of the non-elite. I did my graduate work at the University of Leicester on Roman mines and the associated slave populations. I have a great deal of experience in archaeological fieldwork having conducted it in Jordan, Pompeii, Romania, England, Texas, and NW Arkansas.
I was happy to receive a call from my good friend Katie about conducting a project in Italy. This site is fascinating for its early foundation date, its location along a busy trade route, and its well preserved remains.
Katherine V Huntley
I'm an archaeologist with specialty in Roman material culture. My previous research was focused on studying childhood, gender, and family life during the Roman period.
I love being in the field. Back in the day before I was directing a project, I worked as an archaeological illustrator. I also worked in the finds lab more than in the trenches.
My other love is Italy, of course. I've had the privilege of working on archaeological projects across Italy for 15 years, including at Pompeii where I worked for 6 years doing post-excavation study of the artefacts from a 14-year long excavation of one of the city's oldest areas. It was just as the project finished up that I was introduced to Libarna back in 2014 and made my first visit to the site in early 2015 to get a handle on Libarna's complicated history since its rediscovery at the end of the 18th century.
I also have a keen interest in ethical issues related to archaeology and I believe strongly in the social responsibilities of archaeologist to conduct research that benefits for local and regional communities.
Nicole Inghilterra
I'm a museum curator who fell in love with Roman archaeology the moment I first stumbled on my hometown library's tiny section devoted to the subject!
My education focused on biological anthropology. I've worked on post-excavation projects in Pompeii and the region surrounding Vesuvius, excavation of a plague cemetery in Lincolnshire, United Kingdom, volunteer excavation with the National Parks Services in Manzanar, California, and three seasons of survey in Libarna, Italy. When I'm not in an Italian barley field, I can be found in Boise where I am the curator of the Idaho State Capitol Collection and registrar for the Idaho State Museum.
The Roman colony of Libarna is incredibly exciting and intriguing to me, both due to the scholarly potential in our course of inquiry, and in the place area archeologica di Libarna occupies in the hearts and minds of the region's modern community. My interest lies in understanding how sites like Libarna, and the data they produce, can be made more accessible to local and international audiences at a time when the ever present question of relevance dictates functional aspects of heritage management and resource allocation.

---
Project Backers
18

Backers

110%

Funded

$5,359

Total Donations

$297.72

Average Donation