About This Project
Wesselman Woods is home to a 200-acre urban old-growth forest that has been protected from timber harvest and human settlement. This unique forest has so much research potential but has yet to be taken advantage of. By starting up a camera trap project, we can gather data to understand how wildlife utilize this forest. The long term goal is to turn this into a citizen science project where the public can help tag wildlife photos and encourage human-wildlife coexistence.
Ask the Scientists
Join The Discussion
What is the context of this research?
There are large-scale camera trap projects around the U.S trying to better understand urban ecology through the Urban Wildlife Information Network. Although Evansville is not as big as these cities, Wesselman Woods has unique landscape characteristics. The differences between greenspaces in cities and the wildlife they house is critical to understanding urban ecology, habitat connectivity, and invasive species management. Biologists have a basic understanding as to why there are so many differences in wildlife occupancy between cities. By contributing to this research question we are not only contributing to urban ecology theory, but we are also enforcing the importance of greenspaces and biodiversity in cities for better city planning and conservation.
What is the significance of this project?
Road kill, zoonotic diseases, pest control, and higher endangered/extinction rates are just a few of the human-wildlife conflicts we already see in cities. As human over population continues to rise exponentially and wildlife is forced into closer proximity to humans, we will begin to see more extreme conflicts. Understanding urban animal behavior is more important now than ever before. By creating this camera trap study, we are able to understand what wildlife is living in the city and how it utilizes an urban forest. Wesselman Woods is a prime location for this project because it houses biodiversity specific to an old-growth forest, making it an example of what cities could look like in hundreds of years if greenspaces are abundant and preserved.
What are the goals of the project?
The overall goal of this project is to collect meaningful data that will influence academia, foster community-wildlife relationships, and local policy. 10 cameras will be deployed in strategic transects around the preserve. Cameras will deploy quarterly to capture seasonality during the months of Jan, March, June, and Oct. Once enough photos are captured, a public photo database will be created so community members can help tag animals present in each photo. We hope this aspect of the project will promote urban ecology and environmental stewardship throughout the community. Eventually, we will be able to start seeing patterns in wildlife occupancy, seasonality, daily species activity, and species abundance.
Budget
The items in the budget are the physical tools necessary to collect the data needed to start this project. By using multiple camera traps, we are gathering data during all hours of the day and during different seasons. The camera lock boxes will help protect the cameras from vandalism or being stolen. Most camera traps are battery powered so we will need rechargeable batteries to keep the cameras up and running. The scent lure is often used in camera trap programs to encourage a nearby animal to walk in front of the camera.
Once the data is collected, we are able to start going through each photo and create a quantitative database. There will be a system where photos are tagged and automatically sent to master database where we can pull numbers for analysis. However, we cannot get to that point unless we have the appropriate tools to collect the data. The funding received for this project would go towards simply just gathering the tools needed to start compiling data together.
Endorsed by
This project has the potential to observe the vast amounts of biodiversity at Wesselman Woods.
I am really excited about this research with Cindy Cifuentes. Evidence-based data is critical to understanding our continually evolving ecosystems. Through research we can provide a cleaner and healthier environment which equates to a cleaner and healthier planet.
Wesselman Woods Nature Preserve (WWNP) is the jewel of Evansville, and Indiana's best/largest piece of ancient forest. Effective management of WWNP requires this project capture much information regarding the wildlife using this ecosystem. WNS's naturalist well trained and prepared to execute this research project.
Project Timeline
Cameras will be deployed four times a year for a month during the months of January, March, June, October. This will allow us to capture wildlife during each season of the year. As photos roll in, we will tag them and hopefully have one year's worth of data by the end of 2021. Once enough data is gathered, we can start reaching out to the community for help.
Jan 13, 2021
Project Launched
Mar 01, 2021
Deploy first round of cameras 
Nov 01, 2021
Create photo tagging system
Dec 31, 2021
Collect 1 year of data
Jan 03, 2022
Citizen Science photo tagging kiosk in nature center
Meet the Team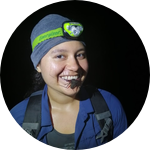 Cindy Cifuentes
Director of Natural Resources and Research
Affiliates
University of Evansville
View Profile
Team Bio
Wesselman Woods and the University of Evansville biology department will work in tandem to execute this project. The biology faculty at the University of Evansville are experts and specialize in Evolutionary Biology, Environmental Science, Ecology, and Biostatistics. In collaboration with vegetation data collected from Dr. Hochwender's team, we can gather information on wildlife occupancy in relation to forest structures at Wesselman Woods.
Cindy Cifuentes
I am a passionate environmental leader who wants to see the world become a more sustainable and suitable place for wildlife. I have found animal behavior fascinating throughout my education and all I want is to contribute to the field of wildlife conservation and research. I have assisted with numerous research studies in North, Central, and South America working with bats, frogs, and Midwest urban wildlife. My undergraduate research project was an extension of the Indianapolis Wildlife Watch camera trap project where I assisted in camera deployment, photo tagging, and vegetation sampling research. After being a part of this project, I have a good understanding of the logistics of this project. Not only that, but I also know the positive impact it can have on the local community.
I understand my strengths and weaknesses with this project, which is why this project will be collaborated with the University of Evansville (U of E). U of E has fantastic faculty in the biology department who will serve as a Principle Investigator committee and assist with the data analysis and collaboration. U of E will also send over more manpower by giving students the opportunity to intern with Wesselman Woods.
---
Project Backers
40

Backers

249%

Funded

$2,748

Total Donations

$68.70

Average Donation