About This Project
Imagine a world in which animal cells are grown in laboratories to produce meat for human consumption. As we are using a sustainable production method, it cannot rely on serum or other animal-derived substances, due to animal welfare issues and other regulations. We are pleased to be utilizing materials from recycling agricultural and marine waste as one important avenue to contribute to the development of genuine animal-free alternatives.
Ask the Scientists
Join The Discussion
What is the context of this research?
The environmental crisis and climate change are important issues for many people recently. Therefore, my project focused on reducing the negative impacts associated with conventional meat production by manufacturing cultivated meat. The greatest challenge preventing this sector from scaling production is the issue of 'sustainable'. The majority of the current cell culture media problems are composed of ethics and commercialization. Most of these are due to the fetal bovine serum(FBS). If growth factors (peptides) are extracted from zero-cost agricultural waste (ubiquitously available) and used for cultivated meat production, this will help address the problem of agricultural waste through reusing/repurposing it, while supporting sustainable development and animal welfare values.
What is the significance of this project?
The biggest challenge facing the cultivated meat industry is to discover how to produce it sustainably while balancing this against the optimal formula and maximum productivity. At present, FBS is generally used as a common cell culture media. But, it has a high cost and is fraught with ethical problems. So, to sidestep the thorny issue of FBS, this project will focus on growth factors produced by agricultural wastes. If this study is successful, it will provide alternatives to FBS using agricultural waste. More ethically savvy customers are also increasingly voting through their wallets, using their purchasing power to buy cultivated meat as their food of choice, and a viable alternative to the conventional meat market.
What are the goals of the project?
The central aim of this project is to develop a new process to extract the peptides from agricultural waste and identify growth factors that promote muscle tissue culture. It will be key to ensure that the peptides are extracted from zero or very low cost agricultural wastes (collected from land, marine or other sources), and used to grow muscle cells in culture with these agriculture-derived peptides.

You can see the detailed information in Labnote 1
Budget
This budget is essential to support the researcher involved. The project is expected to take 10 to 12 months to complete. The cost will be used for living expenses during the project ($2760 will be given from the DAAD scholarship foundation). Lab supplies and the journal publication fee will provided by the hosting institution.
Endorsed by
The focus of this project is 'future-oriented' and 'sustainability.' This study has an important aspect of the use of renewable energy in the cultivated meat industry. I believe that the researcher have a great potential for studying 'sustainable cell culture platform'.
Project Timeline
Initially, we will undertake a literature review to identify the peptides and extraction methods. We will then generate the appropriate peptides by growing muscle cells on the ag-derived peptides (growth factor) to work out the extent to which they support cell replication and differentiation. After that stage, we plan to cultivate the muscle cells on the FBS media and cell-cultured media, including the ag-derived peptides (growth factors), to compare the growth rate between them.
Apr 19, 2022
Project Launched
Sep 19, 2022
Researching data.
Oct 17, 2022
project Launched
Oct 18, 2022
Mapping peptides generated from the agricultural wastes - digested peptide sequences anticipated
Jan 20, 2023
Matching peptides sequences to know growth factors of interest for cell growth and cell differentiation
Meet the Team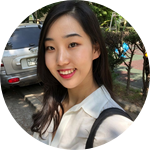 Hannah Chang
Master's degree student
Affiliates
Justus-Liebig-University Giessen
View Profile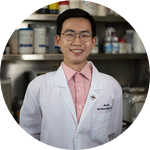 John Yuen
PhD Candidate
Affiliates
Tufts University
View Profile
Hannah Chang
Hannah Chang is really excited to be collaborating with Kaplan's Lab at Tufts University. Currently studying at Justus-Liebig Universität Gießen, Hannah Chang will soon be graduating from her Master's program in Agrobiotechnology. Fascinated by the concept of cellular biotechnology, she has focused on this throughout her degree program; it has been a recurring theme throughout her studies on plant and animal production, as well as nutritional sciences. More specifically, through her academic pursuits, she's been drawn to the concept of cellular biotechnology in cultivated meat. Yet, this is still such a niche area that, unfortunately, at the moment there are no professors doing related research at Justus-Liebig Universität Gießen. Instead, Hannah is therefore planning to undertake her Master's thesis in David Kaplan's Laboratory. She'll be supported by a professor from Justus-Liebig Universität Gießen, who is conducting research in the field of agricultural waste. This arrangement will work well, as it will enable Hannah to adopt a bilateral approach, leveraging insights from both Germany and the United States.
John Yuen
John Yuen is a 5th year Bioengineering PhD Candidate in the David Kaplan Laboratory at Tufts University with a prior background in molecular biology and bone biochemistry research at the University of California, San Diego. At Tufts, John works on methods to produce bulk muscle and fat tissues for food and cultured meat applications. These methods include the development of dual-approach bioreactors that combine conventional macroscale channels with tissue vascularization techniques to form a comprehensive tissue perfusion strategy that enables volume efficient engineering of large tissues. John also works on bottom-up approaches to form large tissues using small tissue fragments, specifically for low cost, scalable cultured fat production.
---
Project Backers
8

Backers

101%

Funded

$6,896

Total Donations

$862.00

Average Donation