About This Project
Studies evaluating biodiversity on Indigenous lands do not consider microbial diversity. We aim to demonstrate how Indigenous land stewardship practices have affected microbial diversity and may protect Indigenous cultural heritage. We will evaluate microbial diversity, species richness and functionality of Arizona lands managed by Indigenous communities using NASA's Socioeconomic Data and Applications Center and the Earth Microbiome Project.
Ask the Scientists
Join The Discussion
What is the context of this research?
Soil is an ecosystem that has been managed to provide nutrients for plant growth, traditional foods and animals vital to Indigenous food systems. Healthy and biologically diverse soils can mean higher crop productivity, less dependency on fertilizers and pesticides, and better water quality. Indigenous land care ethics and traditional ecological knowledge are recognized as important drivers to increased biodiversity, but this has yet been applied to the emerging field of soil health. Quantifying below ground biodiversity is vital to accurately measuring dynamic ecosystems managed by Indigenous communities and can be a powerful metric in supporting the revitalization of Indigenous stewardship practices in a changing climatic environment.
What is the significance of this project?
Land in an Indigenous context is a nexus for culture, identity and health. Colonization changed land management practices, altering both above and below ground biodiversity. Areas with more microbial biodiversity and high species richness promotes interspecies relationships which can allow for more flexible responses to climate change. Although microorganisms are vital in regulating climate, they are rarely the focus of climate change studies in Indigenous communities, which are disproportionally being impacted by the climate crisis. Quantifying soil microbial biodiversity is vital to understanding Arizona land management and their resiliency to increased desertification.
What are the goals of the project?
This project is a preliminary exploration of Arizona land management. We will compare three regional areas, with different land management strategies, i.e.: Tribal lands, State Parks and National Parks. We will quantify the microbial biodiversity using 16S rRNA data from the Earth Microbiome Project, evaluate land use data from NASA's Socioeconomic Data and Applications Center, in addition to assessing climate variables. We aim to demonstrate the interlinkages between Indigenous stewardship, biodiversity, landscapes, and cultural values. By completing this preliminary quantification of below ground soil biodiversity in Arizona, we aim to better understand the feasibility of this method and if it can be applied to broader regional and national assessments of soil biodiversity.
Budget
The STAMPS course will train researcher techniques on acquisition and organization of next-generation sequence data; principles of quality control and data management; processing and analyzing marker-gene/amplicon data (such as 16S sequencing); assembly and annotation of shotgun metagenomic data; statistical models for estimating microbial diversity; and microbial community comparison methodology. The course is guided by developers of tools such as PhyloSeq and QIIME2, and will give researcher opportunity to try various analysis techniques and discuss their own data and analyses with faculty, which researcher can share with undergraduate researcher.
Endorsed by
I am a colleague of Dr. Jennings's and have been impressed with her work. This project will move forward Indigenous managed land systems in a good and importantly Indigenous youth will have Dr. Jennings's as a fantastic role model and learning from her brilliance. It is a worthwhile investment.
Dr. Lydia Jennings currently works with my research group as a posdoctoral scholar at the critical intersection of soil science, Indigenous data governance, and science communication and policy. Her proposed project at the nexus of soil microbiome, data science, and land management advances biodiversity inquiries (extending to microbial diversity), innovations in Indigenous data science, and reveals impacts of Indigenous land management practices. She has developed a team of experts to guide this work and will also train Indigenous youth.
Project Timeline
This project will allow for new data technique training for both researcher and an undergraduate researcher. This data has the potential to be confounded by a variety of factors-for example, industry, urban sprawl, availability of data--which is why the STAMPS training workshop is essential, as it will allow the researcher to engage with data repository developers.
Feb 01, 2022
Identify plot areas
Feb 05, 2022
Project Launched
Mar 16, 2022
Data management plan
Apr 30, 2022
Cyverse Training for researcher and undergraduate researcher
Jul 30, 2022
STAMPS Course training
Meet the Team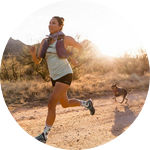 Lydia Jennings
Postdoctoral Researcher in Community, Environment and Policy
Affiliates
The University of Arizona; Collaboratory for Indigenous Data Governance; Native Nations Institute
View Profile
Lydia Jennings
Lydia earned her Bachelors of Science from California State University, Monterey Bay in Environmental Science, Technology and Policy. Lydia completed her Ph.D. at the University of Arizona in the Department of Environmental Sciences, with a minor in American Indian Policy. Her research interests are in soil health, environmental remediation, Indigenous science, mining policy, and environmental data ownership by tribal nations. Lydia is a 2014 University of Arizona NIEHS Superfund Program trainee, a 2015 recipient of National Science Foundation's Graduate Research Fellowship Program, a 2019 American Geophysical Union "Voices for Science" Fellow, and a 2020 Native Nations Institute Indigenous Data Sovereignty Doctoral Scholar.
---
Project Backers
21

Backers

104%

Funded

$5,215

Total Donations

$248.33

Average Donation