Project Results
For several years, an idea had been growing from our work in the field. Perhaps we had another way of funding our paleontology research and field work. Perhaps we could recruit people to come into the field with us, teach them basic field techniques, and generally give them a great experience. There was no way we could have known just how successful this model could be, and in all the different ways. It was impossible to predict how meaningful of an experience we could provide for our participants, and how meaningful the experience would be for us as well. Don't believe me? You don't have to take my word for it. The success of this campaign drove bigger successes in the next few years, culminating in life-changing events in 2017! Stay tuned!
About This Project
Since 2001 the New Jersey State Museum has conducted field research in Montana and Wyoming in an area that was the site of many famed expeditions. The Paleontology Field School will allow the backers to become field assistants for 6 days in July where we will find, collect, and document fossils such as dinosaurs, crocodiles, and turtles, from rocks of both Cretaceous and Paleogene age. To participate each backer must contribute $1300 which includes lodging and food.
Ask the Scientists
Join The Discussion
What is the context of this research?
In 2014, in a seemingly remote and barren corner of the Bighorn Basin, New Jersey State Museum paleontologists and field assistants in the annual Paleontology Field School made a remarkable discovery. We found at least three partial dinosaur skeletons, including the world's most famous predator - Tyrannosaurus rex. This summer we're inviting you to join us in our excavation. You can help us dig up the skeletons and bring them back to our research labs for preparation, study, education, and exhibition.
What is the significance of this project?
Excavating these dinosaur skeletons will provide us a treasure trove of information about the individual animals themselves - how they lived, and how they died. They'll also tell us about their species in general and their relationships to other species, including those in eastern North America. All of this information will give us better insight into the region's ecosystem at the end of the Cretaceous Period, which may in turn help us to better understand the end-Cretaceous mass extinction. Even after our studies are complete, these specimens will help us engage countless visitors on paleontology, paleoecology, and many other science topics, for generations to come. We can only guess how many generations of students to come will marvel at and be inspired by these specimens.
What are the goals of the project?
This is a unique opportunity for you to join us on our 2015 dig in July. We will be out in the Bighorn Basin for 3 weeks starting July 12th. To participate it costs $1,300 per person.


You're welcome to join for 1 week or all 3!


July 12th - July 18th Sold out!


July 19th - July 25th


July 26th - August 1st
Budget
There are 3 expeditions this summer.


Sold Out! July 12th - July 18th: 0 out of 20 spots left


July 19th - July 25th: 10 out of 20 spots left


July 26th - August 1st: 12 out of 27 spots left
Meet the Team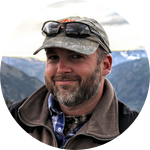 Jason P Schein
Founding Executive Director, Bighorn Basin Paleontological Institute
Affiliates
B.S., Geology, Auburn University M.S., Geology, Auburn University
View Profile
Team Bio
I am fundamentally a natural historian at heart. In nature, both past and present, I find the source of all the inspiration, fascination, and knowledge imaginable. My primary paleontological interests lie in the Late Cretaceous marine and terrestrial ecosystems of North America, including, paleoecology, paleogeography, taphonomy, extinction dynamics, faunistics. My background in geology fuels additional interests in sedimentology, and in recent years I've also developed interests in functional morphology and Pleistocene (Ice Age) megafauna. Finally, I also enjoy sharing my love of nature and paleontology. In addition to teaching geology and paleontology at the university level, I teach natural history and paleontology to children vising the New Jersey State Museum, and field paleontology to students and adults on summer expeditions in Montana and Wyoming.
Jason P Schein
Very simply, I want to do nothing more than surround myself with nature and learn everything I can about it in the short time I have on this planet. I am a natural historian at heart.
I studied geology at Auburn University and paleontology at Drexel University. My publications range a variety of subjects from giant sea turtles to the end-Cretaceous mass extinction. I am most fascinated by the Late Cretaceous marine and terrestrial ecosystems in North America because it allows me to combine my loves of paleontology, nature, the outdoors, and the history and grandeur of the great American West.

I've participated or led expeditions in Argentina and across the United States. As the Founding Executive Director of the Bighorn Basin Paleontological Institute, I now lead annual summer expeditions in the Bighorn Basin in Montana and Wyoming. The BBPI is a nonprofit 501(c)(3) organization dedicated to paleontology and earth science research, education, and outreach.
Suburban Philadelphia, Pennsylvania is where I call home. I fill my "free" time by hunting, fishing, writing, and learning. I love sharing my love and knowledge of the natural world with my family and being a Dad.
Visit bbpaleo.org to learn more about our organization. You can also follow us on Facebook, Twitter, and Instagram.

Cindy Wu
Staff at Experiment. If this site is broken you can blame me. I don't check my direct messages, but would love to hear from you by e-mail: cindy@jellypbc.com.
Additional Information
Banner Image used courtesy of Trey Ratcliff.
---
Project Backers
11

Backers

1,000%

Funded

$13,004

Total Donations

$4.00

Average Donation