About This Project
How many sharks should there be on Caribbean reefs? Despite evidence suggesting that sharks once existed in numbers unheard of today, this critical question remains unanswered. We discovered that sharks leave a record of their presence in the form of dermal denticles, the tiny, tooth-like scales lining their skin, preserved in reef sediments. We are now pioneering denticles as an ecological tool to reconstruct pre-human shark baselines and supplement surveys on modern reefs.
Ask the Scientists
Join The Discussion
What is the context of this research?
You can think of denticles as 'skin teeth.' They're the reason why shark skin feels smooth in one direction and rough in the other. Denticles play a variety of roles, ranging from hydrodynamics to protection. Consequently, they are quite morphologically diverse, and their form is highly linked to shark ecology. They've even inspired biomimicry designs, including Speedo's FastSkin swimsuit.
Denticles are continually shed by sharks, and we've found them to be well-preserved on both modern and fossil reefs. They allow us to paint a long-term picture of the number and types of sharks inhabiting a reef even if we can't see them (or if they're long gone). Our study is the first of its kind to explore denticles as a 'window' into pristine shark communities in the recent past.
What is the significance of this project?
Sharks are critical players in healthy coral reef ecosystems. However, they are notoriously difficult to census given their rarity and elusive habits. On many occasions, they are not even reported in surveys. How can we protect something that we seldom see? Additionally, pre-human shark baselines are essentially nonexistent, further hampering conservation efforts. With our perception of 'pristine' shifting over time, it is difficult to set management targets and assess recovery since we don't have a very good grasp on the magnitude of shark declines. However, by revealing the abundance and diversity of sharks currently living on reefs as well as the status of shark communities in the past, our project has the potential to inform more realistic region-specific shark conservation goals.

What are the goals of the project?
The goal of our project is to develop dermal denticles as a new tool to assess whether shifts have occurred in shark communities over time and space in the Caribbean across the timeline of human interaction with the ocean. We will accomplish this by first ground truthing the denticle record (extracted from reef sediments we collect) with newly-available shark survey data from Baited Remote Underwater Video on Curaçao. Then, we will explore patchiness in denticle assemblages across reef habitats and what it can tell us about sharks' habitat use. Finally, we will compare denticle assemblages on Curaçao with our existing denticle collections from modern and fossil reefs in Panama and the Dominican Republic to evaluate spatial and temporal variation in the Caribbean.
Budget
The money we raise here will fund our access to boats, SCUBA tanks, and field supplies, which are essential to collecting sediment. Your support will also fund shipping costs to transport the samples to our lab, where the denticles will be extracted, measured, and identified. Finally, the money will supplement travel costs to Curaçao.
Our project is also made possible by the Caribbean Research and Management of Biodiversity (CARMABI) Prize for the 'Best Research Idea,' which we were awarded at the Association of Marine Laboratories of the Caribbean conference last year.
We're offering the following rewards to our donors:
*All donors will receive a social media shout-out as we report live from the field. Check out our earlier expedition to the Dominican Republic here. Be sure to follow along in February 2017 as we sample the reefs of Curaçao with your support!
*$100: Name a denticle! You'll receive a certificate and image of your denticle.
Endorsed by
I highly believe that with this new technique (shark's denticles) great insights into the pre-human shark assemblages on Caribbean reefs will be revealed. This knowledge is especially important, as it will allow Erin to compare the pre-human shark assemblages with the current situation on modern reefs. I'm very positive that Erin Dillon is the perfect person to conduct this project and I'm very excited to hear about her progress. All the very best. Ornella
This project will provide a historical reference of shark populations against which managers can assess the role of human impact on the current ecological status of reef sharks. The methods are novel and have been tested through preliminary work. The design is sound and allow direct comparison with data of other taxa, that is currently being produced. Erin Dillon and Aaron O'Dea are excellent scientists. They have vast experience conducting challenging fieldwork and have consistently delivered meaningful results and interpretations.
Meet the Team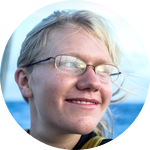 Erin Dillon
PhD Student
Affiliates
UC Santa Barbara, Smithsonian Tropical Research Institute
View Profile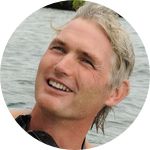 Aaron O'Dea
Research Biologist
Affiliates
Smithsonian Tropical Research Institute
View Profile
Erin Dillon
I graduated from Stanford University in 2014 with a B.S. in Biology and Honors in Marine Biology. My undergraduate adventures took me all over the world from remote islands in the Pacific to the frigid waters of Antarctica. However, the vibrant complexity of coral reefs struck me the moment I jumped in the water. I was hooked. I spent the following two years after graduation as a fellow at the Smithsonian Tropical Research Institute (STRI) in Panama, where I began exploring dermal denticles as a paleoecological tool to reconstruct shark communities on coral reefs. I am now about to dive headfirst into my PhD at the University of California, Santa Barbara in the department of Ecology, Evolution, and Marine Biology. There, I intend to refine this technique further as part of my dissertation, in addition to investigating the functional ecology of top predators on reefs and getting more involved in science communication

Aaron O'Dea
I am a staff scientist at the Smithsonian Tropical Research Institute and a SENACYT Distinguished Researcher. My principal interests lie in using the marine fossil record to examine how environmental change drives evolutionary and ecological change over time. In particular, my lab group and I are investigating what the tropical seas were like before humans. We combine the fossil record of coral skeletons, mollusk shells, fish otoliths, shark dermal denticles, and sponge spicules with archeological and modern collections to reconstruct ancient coral reefs and other tropical ecosystems. This allows us to explore if the interactions between these diverse community members have changed since human perturbation and whether evolution through selection has occurred.
After receiving my PhD from the University of Bristol in 2000, I joined the STRI community as a fellow and have been involved ever since.
Additional Information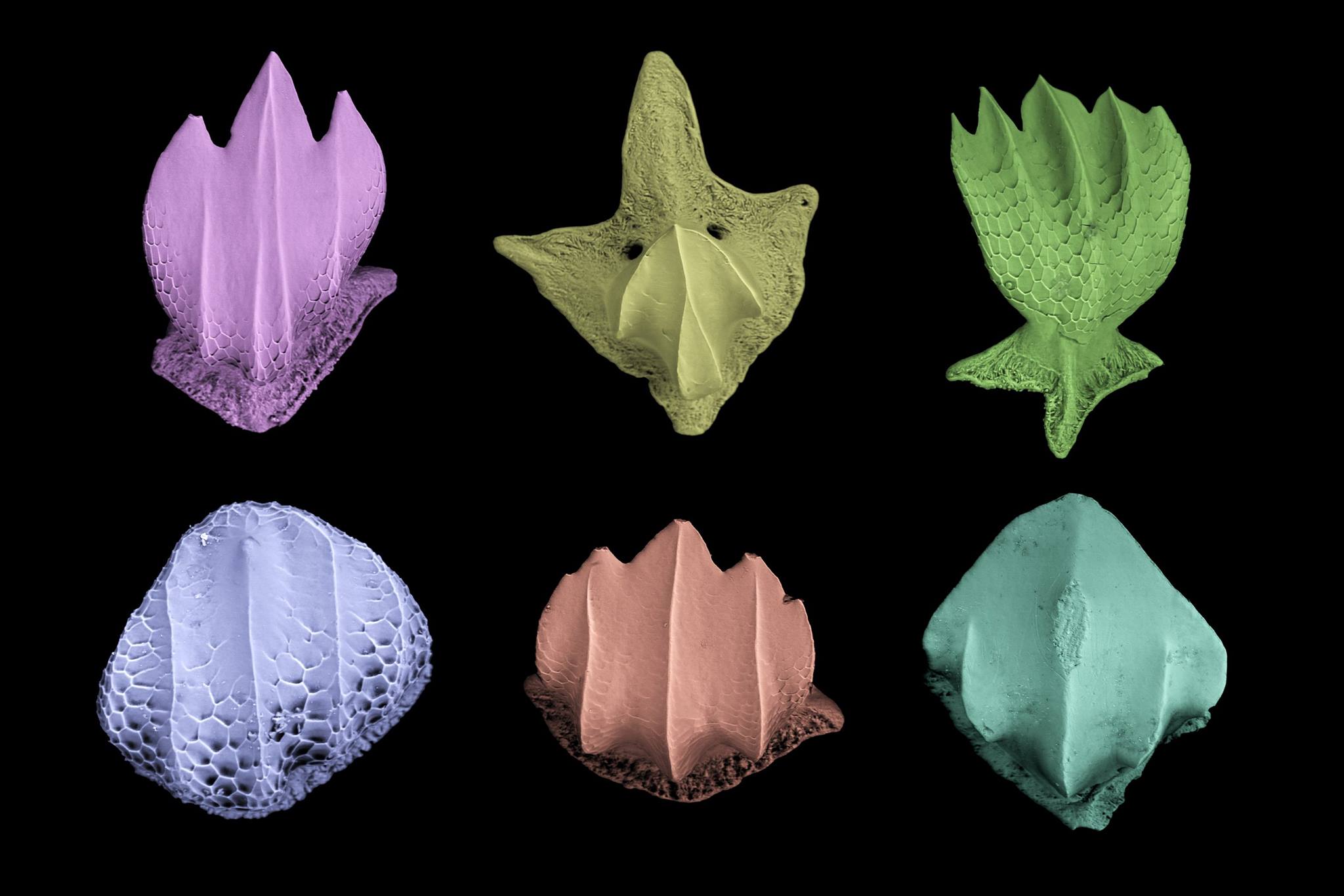 Scanning electron microscope (SEM) images of denticles displaying their great morphological diversity.
Developing the tool
We are tapping into the denticle record as a novel approach to reconstruct shark communities. To make accurate assessments with this tool, we first need to understand how well the denticles we collect from sediments reflect the living shark community. While many traditional visual survey methods have reported zero or very few sharks around Curaçao, Baited Remote Underwater Video (BRUV) stations are a more promising technology for detecting sharks and are now being used globally to estimate relative shark abundance in a standardized manner. This data will soon be available on Curaçao, allowing us to relate denticle accumulation in sediments to the abundance of sharks from which those denticles were shed.
Why Curaçao?
While the sharks of the Caribbean have been highly depleted, Curaçao is in slightly better shape than many other locations, including our previous study sites in Panama and the Dominican Republic. Like these two sites, however, Curaçao has sheltered, silty sediments that are ideal for sampling and where the denticles are more likely to be beautifully preserved. Therefore, Curaçao would provide us with comparable sediment samples from an intermediate point along the gradient of reef health in the Caribbean.
Want to learn more?
Check out these links:
http://saveourseas.com/update/...

http://www.saveourseasmagazine.com/conversation-erin-dillon/
https://anatomytoyou.com/2016/01/27/skin-teeth-stories-using-shark-denticles-to-look-to-their-past/
http://www.stri.si.edu/sites/strinews/PDFs/STRINews_Apr_1_2016.pdf
---
Project Backers
18

Backers

101%

Funded

$4,045

Total Donations

$224.72

Average Donation