About This Project
Using a unique specimen of the White Shark, Carcharodon carcharias, I will prepare micro-CT scans to study the 3-D architecture of enamel organs and blood vessels during early tooth development. The only histological material for the White Shark was prepared more than 60 years ago; some black and white photographs exist, but the slides were lost. This project will contribute to comparative anatomy of vertebrate tooth development and provide details about the teeth of an iconic species.
Ask the Scientists
Join The Discussion
What is the context of this research?
We recently published descriptive studies on comparative microstructure and development of lamniform shark teeth based on micro-CT scanning of dry specimens (Moyer et al., 2015; Bemis et al. 2015). Now, I am fortunate to have secured a uniquely well-preserved specimen of the White Shark, Carcharodon carcharias, collected 20 years ago, that is suitable for making new detailed micro-CT and histological studies of soft tissues associated with teeth – enamel organs and blood vessels of the pulp. Peyer prepared the only histological material for White Shark teeth more than 60 years ago for descriptive study of mineralized tissues; some B&W photographs exist, but his slides were lost before studies of vasculature could be made.
.
What is the significance of this project?
No one has examined enamel organs or blood vessels associated with early tooth development in lamniform sharks. This new study of soft tissues targets the roles of these tissues in early tooth formation. I will use micro-CT of iodine-stained portions of the jaws, a method that will resolve the vasculature in detail. I also will make new histological sections using two methods: conventional paraffin sections of early tooth germs and the low-viscosity nitrocellulose method, which works well for thick (60µm) sections to be stained with conventional dyes. This study will make it possible to make comparative anatomical studies of early tooth development in sharks as well as vertebrates more generally.
What are the goals of the project?
1. Prepare and study 3-D reconstructions of early tooth formation in the White Shark, an iconic species known for its highly specialized dentition.
2. Make comparative analyses to early tooth formation in other sharks and vertebrates.
Budget
This is a self-contained project and request. These two budget items will cover expenses for research and diagnostic lab services. This project will need to be delayed until I secure funding.
Endorsed by
This is an excellent and worthy project. As strange as it might seem we still do not know the details of how sharks' teeth develop in the jaw. Prof. Bemis' project will shed light on this long-overlooked question. Findings from the project will have important implications not only for our understanding of early tooth development in sharks, but for our understanding of tooth development in vertebrates in general. Prof. Bemis is a world authority on the anatomy of fishes and perfectly qualified to carry out the proposed work.
Meet the Team
William Bemis
William E. Bemis is Professor of Ecology and Evolutionary Biology at Cornell University. He received his B.A. in Biology from Cornell University (1976), M.S. in Zoology from the University of Michigan Ann Arbor (1978), Ph.D. in Zoology from the University of California Berkeley (1983) and spent two years as an instructor and postdoctoral fellow in the Department of Organismal Biology at the University of Chicago. He served 20 years as Professor of Biology at the University of Massachusetts Amherst, where he taught comparative anatomy, embryology, ichthyology, and trained doctoral students in vertebrate biology. He has traveled extensively for research and worked with specimens in more than 50 natural history collections on six continents. Author of 70 research publications on the anatomy and evolution of vertebrates, Bemis also co-authored and co-illustrated a popular textbook of vertebrate anatomy, Functional Anatomy of the Vertebrates (3rd edition, 2001). From 2005 to 2013, Bemis served as Kingsbury Director of Shoals Marine Laboratory at Cornell. In 2013, Bemis returned to the faculty of the Department of Ecology and Evolutionary Biology, where he conducts research in comparative anatomy, trains undergraduate and graduate research students, and teaches course in vertebrate biology, anatomy, and evolution, including a new CornellX-UQX- edX Massive Open Online Course on the biology of sharks, rays, and ratfishes, popularly known as Shark MOOC. For more information, visit: https://www.edx.org/course/sharks-global-biodiversity-biology-cornellx-uqx-bioee101x#!
Additional Information
Color 3-D reconstruction of developing teeth in a tooth file of the White Shark, Carcharodon carcharias from Moyer et al. (2015). The image shows two functional teeth (at left) and a series of six developing teeth (at right). This specimen was a dried jaw without soft tissues. The new project will use micro-CT to study the developing teeth together with the surrounding soft tissues in a uniquely well-preserved specimen.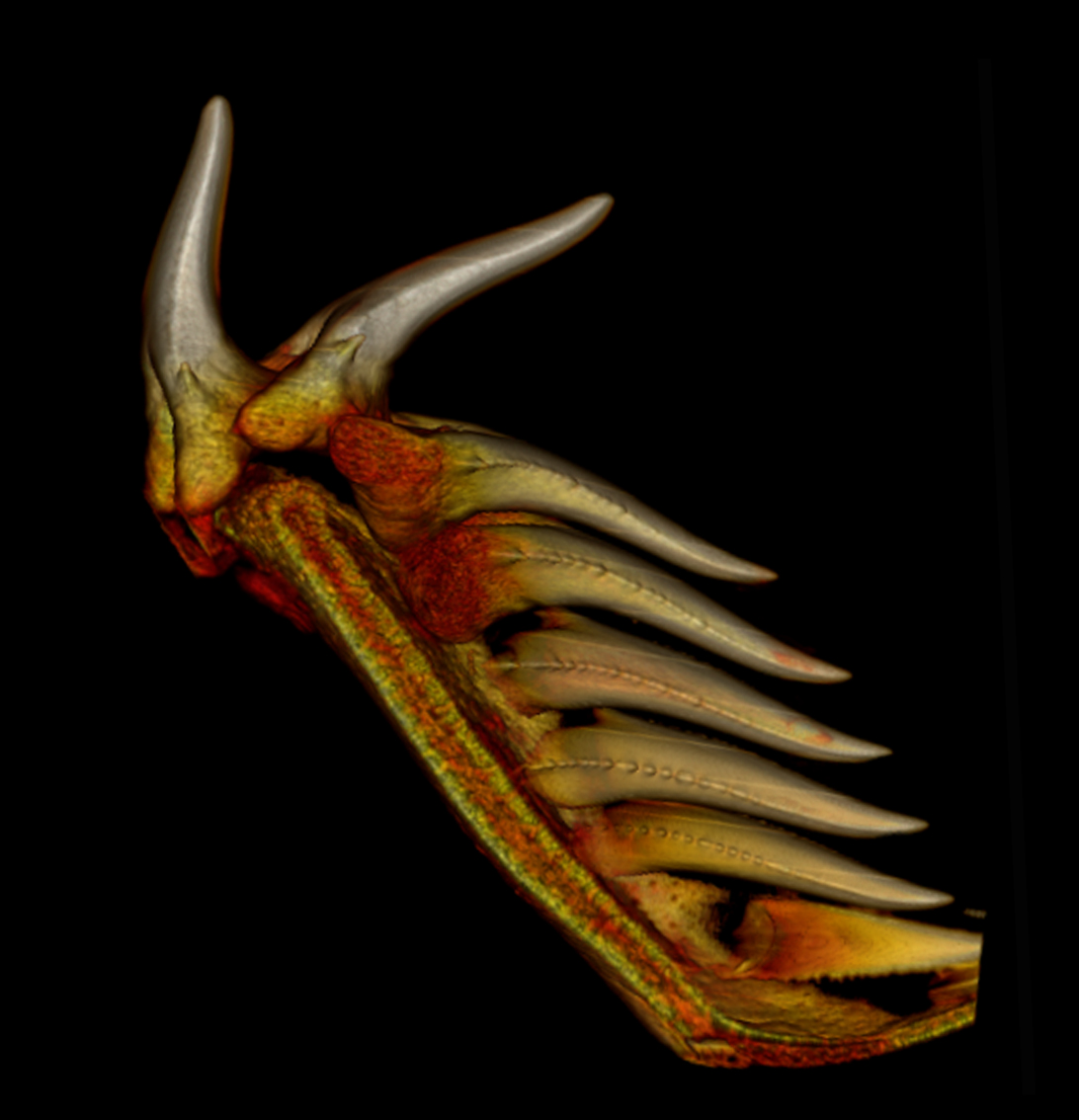 Bemis, W. E., J. K. Moyer, and M. Riccio. 2015. Homology of lateral cusplets in the teeth of lamnid sharks (Lamniformes: Lamnidae). Copeia 103:961–972.
Moyer, J. K., M. Riccio, and W. E. Bemis. 2015. Development and microstructure of tooth histotypes in the Blue Shark, Prionace glauca (Carcharhiniformes: Carcharhinidae) and the Great White Shark, Carcharodon carcharias (Lamniformes: Lamnidae). Journal of Morphology 276:797–817.
---
Project Backers
4

Backers

9%

Funded

$85

Total Donations

$21.25

Average Donation