About This Project
As prevalence and spatial distribution of prion diseases such as chronic wasting disease (CWD; see lab note) increase across North America, there is growing public concern that these diseases may be transmitted to domestic species such as cattle and thus, pose an increased risk to human health. Our research will evaluate molecular mechanisms involved in transmission and replication of prion diseases, which is essential for identifying novel genes associated with CWD-infected individuals.
Ask the Scientists
Join The Discussion
What is the context of this research?
White-tailed deer (WTD) are the most popular big game species in North America and provide many social, economic, and cultural values to wildlife users across the country. However, their frequent close contact with humans leads to a potential for disease spread, particularly prion diseases (e.g., CWD) that are known to cross species barriers (i.e., deer and elk) to infect livestock (e.g., mad cow disease) or humans (i.e., variant Creutzfeld-Jakob disease). Other zoonotic diseases (bovine tuberculosis, Lyme disease) are indirectly transmissible from WTD to humans, and so constitute ongoing public health concerns. Thus, understanding the genetic mechanisms related to WTD disease transmission is important for reducing similar wildlife conflicts or potential health risks for humans.
What is the significance of this project?
Increasingly powerful genetic analyses facilitate development of species-specific genetic profiles, including WTD. Nevertheless, a lack of genetic information exists at the transcriptome (i.e. all coding genes in an individual) level. This lack of basic genetic information leads to difficulties addressing disease management questions focused on epidemiology or differential gene expression (i.e. what genes are turned on/off in response to a specific state) on an organismal scale. Thus, our study will lead to the development of a genetic profile for CWD-infected WTD to better understand how CWD affects animals on a genetic level. To our knowledge, only one other study has described a WTD transcriptome, thus our analyses will facilitate future in-depth genetic studies of WTD.
What are the goals of the project?
The overall goal of this research is to identify changes in gene expression resulting from CWD, providing a greater understanding of neurodegenerative mechanisms of the disease and genetic profiles that may be more susceptible to infection. Specific project objectives include describing the transcriptome in WTD and evaluating the efficacy of genetic (transcriptome) profiling for identifying CWD-infected WTD. Results of this study also may be used to evaluate the feasibility of genetic profiling as an alternative method for CWD-testing across the United States.
Budget
Primary budget needs for this project include support for conducting genetic analyses to annotate and validate genes from CWD-infected white-tailed deer (WTD), and travel to professional conferences to present final results. Previous funding support also is provided by Federal Aid in Wildlife Restoration administered by the Illinois Department of Natural Resources (Project Number W-178-R). Support for the proposed research is critical to ensuring annotation and validation of the complete set (n = 59) of differentially expressed genes from CWD-infected WTD.
Endorsed by
I am really excited for this research project. I believe it will answer critical questions, i.e., what genetic mechanism is involved in the CWD infection in white-tailed deer. The researchers are the best team I know to address the research questions.
This is a very exciting and novel research intiative. Chris and Emma have worked with the Illinois DNR to obtain genetic profiles from wild-caught CWD infected white-tailed deer - allowing them to characterize the cellular response and protein pathways related to CWD infection in their natural habitat. Their work is innovative and scientifically robust which has the potential to be directly applied to white-tailed deer management. I strongly support this research, as should anyone that values white-tailed deer as a natural resource.
Meet the Team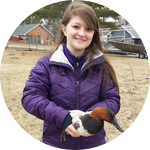 Emma Trone
Graduate Research Assistant
Affiliates
Western Illinois University
View Profile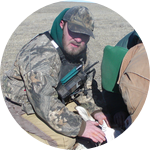 Christopher N. Jacques
Assistant Professor of Wildlife Ecology
Affiliates
Western Illinois University, Department of Biological Sciences, 1 University Circle, Macomb, IL 61455
View Profile
Emma Trone
I am currently working on my M.S. at WIU with an anticipated graduation of December 2016. My thesis research is focused on gene expression in chronic wasting disease (CWD) infected white-tailed deer. I am also evaluating post-mortem RNA degradation in white-tailed deer to develop a time-line for the purpose of next generation sequencing. Previously, I worked as a fisheries technician for the Illinois Natural History Survey conducting sampling for the Long-term Resource Monitoring Program (LTRMP), aiding in diet studies, vegetation sampling, and examining Asian carp fecundity in the Illinois River. I have also participated in small mammal trapping, duck banding, mice immunizations and necropsies, radio collaring and tracking bobcats.
Western Illinois University, B.S. Biology with an emphasis in Zoology, 2013
Christopher N. Jacques
My current research is focused on the study of vertebrate population ecology at three scales of study, including spatial requirements of individuals, population-level dynamics, and community/landscape-level dynamics. At each of these scales, I work collaboratively with university, state, and federal conservation organizations across the Midwest, Intermountain West, and southeastern United States on the development and evaluation of quantitative, field, and laboratory methods to address applied conservation issues. My research has focused largely on ungulate ecology and management, though has expanded in recent years to include additional vertebrate taxa (e.g., mesocarnivores, waterfowl, small mammals) to address priority management and conservation issues. Additionally, my students and I also focus on integrating infectious disease ecology with intensive field studies to elucidate mechanisms that underpin spatial and temporal responses of terrestrial vertebrates to harvest strategies, natural and human-induced disturbances across Midwestern landscapes, predator-prey dynamics, and ultimately the factors regulating population growth.

South Dakota State University, Ph.D., Wildlife and Fisheries Sciences, 2007
South Dakota State University, M.S., Wildlife and Fisheries Sciences, 2001
University of Maine, B.S., Wildlife Ecology, 1995
---
Project Backers
5

Backers

4%

Funded

$160

Total Donations

$32.00

Average Donation