About This Project
Our study aims to use camera traps to model the densities of several large mammals in Red Butte Canyon, Utah - one of the few remaining pristine watersheds in the Great Basin. Results will provide a baseline for other more populated or heavily used canyons along the Wasatch Front and will serve as a public outreach tool to communicate the importance of biodiversity and ecosystem services.
Ask the Scientists
Join The Discussion
What is the context of this research?
Researchers at the Biodiversity and Conservation Ecology Lab at the University of Utah focus on the world's threatened biodiversity and ecosystems, especially in human-dominated landscapes. We conduct fieldwork on the co-existence of people and other species in a range of ecosystems including Utah, Ethiopia and Turkey to address questions in conservation, ecology and biogeography. Our work aims to help prevent extinctions and the consequent collapses of critical ecosystem processes and to ensure that local communities benefit from conservation as much as the wildlife they help conserve. We use camera traps extensively in biological surveys as a tool to identify new records of species and to manage known wildlife populations. The proposed study will benefit local ecosystems in the Intermountain West while simultaneously contributing to the science of camera trapping. In addition, the camera trap equipment we purchase with your support will enable us to work for many years in our study area to introduce undergraduate biology students to the field of conservation biology.
What is the significance of this project?
Our work will directly impact the local community in several ways. As the last pristine watershed in the Great Basin, Red Butte Canyon's ecosystem can serve as a baseline for ecosystems throughout the Intermountain West. Our estimates of mammal abundance and diversity can be compared to other canyons to better understand the impact of human activity.

We also plan to distribute our photos as a public outreach tool to educate the public about local biodiversity and the importance of protected areas and ecosystem services.

Our work will also significantly impact the scientific community. We will use the Random Encounter Model method for population density analysis, which does not require the recognition of individual animals. Though camera trapping experts have recently proposed this method, relatively few researchers have used this experimental design. Our study will help develop a technique requiring fewer camera traps than current approaches, which would be significant for the practical use of this method by improving its cost-effectiveness.
What are the goals of the project?
This project will be the first comprehensive survey of large mammals in Red Butte Canyon. Our immediate goal is to complete an undergraduate honors thesis based on a Spring 2014 field season. Undergraduate Biology student Blake Hethmon will test the feasibility of a newly proposed method for population density analysis, the Random Encounter Model, and apply his findings towards the improvement the cost effectiveness of camera trap studies. Based on Blake's work, we will produce several scientific publications, including a rigorous test of the Random Encounter Model and a summary of large mammal densities in Red Butte Canyon. The results of this research will aid in the continued management of Red Butte Canyon through documentation and updating of mammalian species lists, as well as through public awareness of the pristine quality and protected nature of the canyon. Photos will be used to demonstrate to the public the diversity of mammal species that rely on Red Butte Canyon as a crucial refuge. This research will also help clarify the relationship between Utah's expanding urban areas and the surrounding wildlands.

With your support, the camera traps purchased will be used to support our work for many years to come. The equipment will enable us to monitor large mammals in Red Butte Canyon, provide valuable research experience for many undergraduate scientists, and create a resource to share with the public to help communicate the importance of protected areas, biodiversity and ecosystem services.
Budget
Our budget aims to maximize our sample size by purchasing more camera traps and associated equipment (batteries, memory cards). All other costs, such as software and travel to the study site, will be covered by the Biodiversity and Conservation Ecology Lab, Biology Department, University of Utah.

Each camera requires one memory card, one security lock, and 12 AA batteries. The security lock is essential to prevent theft from the illegal trespassers that have been documented in Red Butte Canyon. Our budget includes two sets of rechargeable batteries to allow us to exchange batteries in a single visit to the study site. This one-time purchase of equipment will allow us to collect data for 1.5 years to successfully complete the proposed project, including Blake's honor's thesis. This equipment will also be used to collect data for several years following Blake's project, supporting more research at the undergraduate and graduate level.
Meet the Team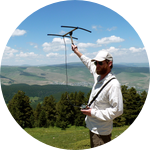 Team Bio
Mark has been working in the field of conservation for the past 8 years on projects throughout the United States, on three separate continents and two oceanic islands. After receiving a BA in geography from SUNY Geneseo (2006), he worked as a naturalist and environmental educator at several nonprofit organizations and completed a MS degree in Natural Resources and Environmental Management at the University of Hawaii (2012). When he is not capturing wolves and bears for his dissertation research, he enjoys climbing volcanoes and listening to Waylon Jennings.
Blake hails from the Sunshine State and is anxious to learn more about Utah's large mammal diversity. He is an undergraduate student in the Biology Department and very excited to use camera traps for his honors thesis work. After graduation, Blake plans to pursue a career in quantitative ecology.
Erin Gamertsfelder
I am currently an undergraduate at the University of Utah in the Biology department. Growing up in Salt Lake City has provided me with a fascination of nature and the outdoors. I love learning about ecology and biodiversity conservation.
Press and Media
Our lab works internationally and has been the subject of many popular press articles. On Nov. 21st, two of our camera trap photos received runner-up and commended in
BBC's Wildlife Camera-trap Photo of the Year 2013
. Also, check out a
recent article
on National Geographic's website about our work in Turkey, or like our
Facebook page
to receive updates about our conservation work around the globe.
---
Project Backers
12

Backers

100%

Funded

$3,000

Total Donations

$250.00

Average Donation