About This Project
We rely on bees to pollinate plants critical for our survival, but viruses threaten these key pollinators. Bees infected with viruses experience devastating effects, including deformities and larval mortality. Our project will look at the influence of bee biodiversity and species interactions on the prevalence and distribution of four viruses in wild bee communities. By expanding our understanding of how bee viruses spread, this project can provide insight into conservation strategies.
Ask the Scientists
Join The Discussion
What is the context of this research?
Viral diseases and other pathogens are one of the top four threats to bees. First identified in managed honey bee colonies, many bee viruses are now known to infect a wide range of native species as well. This is due to pathogen spillover, when pathogens transmit from one host species to another species, which is a common occurrence among bees. Scientists believe that these viruses spread between species when infected individuals deposit viral particles onto flowers that uninfected individuals then visit. We know pathogen spillover can make entire communities vulnerable. By studying bee communities and identifying the viruses found within them, we can better understand how to stop the spread.
What is the significance of this project?
Bee conservation efforts need to go beyond protecting our favorite honey-making friends. There are ~4000 species of native bees in the U.S.; many of which fill a role in the pollination of our crops and wildflowers unmet by managed honey bees. These species alongside honey bees face multiple threats that are compounded by exposure to harmful viruses.
Addressing the issue posed by bee viruses will require going beyond focusing on a single vulnerable species and towards understanding how these diseases affect the entire community. While this work will take place in Florida, it addresses a global phenomenon. This project will contribute to the growing body of literature on bee disease ecology and help inform efforts to protect these important species.
What are the goals of the project?
We will collect 200 bees from up to 20 species and test each for the presence of four bee viruses: black queen cell virus, deformed wing virus, Israeli acute paralysis virus, and sacbrood virus. Bees will be collected from communities that we have been monitoring in Alachua County, FL, and for which we have established the network of floral associations that connect the resident species.
With this collection, we aim to: 1) identify which of four common bee viruses are present in the bee communities we are studying and which bee species are susceptible to infection(s), 2) map the host distributions of these viruses onto known networks of bee species associations within each community, and 3) assess if bee biodiversity can predict viral infections within the communities.
Budget
Our budget will cover the costs of lab and field work to collect sample bees and identify the viruses that are infecting them.
For field collections, we will net bees actively visiting flowers and transport them back to lab. Funds will cover all necessary field supplies, including nets, vials for storing the bees, dry ice, and vehicle costs for transporting them back to the lab.
For viral identification, we will extract the viral RNA from the collected bees using molecular reagents and characterize the viruses using RT-qPCR (i.e. genetic) protocols.
**Surge Fund Priorities** (Funds collected above the original funding target)
1. Compensation for the lab member who kindly designed the bee stickers pro bono – $250
2. Virus extraction and identification of an additional virus from the sample bees – $600
Endorsed by
This project will answer important questions regarding the health of our native, wild pollinators. Pollinators are critically important for both crop production and biodiversity. The researcher Galen Cobb has a strong background and excellent mentors at UF who will help her achieve her research goals. This project is highly worthy of funding.
Project Timeline
Fieldwork to collect sample bees will occur over two seasons (Fall 2021 & Spring 2022). The fall season will start in September and end in early November. Spring fieldwork will begin in mid-March and go until early May. Viral RNA extractions and processing will begin in December 2021 and continue through the spring. Data collection is expected to finish up in the summer of 2022 and the manuscript will be ready for publication by the following December.
Aug 17, 2021
Project Launched
Aug 30, 2021
Project start
Nov 15, 2021
Collection of fall specimens
May 30, 2022
Collection of spring specimens
Aug 20, 2022
Viral RNA extraction and characterization
Meet the Team
Galen Cobb
Hi there! I'm a Ph.D. candidate in Zoology at the University of Florida, researching bee ecology and conservation. I first got interested in bees in 2014 when I attended a talk on honey bee colony collapse disorder. I joined the researcher who gave that talk to do my undergraduate senior thesis on the impact of insecticides on honey bee larval development. After college, I went on to study other chemicals and their impacts to honey bees for a company that specializes in environmental toxicology. Learning about the threats to bees and their importance to people as pollinators, I came to see that a broader perspective was needed to address the multi-faceted threat faced by our pollinator friends. Coming to graduate school, I gained an appreciation for the larger biodiversity of bees (there are approximately 4000 bee species in North America!), as well as developed the skills I needed to study bee populations and communities. This project will be part of my dissertation on bee ecology and conservation and contribute to my completion of my Ph.D. program.
Additional Information
Banner photo credit: Bob Peterson
Backer Gifts – if you would like one of these backer gifts, please send me a private message with your mailing address (for stickers, shirts, or documents) or email (for virtual Q&A) and they will be sent out upon successful funding of this project.

Any amount - An infographic of my results at the end of the study
$25 - A set of 5 stickers of with designs of different native Florida bees
$50 - Invitation to a private group Q&A session (virtual) about native Florida bees + rewards from $25 level
$100 - Adopt a bee in my collection certificate and accompanying life history story of the species + rewards from $50 & $25 levels
$250 - A mention in the acknowledgements of my dissertation and a whole set of 5 life history stories about native Florida bee species and a t-shirt with a native bee design + rewards from $50 & $25 levels
Example native bee sticker designs: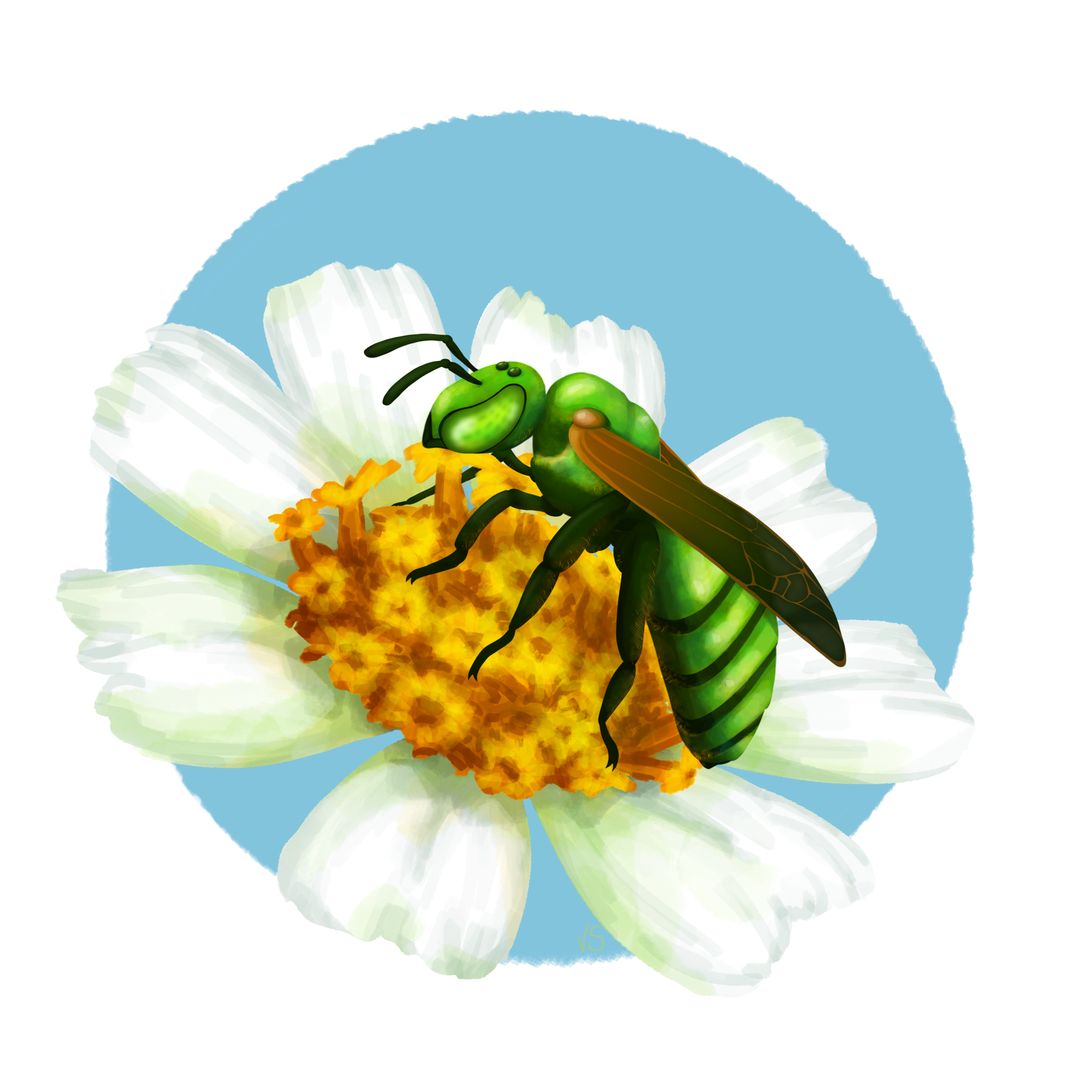 Agapostemon splendens on Bidens alba, artwork by: Veronica Selden
Osmia chalybea flying towards a Cirsium horridulum flower, artwork by: Veronica Selden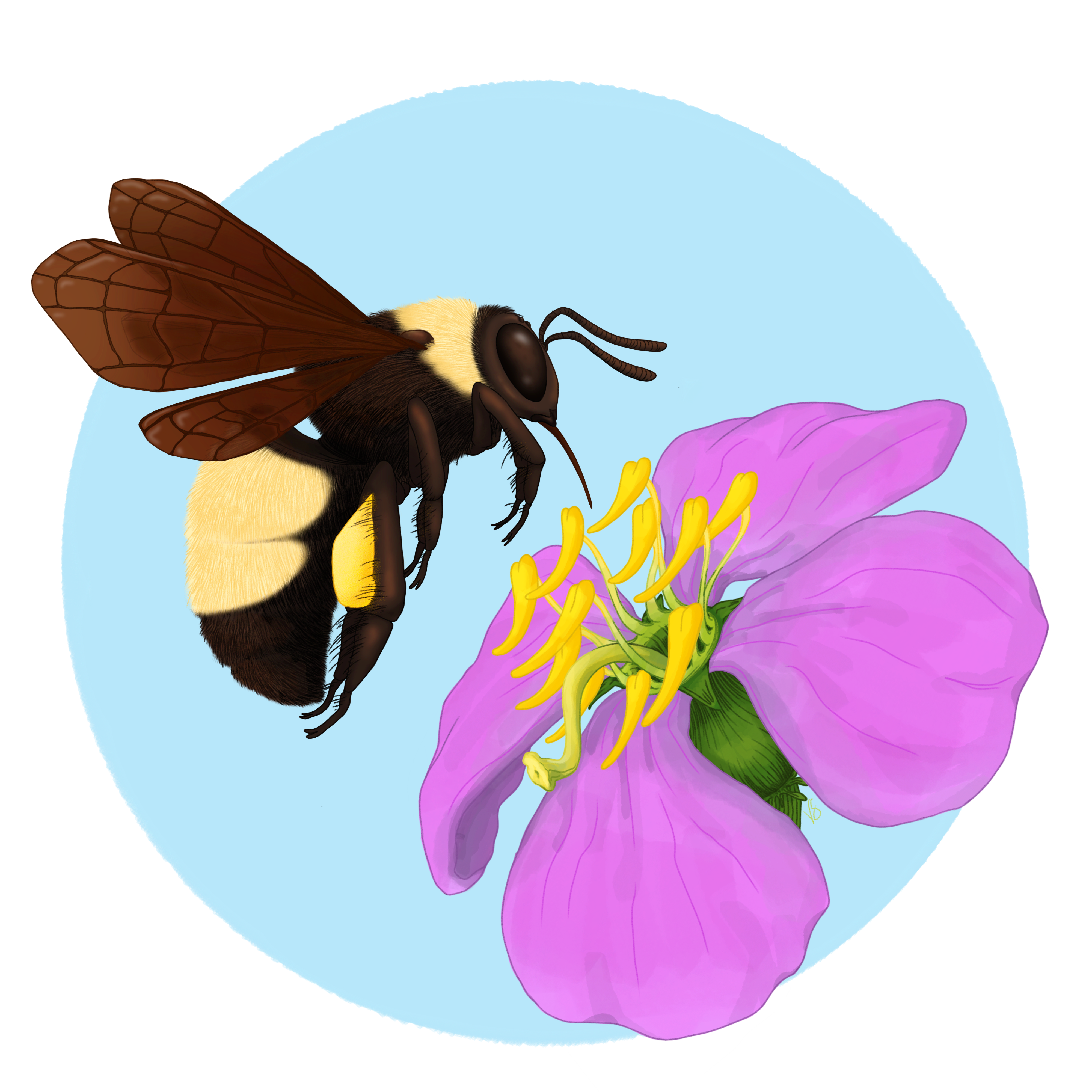 Bombus pensylvanicus visiting a Rhexia spp. flower, artwork by: Veronica Selden
---
Project Backers
35

Backers

100%

Funded

$4,529

Total Donations

$129.40

Average Donation