About This Project
Just Science For [You]th is a political education program for refugee teenagers in Cleveland, Ohio about the politics of science. By conducting regular surveys in conjunction with them developing self-advocacy STEM projects, we will track the teenagers' interest in STEM, likelihood to study STEM in college, and determine whether socially driven STEM education invigorates historically excluded teens to study STEM more than traditional apolitical pedagogy.
Ask the Scientists
Join The Discussion
What is the context of this research?
Teenagers of working-class backgrounds are at a crossroads as they graduate high school, facing both the reality of possibly financially supporting their families and engaging with a life's work they deeply care for. Many face difficulties in school, creating more barriers for them to study fields not welcoming or culturally relevant, oftentimes STEM. Furthermore, a political resurgence has spurred several efforts by scientists to politicize STEM with radical critiques in hopes of creating more ethical science. JSFY will gauge if by making clear the political ramifications of STEM to their lives and communities, standard STEM interest surveys will observe improved attitudes towards STEM and STEM careers in youth with refugee status.
What is the significance of this project?
The program would primarily serve teenagers in Cleveland Ohio, already affiliated with The Refugee Response (TRR), and tangentially students in Bogota, Colombia. The young adults are originally from Chad, Afghanistan, Somalia, and Bhutan. These students may be dealing with socio-economic obstacles, inconsistent education, and traumatic experiences. JSFY will directly engage young people to learn about science, how science can be used to fight oppressive societal norms, and empower communities in the peripheries. The need for political STEM pedagogy has been postulated, but this project will confirm if this approach is more effective in creating future scientists from migrant backgrounds than traditional learning, and create a model for others to follow.
What are the goals of the project?
The teens will gain experience developing, completing, and sharing a research project about the politics of Science starting this summer. The program's goal is for the Ohio teens to present their research in a variety of formats with their peers at school, their families, the network of TRR, and other grassroots organizations in the fall. By spring 2022, we will print Zines, distribute to immediate communities and sell to the public. The multilingual Zines themselves will focus on radical critiques of STEM. The teens will learn from weekly guest speakers including scientists, artists, and organizers. Surveys throughout the program will track students' relation to STEM and likeliness to pursue STEM in higher education. Data analytics of the surveys will be shared publicly in 2022.
Budget
I am a 2021 500 Women Scientists Fellowship for the Future Fellow, and received 1,200.00 to compensate these teens for their labor and research this summer as they are expected by their families to work and contribute financially. However, we have encountered unexpected issues in which some of the teens don't have computers to conduct independent research online, and the school-provided machines are highly restricted and unable to access mainstream news websites, much less critical sources. Financial support would allow the students to do their work as intended, with our collective political education being led democratically, rather than just texts of my choosing. I was hoping we could get our Zines printed pro-bono, but that has turned out to become impossible. The rest of the funds would help create the media for the zines, t-shirts, and van rental to transport the teens to organizing events, community spaces, science labs, museums, and other "field trips."
Endorsed by
500 Women Scientists is thrilled to support Sara and her project, Just Science for [You}th! Sara's initiative to create cross-cultural and cross-national connections for young people through STEM and advocacy demonstrates an innovative, multi-faceted, and necessary approach to engaging youth around these ideas.
Project Timeline
This summer, the teenagers will meet twice a week with myself for political and science education. In the second half of summer, the teens will focus on individual research projects of their own choosing, which they will write extensively about in a "paper". In the fall, they will share their knowledge with their communities and virtually meet teens in Colombia. In the winter they will create a Zine with their Colombian peers, and it will be printed in spring 2022.
Jun 03, 2021
JSFY Political & Science Summer School Commences. Initial STEM Semantics Surveys Track Initial Attitudes towards STEM and STEM Careers
Jul 12, 2021
Project Launched
Aug 25, 2021
Project Presentations to The Refugee Response
Sep 08, 2021
Project Presentations to Families, and Family Friends of Teens (Shared in Heritage Language)
Oct 06, 2021
First of many Zoom and Cultural Exchange, and Peer Education with Colombian Teens
Meet the Team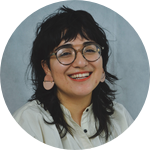 Sara Gutierrez
Planetary Geodynamics PhD Candidate (she/they)
Affiliates
Case Western Reserve University
View Profile
Sara Gutierrez
I am a Colombian-American scientist, artist, and student of radical politics. Currently, I spend my time thinking about the Moon's core evolution and the role of science in an anti-racist/anti-imperialist world. In addition to socialist Colombian diaspora mutual aid work, I organize with Science for the People, 500 Women's Scientists, and the Refugee Response.
Additional Information
JSFY superbly embodies the VanguardSTEM hyperspace and ISM framework in its ultimate goal of creating a space for youth scholars to grow and thrive as they discover for themselves how science can be used to create a better world.
Already in the beginnings of JSFY, embodied observation has grounded our communal learning: once a week we meet for "Circle," for the purpose of community building and self development. The first task we all completed was to present to each other "The Story of Our Lives", so that we could all understand and respect each other's perspectives from the beginning. While we are all — myself included — racialized migrants, by learning the details of each other's spirituality, families, and culture we recognize the individual in each of us, and learned to center that as part of our scholarly work. In addition, in our first "Class", which is our other weekly session where we dive deep into texts and discussions, our first reading delved into how science can never truly be objective. Furthermore, JSFY employs embedded context every time a guest scientist comes to share and the teens will ask and learn who benefits from this science? With whom will the science be shared? Who is left out in this research? And ultimately learning about the scientists' identities themselves and how that motivates their work. They will learn about ecology, neuroscience, medicine, computing, engineering and more outside of traditional testing environments, with accompanying history education that will allow them to engage with STEM workers and presentations more critically. In "Class" we will cover topics such as labor, white supremacy, imperialism, abolition, climate crisis in addition to indigenous/non western cosmologies not as isolated histories, but with constant interrogation of their relation to science. As well, JSFY's entire premise consisting of the teen's sharing their research with their communities (that may not speak English or have received higher education) with the intent of widespread enrichment, not just individual gain, aligns strongly with ISM's collective impact tenant. Finally, JSFY in its democratic essence where the curriculum is flexible, constantly adapting to the teens' interests, and every week they are engaging and questioning with their families about what they've learned and then sharing back at Circle about their conversations, fits in with the overarching ISM iteration step.
JSFY also meets the goals of the hyperspace tenants. It is not only primarily virtual, conducted weekly over zoom, but the Zine will be digitized and available online to be accessed by anyone in the world. It is persistent: not a one and done two day workshop, but months and potentially years long effort centering long-lasting relationships, and communities to be accountable to. It is also multigenerational where I, someone in my mid-twenties, am working constantly with teenagers, where the work is consistently guided by their conversations with their elders, including parents and grandparents, and the audiences of their research will include their teen peers and the oldest of their family members. Structurally, JSFY creates a space that doesn't otherwise exist for these teenagers to learn about science, politics, and themselves where they won't be judged for their English or reading skills, and are being treated with the deep respect as leaders and authorities of knowledge. While the big picture goal is for individual's actions to add to collective people power, this space is primarily for the personal and spiritual benefit of young people whose lives have been shaped by the violent structures of borders, war, and empire. JSFY asks these young people: what is your future imaginary? And how will science help that become reality for you and your people?
cover photo from https://etfovoice.ca/
---
Project Backers
29

Backers

100%

Funded

$5,000

Total Donations

$172.41

Average Donation