Project Results
UAV observations show a high level of reliability and validity and they can be efficient, informational, and accurate.
About This Project
An urban park is a free or low-cost setting of physical activity with convenient access. While various monitoring techniques such as direct observation or video recording have been developed, there is no study using Unmanned Aerial Vehicles (a.k.a. Drones) in parks. UAVs in studying park use could save time and money as it covers a greater area in a shorter time. Thus, this research develops a new observation method in monitoring park-based physical activity.
Ask the Scientists
Join The Discussion
What is the context of this research?
An urban park provides its users with various benefits including health, environmental, social, and economic gains. Regarding physical activity, urban parks have been considered an important setting as free or low-cost resources with convenient access. Measuring park usage is a prerequisite to understanding which factors are associated with park-based physical activity.
While various observation techniques have been developed to measure park use or park-based physical activity, there has been no study utilizing Unmanned Aerial Vehicles (UAVs). The use of UAVs in behavioral research could save time and money, as UAVs can cover a greater area in a shorter amount of time as compared to existing methods.
What is the significance of this project?
Park use monitoring has not been standardized to date, which results in only a few cities monitoring it. The use of UAV could allow for a more consistent and comprehensive monitoring of park use. Then it would enable comparative park studies and help government officials in multiple departments collaborate for better park programs and policies that promote park-based physical activities.
UAVs have been used in various fields such as biology, ecology, agriculture, and transportation. This study is a first-of-its-kind research trying to apply UAVs into observing people in parks. The finding could contribute to other fields, such as examining ecosystem of urban parks, neighborhood-level pedestrian or auto traffic, or people's activities in different settings.
What are the goals of the project?
This study develops a new observation method using UAVs to survey park-based physical activity, based on a systematic park observation tool - SOPARC - developed by McKenzie et al.(2006). Through a field study in Salt Lake region in Utah, this study tests the reliability and validity of the UAV-using observation tool in comparison to an existing observation method by human observers.
A total of ten parks will be selected according to various size, types, and facilities. A researcher will visit the parks during weekday afternoon (3-6 pm; under clement weather) in Spring 2017. The result will be published in an academic journal, presented at a national conference, and shared with municipal departments to encourage new park policies to promote exercise.
Budget
The UAV to be used in this study will be 'DJI Phantom 4 Professional' carrying a fully stabilized 3-axis 4K video camera. The obstacle avoidance function is critical in the park monitoring as it flies over/through trees. It costs $2400 including the aircraft, extra batteries, propellers, and a carrying case. For storing huge size of video files of park observation, a micro SD card and one external hard drive ($300 in total) are needed. Travel expenses and observation materials cost $300 as the research team will visit 10 parks twice and each travel is expected to spend $15 including mileage, prints, pencils, clipboards, etc.
So this project sets $3000 as our first goal. Although we need a research assistant who help with field observation and data analysis for few weeks, this is not included in the initial goal, but probably in the updated crowdfunding goal later (if we meet the initial goal).
Endorsed by
This project has the potential to change the way urban planners and public health specialists conduct physical activity research. At present, we conduct pedestrian counts by stationing counters at ground level and having them move from place to place. Using UAVs (drone), we can conduct panoramic counts over larger areas in the same time. From Keun's pilot study, the drone counts may be just as accurate as ground-level counts, but at a fraction of the time and cost. This finding needs to be validated, hence the proposed crowd funded project.
Meet the Team
Keunhyun Park
I am a Ph.D. student in the Department of City & Metropolitan Planning and a research assistant at the Metropolitan Research Center at the University of Utah. I completed bachelor and master degrees in Landscape Architecture at Seoul National University, Korea. During that time, I had tried to understand the social, economic, and environmental outcomes of public space development. From 2010 to 2014, in Korea Research Institute for Human Settlements (KRIHS), I had contributed to policy research in urban planning and design, environmental planning, and public health. I believe that while contemporary urban design practices such as new urbanism and transit-oriented development (TOD) emphasize public spaces and parks, they do not fully consider various forms and user types. Thus, through academic research, I expect to provide a better measurement of human activities in public spaces (e.g. UAV observation) and a better understanding of how a park or a public space is related to both active living and sustainable environment.
Additional Information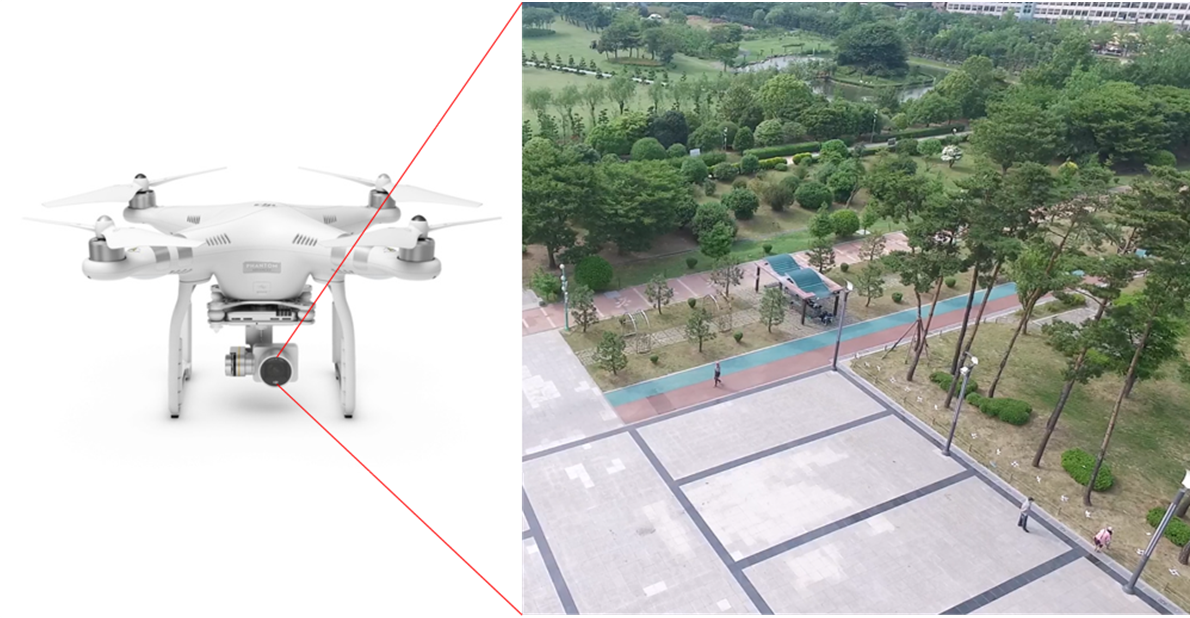 Cover photo (c) Mario Antonio Pena Zapatería @ flickr.com
A photo in the 'Additional Info' (c) store.dji.com (left); Keunhyun Park (right)
---
Project Backers
54

Backers

121%

Funded

$3,651

Total Donations

$66.38

Average Donation