About This Project
Cancer is hard on kids and their families. Can visits from therapy animals make the time they spend in the hospital easier? What does it take to make these pet therapy visits safe and effective? Please donate to our project and help us find out.
Ask the Scientists
Join The Discussion
What is the context of this research?
We want to make life better for children with cancer and their families. Hospital stays—or even just outpatient visits for chemotherapy or check-ups—can add stress to an already difficult time. Studies show that visits from therapy dogs, cats, and other animals reduce stress for patients in general. But we know little about the effects of animal-assisted activities for young people with cancer. Do visits from animals reduce stress in kids and teens with cancer? Are they safe? We are planning a rigorous study to find out. In the first phase, we will bring together doctors, nurses, patients, and their families to identify animal-assisted activities that are acceptable and feasible for pediatric oncology. Then, we will develop and test a pilot program and use the results to design a larger study. Our findings could help give more children with cancer safe access to visits from pets.
What is the significance of this project?
After a pet visits their hospitalized child, parents often say, "This is the first time I've seen him smile in weeks." People who care for pediatric cancer patients say this is common. Simply put, we think therapy pets might make the experience of cancer treatment easier for kids and their families.
What are the goals of the project?
We will talk with young patients, their families, and healthcare providers about how visits from pets could help children and teens with cancer. We will also explore how to measure the effects of these visits. Based on what we discover from interviews, focus groups, and surveys, we will design and pilot test a program for pediatric cancer patients. Our team at Group Health Research Institute, Seattle Children's Hospital, and Oregon Health & Science University received a National Cancer Institute grant that covers part of this project. However, we need additional support for out-of-town travel to hospitals and clinics, equipment for data collection, and funds for participants to attend our meetings. Your support will help us achieve our goals and follow new leads during our pilot work.
Budget
Visit out-of-area hospitals, conduct focus groups and interviews, and purchase tablets for data collection.
Meet the Team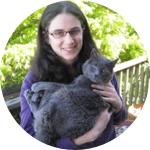 Jessica Chubak
Senior Investigator, Kaiser Permanente Washington Health Research Institute, Seattle, WA
Affiliates
PhD, Epidemiology, University of Washington
MBHL, Bioethics and Health Law, University of Otago, New Zealand (Fulbright award)
BA, Molecular Biology, Pomona College
View Profile
Jessica Chubak
I am an investigator at the Kaiser Permanente Washington Health Research Institute, where my research focus is improving cancer screening, care, and survivorship. My new project is inspired, in part, by my volunteer work after college. I helped in the pediatric ward of a hospital. Working with children and families I saw how play distracted them from the stress of being in the hospital. As a lover of pets, I find animals to be incredible companions. After learning about the Pet Partners program and promising preliminary work in Canada, I decided to include animal-assisted activities for children with cancer in my research program.
Additional Information
Microryza works best with Google Chrome or Mozilla Firefox. If you're using Explorer and having trouble, you can make a donation by phone by calling the Microryza Team at 425-533-8126 at anytime.
---
Project Backers
78

Backers

142%

Funded

$5,685

Total Donations

$72.88

Average Donation