About This Project
Billions of tree seedlings are produced annually in the USA to replace trees lost due to timber harvesting and disturbances such as wildfire. In addition to an historic lack of precipitation across the western US, increased temperatures due to climate warming are further reducing the water available to seedlings, posing challenges to forest regeneration. Our research project seeks to determine how best to enhance the resilience of seedlings to drought conditions.
Ask the Scientists
Join The Discussion
What is the context of this research?
Climate change is increasing the frequency and intensity of drought in the western USA, consequently subjecting plants to levels of drought stress beyond which they are adapted (USGCRP 2018). The probability of seedling survival, whether natural or planted, is related to the ability of roots to contact plant-available water in the soil (Grossnickle 2005, Day et al. 1975). Drought conditioning has been shown to increase seedling drought tolerance and survival for some tree species (Driessche 1992, Valliere et al. 2019). However, it is unknown whether drought preconditioning promotes desirable root growth patterns in western larch (Larix occidentalis) seedlings, an important timber species in the western USA.
What is the significance of this project?
In this project, we investigated whether successive exposure to drought prepares western larch seedlings for subsequent extreme drought. This is significant because the frequency and intensity of drought conditions in the western USA are increasing as regional mean air temperatures rise and precipitation patterns become more erratic (USGCRP 2018). Western larch is an important North American timber species and could become more vulnerable to drought as drought conditions intensify in the western USA, as climate reports suggest. Forest nurseries could achieve enhanced drought hardiness through successive drought exposure in their operations if desirable root growth patterns occur as a result of successive drought exposure.
What are the goals of the project?
In May of 2021, 96 western larch seedlings were planted in five gallon pots and were exposed to various levels of drought over a three month period. Drought was measured by volumetric water percentage of the soil. Half of the seedlings were drought stressed to 75% of their volumetric weight, while the other half were drought stressed to 50%. When the seedlings reached their respective volumetric weight percentage, they were watered for 45 minutes using an overhead irrigation system. In August of 2021, seedlings were harvested, roots were separated from soil media, and leaves were separated from branches. All plant material will be separately weighed and foliar tissue will be sent to UC Davis for carbon isotope discrimination analysis. Root architecture will also be analyzed.
Budget
See UC Davis Stable Isotope Facility webpage for pricing details.
Catalog number for mortar = FB961A

Catalog number for pestle = FB961K
Catalog number for metal spatula = 14-373
Catalog number for curved forceps = 16-100-110

Catalog number for Costech Analytical Technologies IncSupplier Diversity Partner TIN CAPSULES 3.5X5MM 100/PK = NC9601237
Catalog number for Falcon™ 96-well Feeder Tray and Lid = 08-771-002
Catalog number for Fisherbrand™ Comfort Nitrile Gloves = 19-041-171C
Catalog number for Ethanol, 70% Solution, Molecular Biology Grade, Denatured, Fisher BioReagents™ = BP82031GAL
Catalog number for Fisherbrand™ Easy-Squeeze Wash Bottles, 6/Cs = 02-897-5
Endorsed by
I worked with Ehren as he conducted his PhD research on Pinus strobiformis. Ehren's challenge was to untangle the role of variability in seed traits to better understand how the species would respond to climate change. Understanding how seeds might be impacted by increasing temperature during development is an area that we know very little about. We must develop experiments and extend research in this important life history stage of forest trees so that we can better manage the health of our forests for the future.
Project Timeline
The experimental phase of this project was conducted from May 2020 until August 2nd, 2021. We are now in the sample processing phase, as described under Milestones below.
Sep 17, 2021
Separate roots from soil, leaves from branches, and weigh all tissues separately.
Sep 27, 2021
Project Launched
Oct 15, 2021
Complete grinding and packaging of foliar tissue for carbon isotope discrimination analysis at UC Davis.
Oct 29, 2021
Complete scanning of seedling roots with our lab's high-definition flatbed scanner to analyze root architecture.
Jan 28, 2022
Obtain completed carbon isotope data from UC Davis in mid-to-late January.
Meet the Team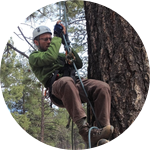 Ehren Moler
Post-Doctoral Scientist
Affiliates
University of Idaho
View Profile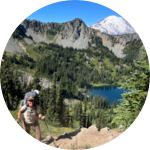 Ehren Moler
I am a postdoctoral scientist with the University of Idaho Center for Forest Nursery and Seedling Research. The overarching goal of my research is to enhance the health of the world's forests through a better understanding of how past and present climate conditions influence the establishment and growth of new forests. In my current research at the University of Idaho, I use gardens containing thousands of conifer seedlings to study the effects of drought on species native to western North America. My team studies whether successive exposure of seedlings to drought is likely to enhance or reduce their resilience to strong drought. Unfortunately, climate warming is increasing the vulnerability of forests to drought, and different tree species and landscapes respond differently to water limitation, so studies are increasingly necessary to gain an understanding of how best to maintain healthy forests. In my most recently completed research, I studied responses of southwestern white pine (P. strobiformis) to excessive heat exposure during seed production, seed germination, and early seedling growth. That work revealed that warmer temperatures during seed production reduced seed germination and seedling survival. I expect that an improved understanding of the sensitivity of seeds to warming will allow for planning seed collections during periods of time when collected seeds will be most able to yield the forests of the future. Click here to learn more!
Ash Vale
I am an undergraduate student at the University of Idaho studying Rangeland Conservation and Restoration Ecology. I began working as a student employee at the Franklin H. Pitkin Forest Nursery in the fall of 2020 and began assisting with seedling research in the spring of 2021. Much of my time has been spent studying western larch (Larix occidentalis) morphology and physiology under controlled drought at the University of Idaho Center for Forest Nursery and Seedling Research. I am interested in pursuing a career which centers organismal botany, plant ecology and restoration ecology and hope to attend graduate school after completing my undergrad in May of 2022.
---
Project Backers
24

Backers

100%

Funded

$960

Total Donations

$40.00

Average Donation