About This Project
In a world that is generally believed to be well-known and explored, it is amazing that there are still parts of our planet Earth that we have barely explored. The Southern Indian Ocean (SIO) is truly the final frontier of shark discovery. This project is a survey of rare and little-known sharks in an unexplored and remote region of the Southern Indian Ocean (SIO).
Ask the Scientists
Join The Discussion
What is the context of this research?
The SIOhas been recognized as one of the world's last unexplored regions. Because of its remoteness, its depths have only recently been accessible, due to the commercial development of deep-sea fisheries in this area. There is virtually nothing known about the fauna and ecology of these seamounts or their population structure, community dynamics, and trophic interactions.

Sharks are keystone predators, controlling fauna populations and their overexploitation could greatly affect the vulnerable and unique ecosystems of SIO deep-sea seamounts.

Two very successful expeditions in the SIO have uncovered a dozen new species of sharks and valuable data on rare and poorly-known species. Continued exploration is necessary for the development of proper management and protection of the area.

What is the significance of this project?
The project has already yielded a large number of new species of sharks and a huge amount of new data on little known species. This is the first step in protecting them. You can't protect something if the world doesn't know it exists. The next step is to fill in their life histories, such as: How big do they get? Where do they live? How many are there? What do they eat? At what size do they mature? How old do they get? How many young do they have? How can they handle pressure from commercial fisheries?

The SIO virtually unexplored and there is almost nothing known about many its species. This project is special because it would work with stakeholders such as fishers in the area to collect and establish a baseline of data and information from which to build better management.

What are the goals of the project?
The goal of this project is to once again work with a complex network of collaborators to continue collecting specimens and data and promote shark science in the SIO. We know there are still a lot of new and rare sharks out there that need our protection.

Specimens and data will be made available to the scientific community and the general public by: donation of specimens to museums, publication of information in scientific journals, and outreach talks to the general public. We realize the best way protect our oceans is to get the public excited and involved and we are actively work with all ages through internships, and online and outreach events.
Budget
Although most of the expenses will be covered by the ship and the Albion Fisheries Research Centre on Mauritius, a minimum of $6,000 will be required for airfare, specimen shipment, and shipside accommodations. Any additional funds will go directly to equipment: genetic vials, ethanol, calipers, industrial plastic bags, and other gear essential for an extensive expedition.
Meet the Team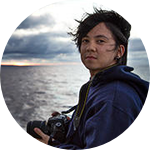 Paul J Clerkin
Masters Candidate
Affiliates
Pacific Shark Research Center Moss Landing Marine Laboratories San Jose State University
View Profile
Team Bio
I have been studying strange deep-sea sharks as the sole researcher on two separate surveys of SIO deep-sea sharks over the last 3 years. Each survey lasted two months and I sampled thousands of sharks. For each trip I designed a comprehensive protocol and systematically examined shark bycatch aboard a commercial trawler. Working with deep-sea SIO sharks has given me experience with identification of regional shark species and in 2014 I conducted an instructional workshop on deep-sea sharks at the invitation of UNFAO.
I have served multiple seasonal deployments with the National Marine Fisheries Service aboard longliners and trawlers in the Bering Sea. When I was an undergraduate at Cornell University, I participated in the Sea Education Association's Semester-at-Sea program, conducting open-ocean research during a 3,000-mile voyage on a research/sailing school vessel in the Equatorial Pacific. I am currently a fourth-year graduate student at Moss Landing Marine Laboratories.
Paul J Clerkin
Paul J. Clerkin is a graduate researcher at the Pacific Shark
Research Center of Moss Landing Marine Laboratories in Moss Landing,
California. Clerkin specializes in rare and deep-sea chondrichthyans and is
focusing on new species descriptions and life histories of poorly understood
sharks species. His thesis work is with David A. Ebert studying sharks
encountered during two surveys in the Southern Indian Ocean in 2012 and 2014, a total of 126 days at sea. He has also conducted research for other projects aboard ships in the Bering Sea, South East Atlantic, Philippines Sea, and across the Pacific. He is currently describing some of the 15 new species he discovered in the Indian Ocean and planning his next expedition.
---
Project Backers
13

Backers

9%

Funded

$522

Total Donations

$40.15

Average Donation