About This Project
In March of this year, both of our daughters, Charlotte and Gwenyth, were diagnosed with Late Infantile NCL Batten Disease CLN6. Because so few suffer from this presently incurable and fatal disease, there has been limited research, focus, and funding. We would like to raise funds to accelerate research in three promising treatment options gene therapy, cellular therapy, and small molecular therapy.
Ask the Scientists
Join The Discussion
What is the context of this research?
Batten disease is a rare genetically inherited disorder which belongs to a group of progressive degenerative neurometabolic disorders (NCLs). NCLs are characterized by genetic mutations which disrupt cells' ability to dispose of wastes, resulting in the abnormal accumulation of certain proteins and lipids within the nerve cells of the brain and other tissues of the body, resulting in progressive neurological impairment.
Mutations in at least eight different genes are known to cause Batten disease. Charlotte and Gwenyth have been diagnosed with Late Infantile Batten disease, caused by mutation(s) in the CLN6 gene. This particular variant is extremely rare, but we have located one scientist in New Zealand that has been able to treat CLN6 in the sheep model.
What is the significance of this project?
Batten Disease and other forms of NCL are extremely rare, occurring in an estimated 2 to 4 of every 100,000 live births in the United States. Late Infantile Batten Disease, particularly CLN6, which Charlotte and Gwenyth have, is especially rare. It is estimated that less that 10 children are currently living with this variant.
Depending on the variant, Batten patients' life expectancies can range from as young as 6 to adulthood. Most children fighting CLN6 do not live past the age of 12. Our first goal is to find a successful treatment for CLN6. The ultimate goal is to cure all forms of Batten Disease. Finding treatments that enable children with Batten disease to live longer and healthier lives impacts thousands of other rare diseases that affect millions of people worldwide.
What are the goals of the project?
With the help of our scientific advisory board, we've designed a research plan to tackle CLN6. We will be investing in three major research areas: small molecule drug screening, ex vivo gene cellular therapy, and increasing the efficacy of one study that was successful at treating CLN6 in the sheep model.
With $1 million dollars, we will hire a team of doctors and scientists committed to conducting research to treat CLN6. This funding will allow them to begin the research phase immediately.
Budget
GOAL REACHED! Milestone 1: $1M
Experiment.com terms of service require that we reach our first funding goal before accessing the funds. We've had donations sent to us via PayPal, fundraising events, personal checks and experiment.com.
NEXT GOAL: Milestone 2: $2M
We will start FDA filings for a clinical trial. We also need to start pursuing a "bridge" treatment for our daughter Charlotte.
Milestone 3: $5M
This gives us the ability to hire doctors and scientists to accelerate research in gene therapy* so that it is available for the final phases.
Milestone 4: $10M
This allows us to secure the team in place in for gene therapy. We anticipate additional costs to pay for treatment and make sure R&D is complete and a clinical trial can begin. The ideal start date for clinical trials is May 2016.

*Gene therapy treatment will be a baseline treatment that with slight modifications can treat other Batten patients as well as potentially other Neurological diseases.

Meet the Team
Team Bio
Charlotte Gray was born December 5, 2010, filling the hearts of her parents, Kristen and Gordon, with the same joy all parents feel. She developed at the pace of a typical baby and toddler – walking and talking, with an early passion for gymnastics, dancing and swimming. However, after Charlotte's first full year of preschool, her parents noticed she had hit a plateau developmentally. After countless questions, and seemingly as many tests, Charlotte was diagnosed in March 2015 with Late Infantile NCL Batten Disease CLN6. The diagnosing geneticist explained that this neurodegenerative brain disease was extremely rare and would leave Charlotte blind, immobile, cognitively impaired, and, ultimately, gone…somewhere between the age of 6 and 12. Their world shattered, Kristen and Gordon immediately had their younger daughter Gwenyth tested and she was given the same grim diagnosis. While Charlotte is showing early symptoms of the disease, she remains strong, with her happiness and smile still constant. However, due to the pace at which Batten disease advances, action must be taken immediately to prevent Charlotte's progression down Batten's debilitating path and shield Gwen, and all future children impacted by Batten disease, from its painful effects.
Email: curebatten@givingback.org
Phone: 310-649-5222
Follow us on Twitter @curebatten and on Facebook.
Read more about Batten in our Frequently Asked Questions and lab notes updated daily.
Visit our website at curebatten.org.
The Charlotte and Gwenyth Gray Foundation to Cure Batten Disease is a project of The Giving Back Fund, Inc. (Federal Tax ID 04-3367888), a Massachusetts nonprofit corporation with federal tax exempt status as a public charity under Section 501(c)(3). All donations are tax deductible to the fullest extent of the law.
Press and Media
For a full list of Press view this lab note.
Additional Information
We have created a scientific advisory board to help guide us through the research and development process to cure Batten disease. Their primary focus will be on batten CLN6, but we hope to expand to other Batten disease variants.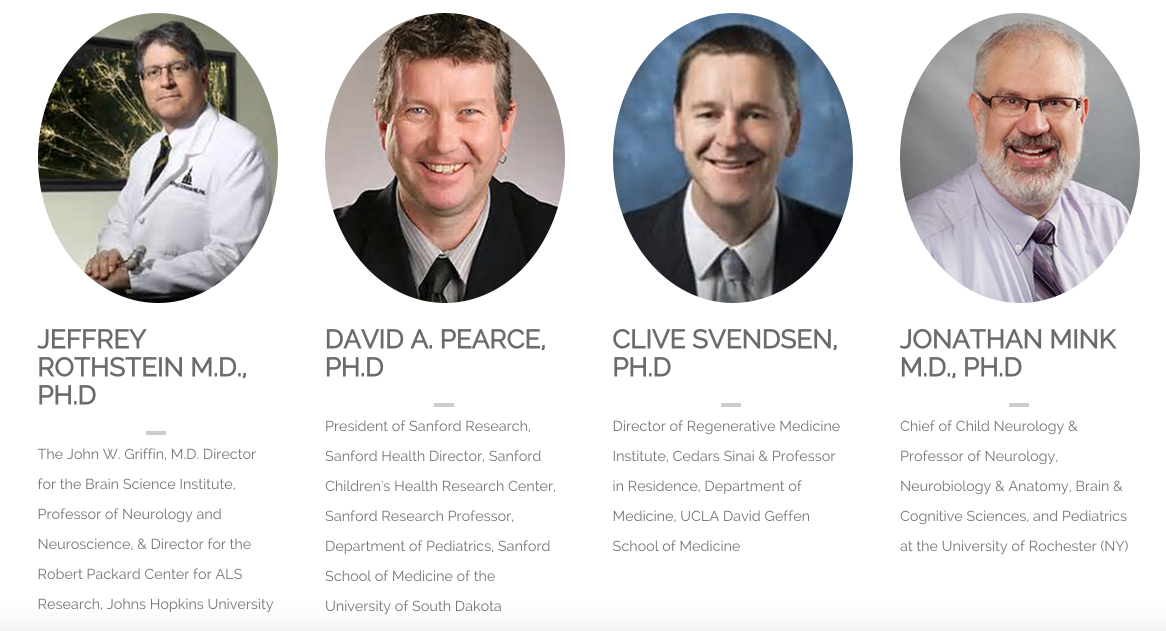 ---
Project Backers
2083

Backers

264%

Funded

$2,641,086

Total Donations

$101.61

Average Donation