About This Project
The Hidden Harms project arose from the idea that individuals might make more environmentally conscious decisions if they were given routine reminders about atmospheric conditions. This research will provide open access data of concentrations of greenhouse gases and other pollutants. The data will be obtained via a sensor network at Fordham University and spread throughout the boroughs of New York City.
Ask the Scientists
Join The Discussion
What is the context of this research?
This project developed from two different perspectives. One of us (SH) was interested in developing an urban climate monitoring network with sensors distributed throughout New York City, starting at Fordham University, while the other (JT) was interested in understanding the sociological implications of knowing the state of the environment.

Two important questions were realized:

1. Could public perception of climate change be altered by providing real time data in urban environments?

2. Would individuals make more environmentally conscious decisions if routine notifications of air quality were received?

Through this project we hope to engage the populace, many of whom still deny anthropogenic climate change, and eliminate the "out of sight, out of mind" mentality on this very important issue.



What is the significance of this project?
What will your legacy be?

Awareness is the first step to change!

Most climate monitoring stations are located in rural environments. Measurements made in such environments eliminate confounding effects that may exist in more populated areas. However, it removes the act from the population at large, making climate change an apparently distant problem. (if it were real, why not measure near me?) Furthermore, understanding the urban environment may provide insight into local sources and sinks as well as how to mitigate emissions.

A sensor network for monitoring greenhouse gases and other pollutants distributed throughout NYC will collect data and make it publicly available thus affording everyone the opportunity to study the data and become an active participant in the study of the climate.
What are the goals of the project?
It is easy to avoid facts when the detriments and effects are not visible, and even more so when they are not personal. The main goal is to build a distributed network sensor for monitoring greenhouse gases and other pollutants in an urban environment. We plan to


Build sensor platforms for Carbon Dioxide and Methane measurement
Locate sensors on the campuses of Fordham University (Bronx & Manhattan) and on Staten Island
Develop web site and notification system for the urban climate monitoring and post all collected data
Perform community outreach using the sensor results to initiate a dialog
Create educational materials to supplement the project and to improve awareness of climate change
Identify additional monitoring targets and formulate a plan for incorporating them into the network
Budget
The funds will be used to the acquire additional sensor platforms that can be distributed around NYC to monitor greenhouse gases, and develop the capabilities of distributing the data to the public. We have spoken with State Assemblyman Joseph Borelli. He is supportive of the project and offered to help us obtain rooftop space on on Staten Island. Funding above and beyond the initial target will allow for more sensor suites to be deployed at other locations. We are working to obtain rooftop space in Brooklyn, and we will work during this project to secure space in Queens.

We are presently working on building four sensor suites and these additional four would double our coverage. In addition, any funding beyond the initial amount would be used to acquire additional sensor components and increase our coverage.


Meet the Team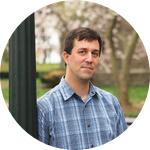 Stephen Holler
Assistant Professor of Physics & Engineering Physics
Affiliates
B.S. Physics - Polytechnic University, Brooklyn, NY M.S. Applied Physics - Yale University, New Haven, CT M.Phil. Applied Physics - Yale University, New Haven, CT Ph.D. Applied Physics - Yale University, New Haven, CT
View Profile
Team Bio
I received my PhD from Yale University in December 1999 working on the detection and characterization of airborne biological particles. I spent several years working for a small company in silicon valley doing contract R&D work. I joined Sandia National Labs in New Mexico after 9/11, but returned to California as a partner in NovaWave Technologies, a start-up developing laser-based sensors for environmental monitoring. We built tunable mid-IR lasers and ultrasensitive instruments for atmospheric greenhouse gas monitoring. NovaWave was acquired by ThermoFisher Scientific in 2010. I left ThermoFisher in 2011 to join the Fordham University faculty in the Department of Physics and Engineering Physics. I have continued to pursue optical sensing in several different forms.
Juliana Troisi is a student at Fordham University majoring in Engineering Physics and Environmental Studies. This research project originally started as part of her senior thesis and has evolved into so much more.
Stephen Holler
Prof. Holler received a B.S. in Physics from Polytechnic University in Brooklyn, NY. He went to graduate school at Yale University, earning a Ph.D. in Applied Physics. After graduate school he worked for a couple of years at Los Gatos Research in Mountain View, CA on laser-based technology. Prof. Holler left LGR to join the Lasers, Optics and Remote Sensing Department at Sandia National Laboratories in Albuquerque, NM. The entrepreneurial bug was too strong and he spent only a short time at Sandia before returning to California in 2003 as Director of R&D for NovaWave Technologies (NWT), a start-up dedicated to developing laser-based sensor systems. NWT was acquired in 2010 by ThermoFisher Scientific. Prof. Holler left industry in 2011 to join the faculty of Fordham University in the Department of Physics and Engineering Physics.
Additional Information
Banner image courtesy LucAleria and modified under Creative Commons license.
---
Project Backers
24

Backers

47%

Funded

$1,164

Total Donations

$48.50

Average Donation