About This Project
Necrotizing enterocolitis is a severe inflammatory gastrointestinal disease and is the leading cause of morbidity and mortality (30-50%) in preterm neonates. An altered newborn's gut microbiota plays a major role in this condition. We hypothesize that secreted factors from one probiotic, Bifidobacterium infantis, could exert anti-inflammatory effects in the newborn's intestine. These observations might lead to ways to prevent excessive intestinal inflammation causing necrotizing enterocolitis.

Ask the Scientists
Join The Discussion
What is the context of this research?
Necrotizing Enterocolitis (NEC) is a severe inflammatory gastrointestinal disease that occurs during the neonatal period and leads to an early death of the premature neonate. The pathogenesis of NEC is not well characterized. However, intestinal inflammation in premature neonates is likely caused by a combination of intestinal cells immaturity and gut microbiota imbalance. The gut microbiota is the complex community of microorganisms, including bacteria, that live in the digestive tracts of humans and which influence our health.

It has been shown, in clinical trials outside the US, that a major probiotic, Bifidobacterium infantis, could protect premature infants against NEC. Bifidobacterium infantis is a common commensal bacteria found in the healthy newborn intestine.
What is the significance of this project?
Necrotizing enterocolitis (NEC) is a medical condition which typically occurs in newborns that are premature. About 5% of those that are born premature develop NEC. Among those affected, about 30-50% die. Hence, new medical treatments to prevent this disease are urgently needed.
In that way, a growing body of experimental and clinical evidence, from outside the US, supports the concept that probiotics may have a preventative application in NEC. However, the FDA (Food and Drug Administration) does not allow the use of live probiotics in neonates yet. Hence, this laboratory is looking for the use of secreted factors from Bifidobacterium infantis, without the use of the live bacteria, to protect neonates against NEC though anti-inflammatory mechanisms on immature intestinal cells.
What are the goals of the project?
We hypothesize that the anti-inflammatory effect of Bifidobacterium infantis secreted factor on immature human intestinal cells may be mediated by the aryl hydrocarbon receptor (AhR), a nuclear receptor expressed in immune cells.
The first step, starting February the 4th, will be to test if immature human intestinal cells (a model representing the premature newborn's intestine) express AhR. The second step will be to confirm if Bifidobacterium infantis secreted factor exerts anti-inflammatory effect on these cells. Then, we will analyze if this anti-inflammatory effect is mediated by the aryl hydrocarbon receptor (AhR) and evaluate the precise mechanism of its action.
This project will last 5 months without involvement of any human subjects.

Budget
The research experiments are funded by the National Institute of Health in Dr. Allan W. Walker's laboratory at the mucosal immunology and biology center at Massachusetts General Hospital, Boston, USA. Because I am not a US citizen, to execute the work I need to purchase a round trip ticket from Toulouse to Boston, pay for my J-1 visa to live in the United-States for 5 months, and sublet a bedroom for 600$/month in Boston.
Endorsed by
Karim is in the top 5% of the students I met in my career. He is a highly motivated individual with a strong scientific background. Karim spares no time and effort to achieve his goals. This project completely fits with his career objectives and I am sure that he has the skills to succeed.
Project Timeline
Starting in the beginning of February, we plan to first study if immature human intestinal cells express the AhR receptor. Then, we plan to confirm that secreted factors from Bifidobacterium infantis probiotic exert anti-inflammatory effect on these cells. Finally, we will analyze if this anti-inflammatory effect is dependent of the AhR receptor and to determine the precise mechanism of action. We plan to get the results and to analyze them before mid-June.
Jan 20, 2019
Project Launched
Feb 04, 2019
Start the experiments
Feb 22, 2019
Expect results on AhR expression in immature human intestinal cells
Mar 29, 2019
Expect to confirm that secreted factors from B. infantis exert anti-inflammatory effect 
Mar 29, 2019
Get data about requirement of AhR receptor for anti-inflammatory effect
Meet the Team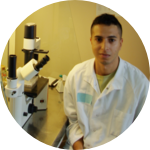 Karim Djebali
DMD, MSc student
Affiliates
Paul Sabatier University / Massachusetts General Hospital (Harvard)
View Profile
Team Bio
The principal investigator is Doctor Allan W. Walker, a professor of pediatrics and nutrition at Harvard. The team is composed of several instructors of pediatric at Harvard who are mastering the clinical knowledge about necrotizing enterocolitis.
They have a long standing interest in the interaction between probiotic and the developing human intestine. They have published numerous papers about commensal bacteria and probiotic effect in prevention or treatment of this disease.
Karim Djebali
My name is Karim Djebali, I am 26 years old and I graduated from the Faculty of Dental Surgery of Toulouse in France. I am currently doing the second year of a research Master's degree in digestive health and nutrition at Paul Sabatier University. I am doing this dual course because I want to work in biomedical research to cure inflammatory diseases related to intestinal and oral microbiota dysbiosis.
The United States is a leading destination for biomedical research. I had the chance to do two research internships at major universities such as Harvard and Stanford.
As part of the second year of my research Master's degree in digestive health, I started a project at Harvard/Massachusetts General Hospital on the study of a probiotic use to prevent necrotizing enterocolitis.
I you want to learn more about me, you can watch a video I made in 2016 (with english subtitles) :

Thank you for your consideration and your support.
---
Project Backers
15

Backers

23%

Funded

$911

Total Donations

$60.73

Average Donation