About This Project
We live in exciting times where commercial farmers are discovering the hope of healthy soils and they are using less commercial fertilizer than they would have imagined. Our goal is to work with Carl Coleman, farmer from Dillon, SC to test how low we can go with commercial fertilizer as he grows a wheat crop this fall. This will be good for the farmer, his neighbors and for the environment.
Ask the Scientists
Join The Discussion
What is the context of this research?
The majority of state-developed nitrogen recommendations, many of which are 30 or more years old ignore significant nitrogen pools in the soil. These recommendations view soils "as a medium to grow plants". This may have been valid 30-40 years ago, but as no-till and cover cropping has increased, many farmers are beginning to question this assumption.

A recent large study by Rick Haney showed that from 6,227 soil samples, an average of 36 lb/ac nitrogen in organic form was present in the soil. In addition, we can also make educated decisions on the availability of nutrients to the next crop by measuring cover crop biomass and nutrient content.

Soils are living integrated ecosystems and if treated as ecosystems, will provide farmers with services that were previously bought.
What is the significance of this project?
There is an obvious economic benefit to the farmer, up to $190 per acre or 57% of a standard crop budget for wheat goes into commercial fertilizer. We think that in a health soil, less than 20% of this is needed - that's a savings to the farmer of $152/acre.

Carl Coleman is a unique farmer in that he initiated the idea and has deliberately chosen a field next to the road. Carl wants to show his neighbors that soil health works in Dillon County soils, not just Ohio or North Dakota.

There are a huge environmental benefit to this that is becoming a big deal to farmers that include:

a radical (like 90%) reduction of nutrients to local waterbodies
a big energy saving (including the energy content of commercial nitrogen
sequestration of around 2,400 pounds of carbon per acre per year!
What are the goals of the project?
We plan to divide the field into 40 plots made up of 2 identical experiments. Each experiment with four treatments x five replicates.
Our treatments begin with (1) zero commercial fertilizer (2) 30 lb/ac starter N only (3) 30 lb/ac starter N and 1 lb/ac P fertilizer and (4) the full agronomic rate of N, P, K.
We intend to use conventional soil tests and the Haney Soil Health Tests (e.g., soil respiration, water extractable carbon and nitrogen) and well as plant tissue samples and biomass to soil and crop during crop growth.
Mr. Coleman will measure yield of each plot at harvest with the aid of a weigh wagon (this involves a significant amount of time and effort)
Budget
Personnel: We'll need Buz and a sidekick to collect samples, keep up with the data and final analysis.
Dillon is a ways from Columbia (108 miles), so we have budgeted for six trips to the site.
Samples for the 40 plots - will be analyzed at Clemson. We will also save by analyzing soil respiration in-house (we have Solvita CO2-C lab capabilities) and Haney Labs has agreed to do our soil health tests.
Meet the Team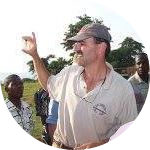 Buz Kloot
Research Assoc Prof, USC
Affiliates
School of Public Health University of South Carolina
View Profile
Team Bio
As a young chemical engineer, Buz cut his professional teeth
in tech support and then production at Rössing Uranium Mine in Namibia. In 1996, he left Namibia to study at the University of South Carolina and after graduation, dabbled in consulting. In 1999, he joined the University of South Carolina and managed various projects that related to software development, GIS and water quality. After meeting Ray Archuleta in 2010, Buz's passion for soil health was ignited and today, all of his work is focused on soils. Buz teaches graduate classes in aquatic and soil sciences. He has a degree in Chemical Engineering from the University of Cape Town, and an MBA and Ph.D. from the University of South Carolina.
Buz Kloot
Soil health nut, passionate about seeing soils change and the lives of farmers change with their soils. Good for the farmer, good for the customer, good for the environment.
Additional Information
Carl Coleman takes a walk through his cover crop of sunn hemp, sorghum sudan and buckwheat. This cover was planted post corn (August 2014) and energy from this crop will drive the
wheat crop.
Rhizoba nodules in the sunn hemp roots, these guys have been fixing nitrogen from the atmosphere and will provide a significant proportion of the nitrogen base for the wheat.
These Rhizoba nodules can get pretty large!
---
Project Backers
41

Backers

100%

Funded

$5,022

Total Donations

$122.49

Average Donation