About This Project
Myco-composites are sustainable and renewable alternatives to toxic petroleum plastics but require monitored growth and environmental conditions with high contamination risk that rely on plastics to keep conditions sterile. These factors restrict fabrication and can't be fully integrated into current manufacturing infrastructure. Our objective is to combine new fungal strains, media & substrates to create low contamination risk, scalable, and hand sculptable material for large scale structures.
Ask the Scientists
Join The Discussion
What is the context of this research?
Myco-materials have been used as decorative elements in architectural structures, but the design and mechanical properties of these sculptures are physically constrained by simple molds. This results in block forms, shallow relief, and 3D printed aesthetics. These applications are nascent in form & function, but newer formulations show that myco-materials can be used more broadly, such as clay-like materials. However, current myco-material recipes rely on sterile environments and hand manipulation results in mycelial contamination. To integrate mycelium into existing sculpting techniques, our work expands current formulations to create a repeatable, low contamination risk material. Our previous prototype has successfully proven that this work can be used in a multitude of environments.
What is the significance of this project?
The majority of artists' materials contain chemically toxic, non-recyclable plastics with damaging effects on human health and the environment. For example, petroleum foams break down into microplastics containing endocrine disruptors and carcinogens. Alternatively, commercial myco-materials are only available on a small scale. Here, we examine a series of mycelial materials to optimize large scale applications of sculptable fungal structures. By combining experience with formulating biomaterials and expertise in culturing, training, and cultivating mycelium, this research expands standard mycelial materials with novel techniques to create more accessible, hand sculptable substrates with functional and structural properties for fruiting mycelium.
What are the goals of the project?
As myco-materials are becoming commercially available, they are not yet suitable for high impact applications such as support structures or armature. Our research aims to compare combinations of strains, media, and substrates both economically and mechanically to formulate a myco-composite that is competitive to petroleum building materials such as plywood and polymer gypsum. This work will evaluate the parameters that define a continuous and strong structure by comparing analytical and qualitative data. As this research has significant impacts not just in the sciences but also in art, design, architecture and industry, we plan to disseminate this work through a report that is accessible to all communities.
Budget
Funding allows us to support access to ingredients in bulk, enabling us to build a large-scale functioning structure and test new sculpting techniques i.e. extrudable pastes, castable pastes, formable clays and more. In addition to substrates, we will explore possible armatures and molds in which the material can be built to support larger and more detailed structures.
Funds will also go toward third party testing for common properties such as density, tensile strength, R-value and hardness. We intend to publish these results alongside their respective formulations in the form of a physical zine and a downloadable PDF workbook.
Finally, the funds will support our labor as researchers and organizers to conduct these experiments and communicate our results.
2 researchers are paid $20/hr (5 hours/week over the course of 12 weeks). Some weeks will only require 1 hour of work due to growth wait times, while others may require up to 6 hours/week
Endorsed by
Lera and Sasha are two emerging researchers in the field of creative mycology, together they move and inspire audiences across the world with their provocative and innovative experiments, so I'm sure this proposal will leave no one indifferent. Please, support and strengthen their growing mycelial network by becoming a science backer!
I love the idea of mycelium as a material for the built environment and previously built a project that used mycelium as a replacement for asphalt. As a biotech entrepreneur, I believe our world changes significantly based on the materials we have access to. I've worked with Sasha in the past and have admired Lera's work from afar and wholeheartedly believe that they will come up with unique material insights through this research.
Lera and Sasha are a dream team for this project, and seeing the biomaterials industry is in such early days, this is important work. Excited to see the results!
Project Timeline
We aim to identify a mycelium clay formulation under 3 criteria: fast growing mechanically strong strain, growth media + compatible sculptable substrate. Phase 1 we test different strains on identified media. Phase 2 we grow chosen strain on different media blended with 4 substrate recipes, for a total of 12 tests. Phase 3 we run large scale tests of selected media + substrate to test scalability and mechanical viability. Each phase requires week-long incubation + growth periods.
Aug 03, 2022
Project Launched
Sep 19, 2022
Project Launched
Sep 23, 2022
Phase 1: Run tests on different strains
Oct 17, 2022
Phase 2: Run tests on combinations of different media and substrates
Oct 31, 2022
Phase 3: Test the best performing formulas at scale to further explore in varying environmental conditions and stressors
Meet the Team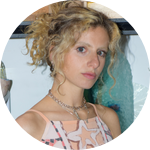 Sasha Fishman
Artist + Researcher
Affiliates
Columbia University
View Profile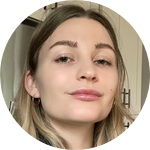 Lera Niemackl
Artist + Mycologist
Affiliates
The ODIN
View Profile
Sasha Fishman
Sasha Fishman (b. 1995, Baltimore, MD) is a sculptor and researcher based in Los Angeles. Working with materials such as hagfish slime, algae, and cicada shells, Sasha's work investigates marine biomaterial extraction, toxicology and genetic engineering as points for critical analysis and mechanisms for sculpting. Sasha has exhibited her work at Below Grand (New York, NY), Navel LA (Los Angeles), RESORT (Baltimore, MD), the Visual Arts Center (Austin, TX), Monte Vista Projects (Los Angeles, CA) and has been a research fellow at Caltech (Pasadena, CA). She has presented her work, run workshops and given talks at Genspace, Navel LA, UCLA, UDenver, UColorodo Boulder, Kenyon College, Caltech, and CSULB. Sasha is currently working on iterations of cicada and shrimp shell bioplastic extraction workshops, and will be a Sculpture MFA candidate at Columbia University this fall.
Lera Niemackl
A researcher and artist with fungi as a primary medium. Currently the resident mycologist at The Open Discovery Institute, Lera has been professionally employed in the fungal biotechnology space since 2018. She is an instructor for Genspace and has contributed to an array of larger-scale projects involving mycelium material instillation and education.
---
Project Backers
9

Backers

104%

Funded

$5,237

Total Donations

$581.89

Average Donation