About This Project
This project is to fund the naming of a new species, the ghost shark! We need $1800 to do this to cover analysis, publication preparation and outreach. The ghost shark is one of 15 shark new species we have discovered, but all currently lack scientific names. All need to be described and named, so if we raise more money during the 30 days all additional funding will go towards naming new lost sharks.
The project addresses major gaps in the biodiversity and conservation of sharks in the WIO.
Ask the Scientists
Join The Discussion
What is the context of this research?
The diversity of sharks, rays, skates and ghost sharks (=chimaeras) has increased exponentially over the past decade with nearly 20% of all new species described. Many of these new discoveries have come from the Western Indian Ocean. However, despite such a rich and diverse fauna, the majority of these sharks and their relatives have largely been "lost" in a hyper-driven media age whereby a few large charismatic shark mega-stars overshadow the majority of shark species. While these mega-star's, such the Great White Shark, receive much media adulation and are the focus of numerous conservation and scientific efforts, the "Lost Sharks" remain largely unknown not only to the public, but also to the scientific and conservation communities.
What is the significance of this project?
A review of the IUCN Red List status of Chondrichthyans reveals that 17.4% are threatened and nearly half (46.8%) are Data Deficient or have not been assessed. It is these "Lost Sharks" that are of increasing concern since many of these species are entirely new to science and have yet to be named! While others are extremely rare or are known from only a handful of specimens; many have not been seen in decades. Support for taxonomic research is quite difficult and much of this research is conducted through a sense of commitment and passion. The Western Indian Ocean is an area of unique biodiversity, but is also a region of major shark fisheries. Increasing fisheries combined with poor species identification may lead to population declines for many species before they can be named.
What are the goals of the project?
The project plans to address major gaps in the biodiversity and conservation of sharks in the WIO by identifying and formally naming new shark species. Our team includes PSRC graduate students and several colleagues with the overall project purpose to produce a series of publications (15 to 20) in professional journals that may lead to as many as 15 new species being named and provide new information on little known species from the WIO. Species were collected throughout the WIO. Once identified and formally named, this information will assist in developing action plans for these species conservation and management. We plan to highlight these new discoveries by involving and inspiring school kids in science, especially kids from historically underrepresented communities.
Budget
Over the past decade many new or little known shark, batoid, and ghost shark species have been discovered, but currently sit in museum collections due to a lack support for biodiversity research. In order to bring these new discoveries to light, I am planning as part of the overall project a series of publications and presentations to share with the general public, especially school kids from historically underrepresented communities in the central California coastal region, our new discoveries! To accomplish this, my students and I are seeking funds for $1,800 per project; the first project will name a new ghost shark species from unexplored seamounts off southern Africa. Funding for this project will include research time for lab analysis and publication prep ($600), journal open access page charges ($400), preparation time and travel for classroom outreach ($600), and travel to major museums (e.g. CA Academy Sciences) and postage for shipping specimens for examination ($200).
Endorsed by
Dave Ebert and his many collaborators have been describing the world's poorly known sharks, rays, and chimaeras for decades. They have recently focused efforts on identifying new species of poorly known chondrichthyans with direct applications for biodiversity and fisheries management. The requested budget is meager for the workload and the team is well-qualified to complete and publish the research.
Dr. Ebert has worked tirelessly to shed light on the world's Lost Sharks. He has provided assistance to countless groups and researchers, including myself and my team. Our non-profit based in the S. F. Bay Area has benefited greatly from Dr. Ebert sharing his expertise on the Lost Sharks of our local waters. His students volunteer their time at shark-related outreach events in the S. F. Bay Area . I endorse this project as one that deserves monetary contributions for PSRC's consistent support to their collaborators and community...
Meet the Team
Team Bio
The team consists of three graduate students from the Pacific Shark Research Center, Jessica Jang, Vicky Vasquez, and Kristin Walovich. All these team members are part of the Lost Sharks research program, and are working on various new species. Kristin recently redescribed the poorly known African chimaera, and is the lead researcher on this new ghost shark that this project is describing. Vicky recently named the Ninja Lanternshark and Jessica is working on a new species of electric ray.
David Ebert
David Ebert has been researching sharks and their relatives (the rays, skates, and ghost sharks) around the world for more than three decades focusing my research on the biology, ecology and systematics of this enigmatic fish group. I have conducted research on six continents and in over 25 countries. I have authored 22 books, including the "Sharks of the World", and have published numerous scientific papers and book chapters, and contributed over 120 IUCN Shark Specialist Group Red List species assessments. I am the Director of the Pacific Shark Research Center, a research faculty member at Moss Landing Marine Laboratories, a research associate for the California Academy of Sciences Department of Ichthyology and at the South African Institute for Aquatic Biodiversity. I am the regional co-Chair of the IUCN Northeast Pacific Regional Shark Specialist Group, IUCN Vice Chair for taxonomy, and a member of the American Elasmobranch Society, American Society of Ichthyologists and Herpetologists, and Oceania Chondrichthyan Society. I am an advisor and consultant for the Food and Agriculture Organization of the United Nations on shark related issues. My research has been featured on the acclaimed BBC series "Shark", Discovery Channel's Shark Week and in National Geographic. I frequently consult on media-related programs and projects. My current research efforts are focused on finding, documenting, and bring awareness to the world's "lost sharks", those little known or unknown shark species that have largely been lost from the public and scientific consciousness.
Jessica Jang
Jessica Jang is a graduate student of the Pacific Shark Research Center. She graduated from the University of Washington with a Bachelor of Science in Aquatic and Fishery Science. Her focus of study are on skates, flattened versions of sharks, which are less studied than their sharky relatives. She is also working on formally describing a new species of electric ray in the Western Indian Ocean.
Kristin Walovich
Kristin is a M.S. student at Moss Landing Marine Laboratories studying the short-nose ghost shark species from Southern Africa. The species here are not well known and require taxonomic clarification in order to promote proper species identification, the acquisition of basic life history information, and the implementation of fisheries management and conservation efforts.
Victoria Elena Vásquez (Vicky)
Vicky received her Bachelor of Science from UC Davis in Evolution and Ecology. In addition, she earned a Minor in Art Studio in which she focused on photography courses and a Minor in Psychology in which she focused on Animal Behavior courses. As a PSRC student, Vicky is interested in studying the Lost Sharks of San Francisco Bay. As Deputy Director of ORF, Vicky focuses on science communication and bringing marine education to underserved communities and Spanish speakers.
Additional Information
Here is a link to the Ninja Lanternshark project we recently published as an example of how we were able to involve school kids in the excitement and discovery, and and naming of a new shark species.
Media and Press
The Ninja Lanternshark was also named one of the 21 coolest new animal species discovered in 2015 by NewsWeek!

The Lost Sharks project has been featured in a number of media outlets including the BBC series "Shark" and Discover Channel's Shark Week. The BBC World Service Magazine ran a story on our search for Lost Sharks last year and more recently on JSTOR Daily.
Donor Reward
We are pleased to offer donors who contribute $100 or more a limited edition print of the new species illustrated by Marc Dando, Wild Nature Press. Marc is well known for his outstanding illustrations in the Sharks of the World and other marine related illustrations and publications. Here is an example of one of Marc's prints.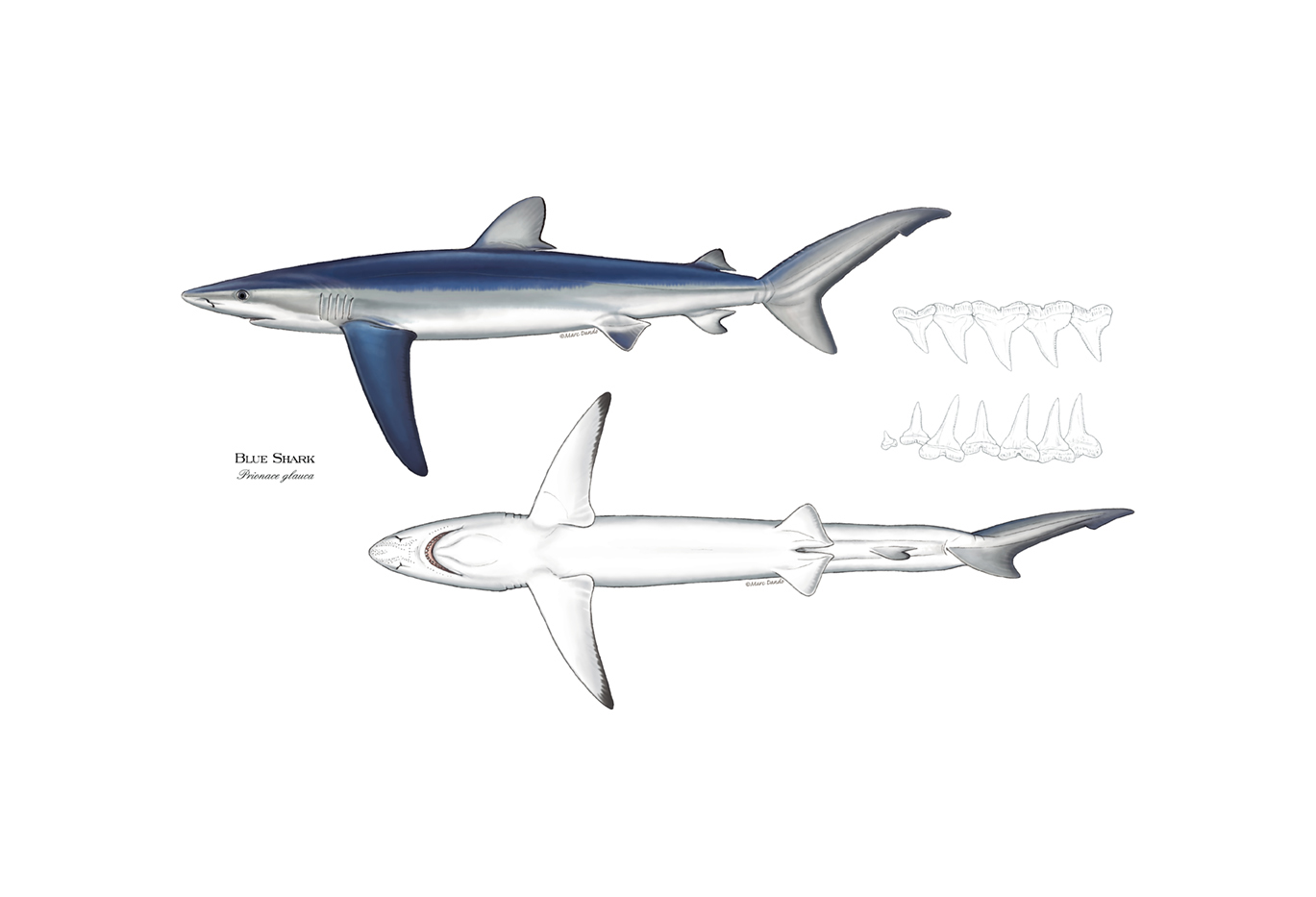 ---
Project Backers
75

Backers

221%

Funded

$3,985

Total Donations

$52.43

Average Donation