About This Project
Edible oysters are a traditional food item in coastal communities in Fiji. Despite this, little is known about the edible oyster species present in the country, their taxonomy, indigenous traditional knowledge and their aquaculture potential for coastal communities. This study attempts to address key biological knowledge gaps to inform sustainable aquaculture and wild fishery management efforts for building climate-resilient coastal communities in the Rewa Delta, Fiji.
Ask the Scientists
Join The Discussion
What is the context of this research?
Development of edible rock oyster aquaculture holds great promise for promoting indigenous livelihoods and income generation in Fiji, where this resource has been traditionally gleaned over hundreds of years. Oyster aquaculture do not require feeding or energy-intensive interventions, fit well into traditional indigenous coastal community activities and act as keystone species that naturally filter and purify their environment. A major bottleneck in increasing potential of rock oyster culture in Fiji is the availability of species-specific data which inherently prevents the development of this fishery.
What is the significance of this project?
It is hoped that through the identification of the species present in Fiji, species-specific methods can be developed and also adapted for growing other related oyster species. An additional output would be the development of a field identification guide so that local farmers are able to correctly identify wild oysters and make the informed decision to either sustainably harvest and/or conserve wild populations. Overall, addressing the biological knowledge gaps highlighted here on oyster taxonomy has the potential to have a positive long-term impact on the environment and the indigenous coastal communities in Fiji where these bivalves are a critical resource.
What are the goals of the project?
Using samples collected from one of Fiji's largest estuarine environments, the Rewa Delta, the project aims to address three key objectives. The first is identification of the edible rock oyster specie(s) using molecular barcoding techniques. An evaluation of the aquaculture potential of these oysters will be done via determination of key species characteristics (i.e. seasonal recruitment patterns, genetics, morphology, ecological requirements). Upon identification of species, a field guide based on shell morphology, meristical characteristics and molecular barcoding will be developed. The field guide will incorporate traditional knowledge (i.e. local names, local seasonal cycles, etc) for assisting local farmers.
Budget
The budget items outlined above will be used to complete an investigation on oyster taxonomy using molecular barcoding techniques to identify the specie(s) present. Through identification of the specie(s) present in Fiji, development of sustainable aquaculture efforts can be informed. These activities form part of a larger project on rock oyster aquaculture in collaboration with USP and the Secretariat of the Pacific Community (SPC). In summary, oyster tissues will be humanely collected and processed for DNA extraction and subsequent sequencing. The sequence data will be used to "barcode" the specimens and determine species identity.
Endorsed by
I believe this project will answer key questions in the field of aquaculture in Fiji.
This is an exciting project carried out by a highly qualified and experienced team. I would love a copy of the field guide to these edible river oysters once published. All the best!
I am really excited for this project. There have been many instances where I found myself looking at rock oysters around Suva, annoyed at the fact that there was no easy Fiji-specific oyster identification guide. This study is a much needed step towards understanding exactly what species occur around Suva and hopefully in future will expand across Fiji and the Pacific Islands. Well done and I look forward to seeing the outputs of your work.
This is a wonderful project and is being organised and done in a manner that I am really excited and happy about. These scientists are funding a very useful research that can provide much needed scientific information that we do not know about nationally but which is a useful source of nourishment in many coastal communities. This is part of the self determined initiatives that should be promoted widely. I happily and enthusiastically endorse this initiative.
Project Timeline
1. Students/volunteers chosen and discussion of the project
2. Collection of tissue samples and morphometric data
3. Extraction of DNA, PCR amplification and sequencing. Analyses of barcoding gene sequence data, interpretation and reporting of results.
4. Analyses of morphometric traits and data
5. Writing of report outlining species identity and morphometric analyses
6. Production of field identification guide
Jan 31, 2022
Project Launched
Apr 14, 2022
Students/volunteers chosen and discussion of the project
Apr 22, 2022
Extraction of DNA, PCR amplification and sequencing. Analyses of barcoding gene sequence data, interpretation and reporting of results
May 01, 2022
Extraction of DNA, PCR amplification and sequencing. Analyses of barcoding gene sequence data, interpretation and reporting of results
May 20, 2022
Analyses of morphometric traits and data 
Meet the Team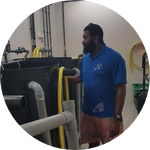 Viliame Waqalevu
Dr.
Affiliates
Independent Researcher
View Profile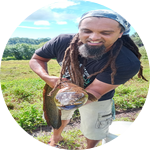 Chinthaka Hewavitharane
Dr.
Affiliates
The University of the South Pacific
View Profile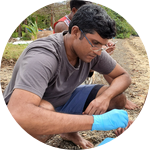 Monal Lal
Dr.
Affiliates
University of the Sunshine Coast University of the South Pacific
View Profile
Viliame Waqalevu
Dr. Viliame Waqalevu has a PhD in Fisheries Science in Resources and Environments and specialises in aquaculture and coastal ecology. He has over 10 years experience of conducting research in the oceania region and has recently been involved in collaborative research projects in Asia.
Chinthaka Hewavitharane
Dr Chinthaka Hewavitharane has a PhD in Fisheries biology and 3 years of post-doctoral research in Fisheries biology in the Pacific. He has over 15 years of experience in aquaculture. He was working for private and state owned research facilities and aquaculture farms. In addition to this, he has been a consultant in crustacean aquaculture for AIDA (Ayuda Intercambio y desarrallo) a Spanish NGO working in 5 different countries around the east Asian region for over 4 years. He is a lecturer in the School of Marine Studies, USP teaching aquaculture. He also supervises a number of master's and PhD students.
Monal Lal
Dr. Monal Lal's research supports the development and sustainable management of fishery and aquaculture resources in the Asia-Pacific region, using tools and techniques in ecology, conservation biology, aquaculture, molecular genetics and oceanography. These efforts enable a better understanding of both wild and farmed marine resources, to support community livelihoods and conservation efforts. He is currently a post-doctoral research fellow at the University of the Sunshine Coast in Queensland, Australia, and works from the University of the South Pacific in Suva, Fiji.
---
Project Backers
24

Backers

103%

Funded

$5,194

Total Donations

$216.42

Average Donation