About This Project
Anthrax is a zoonotic disease with a global distribution that causes catastrophic outbreaks in livestock, wildlife, and frequently endangered species. The commercially available animal vaccine is only effective as a subcutaneous injection which is not practical for use in free-ranging livestock and wildlife. This project will build upon our previous successful oral vaccine research by evaluating a novel oral anthrax vaccine formulation in a target animal model commonly affected by anthrax.
Ask the Scientists
Join The Discussion
What is the context of this research?
Anthrax is an ancient, zoonotic disease that has plagued humans and animals for thousands of years. The bacteria forms extremely resilient dormant spores that can survive for decades to hundreds of years in nature's harshest environments. This makes anthrax impossible to get rid of because there is no way of knowing if anthrax is in the soil until the first sudden death of an outbreak. Consequently, tens of thousands of animals, particularly grazing animals, are killed each year by seasonal anthrax outbreaks. These outbreaks can be prevented in livestock with the injectable veterinary vaccine, but this is not practical for wildlife, so our study will test if our oral anthrax vaccine will create a protective response in native and exotic wildlife in Texas.
What is the significance of this project?
Anthrax infects and kills livestock and wildlife worldwide every year. It's a neglected disease, yet annual outbreaks result in large economic losses and threaten conservation efforts. In 2019 it killed at least 10,000 animals in Texas alone (see additional info). The current vaccine requires yearly hand injections, but this vaccination method is logistically impossible for free ranging livestock and wildlife. Our previous research showed that our novel oral anthrax vaccine induced protection in mice. This study will continue developing this vaccine by testing it in species commonly affected by anthrax. Successful induction of an immune response from this oral vaccine will create an important tool for anthrax prevention and allow for vaccine-laden baiting programs.
What are the goals of the project?
Our hypothesis is that orally vaccinating ruminants, like white-tailed deer, wildebeest and kudu, with our novel oral anthrax vaccine will produce an immune response that is similar or better than the immune response induced by the commercially available injected vaccine. We will work with private landowners across Texas to identify animals of target species for use in our study. Then we will prepare the vaccine in our laboratory at Texas A&M University and continue working with the landowners to vaccinate and collect blood samples from all animals involved every two weeks. The blood samples will be tested for anthrax-specific antibodies and a second laboratory assay will determine if the resulting antibodies are protective against anthrax toxins.
Budget
These funds will contribute to a collaborative project we have received funding for from the CDC for a joint postdoctoral and PhD student research project that will validate an oral anthrax vaccine for wildlife. This budget, and additional funding past the goal, will allow us to extend the duration of this study and increase our sample size. The majority of the funds will help cover the cost of research animal per diem from cooperating ranches ($2,000) and researcher travel to and from cooperating ranches ($1,600) to vaccinate and collect blood from the animals. Vaccine and antibody testing supplies ($1,600) include materials to prepare the vaccine, and the substances needed to detect protective antibody responses. Disposables, which will cost at least $800, includes gloves, blood tubes, syringes, needles, pipettes tips, plates and other various laboratory consumables needed to validate this vaccine.
Endorsed by
I have known Dr. Benn Felix and Mr. Nunez for 5-6 years. They are excellent scientists, firmly dedicated to preserving wildlife populations. This project could save tens of thousands of wild animals' lives and help recover endangered species. An oral vaccine for anthrax is the only realistic way to prevent anthrax outbreaks in wild species. There are huge implications for this project in Texas, but internationally the impact would be even greater. In South Africa and Botswana, anthrax has killed huge numbers of Kudu, Red Hartebeest and Cheetah.
Project Timeline
Aug 2020 – October 2020: Identify private landowners and study animals
Dec 2020 – January 2021: Prepare vaccine, collect pre-vaccination blood samples and vaccinate animals
Feb 2021 – May 2021: Collect bi-weekly blood samples and perform laboratory assays to test for antibodies and protectiveness June 2021: Finish laboratory assays and analyze all data for publication. Results will reveal how effective our oral anthrax vaccine is and if it needs to be improved for commercialization.
Sep 12, 2020
Project Launched
Oct 31, 2020
Identify private landowners
Dec 19, 2020
Plan vaccination and blood collection schedule
Jan 16, 2021
Begin vaccination study
Feb 22, 2021
Begin processing collected blood samples
Meet the Team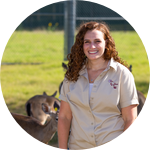 Jamie Benn Felix
Postdoctoral Research Associate
Affiliates
Texas A&M University
View Profile
Chase Nunez
PhD Student
Affiliates
Texas A&M University
View Profile
Team Bio
The Cook Wildlife Lab is dedicated to wildlife disease prevention and management. We are involved in a variety of wildlife research and disciplines to promote better management and conservation of native and exotic wildlife species. Some of our projects include the epidemiology and management of chronic wasting disease, anthrax, brucellosis and Mycoplasma ovipneumoniae, and the pharmacology of antibiotics and immobilizing agents.
Jamie Benn Felix
I am a Postdoctoral Research Associate in the Cook Wildlife Lab at Texas A&M University. I have always been fascinated by wildlife and motivated to find a way to protect it. I made every effort to start gaining experience with animals early in my childhood, but truly began developing my professional career in wildlife while completing my bachelor's in wildlife ecology at the University of Wisconsin-Madison. During a study abroad trip in South Africa, I learned about the burden that wildlife diseases place on conservation efforts. I was particularly intrigued by the ecology of anthrax, the fly transmission pathways that help exacerbate outbreaks and the interconnectedness of animals, microbes and the environment. This curiosity led me to pursue my PhD because I wanted to solve problems for wildlife and develop new ideas to push the wildlife and conservation fields forward. My PhD research at Texas A&M University laid the groundwork for this oral anthrax vaccine by first demonstrating that the current commercial vaccine is not effective when orally administered. Next, I created a new vaccine formulation, tested it in mice and recently published the success I observed from this first phase of vaccine development in npj Vaccines. With your generosity and support, I am excited to do my small part to save wildlife by continuing to develop this vaccine for future incorporation into wildlife bait.
Chase Nunez
I am PhD student at Texas A&M University studying Wildlife Pathobiology. I received my Bachelor's in Biomedical Sciences and my Master's in Biomedical Sciences with an emphasis in veterinary pathobiology and pharmacology. I am an avid outdoorsman from the heart of the Texas Hill Country in New Braunfels, Texas, spending nearly every chance I got hunting and fishing on my grandfather's ranch. This ranch was located in the eastern part of the anthrax enzootic region around Uvalde, Texas, so an unfortunate part of my upbringing included dealing with the seasonal anthrax outbreaks each summer. This, however, allowed me to experience first-hand what the wildlife, livestock, and ranchers continuously endure. Furthermore, as rancher and hunting guide for over 11 years, I fully understand the economic impacts and conservation detriments caused by anthrax outbreaks and realize the need for an effective vaccination protocol in free ranging populations.
My love for the outdoors and the wildlife that inhabit it was instilled in me from birth as a 7th generation Texan. That passion has blossomed into a career path with intentions that are clear: conserve, manage, protect, and enjoy the natural resources God has given us and educate others on the importance of the aforementioned to ensure the next generation has the opportunity to enjoy it the way I and my colleagues do. My professional experience with wildlife include research on extra-label drug usages in captive deer, validation of a novel immobilizing drug combination in wild ungulates, and disease surveillance in waterfowl, feral hogs, deer, pronghorn, and several iconic African species. I am well versed in the capture of dozens of wildlife species, including barasingha, Pere David's deer, and scimitar-horned oryx, as all three considered extinct in the wild.
Additional Information
The true effect that anthrax has on wildlife is nearly impossible to quantify. Animals can die within 1-3 days of exposure, so finding and identifying anthrax carcasses on private ranches or public lands that can be hundreds, thousands, and even hundreds of thousands, of acres is exceptionally difficult. This also makes it difficult to control outbreaks if carcasses cannot be found and disposed of quickly enough. Because of these and other related factors, records with the exact number of animals killed by individual outbreaks are not publicly available. During the summer of 2019, the Texas Animal Health Commission released situational updates regarding confirmed anthrax cases in Texas counties, but no details of exactly how many animals were involved in the outbreaks. The last update from 2019 reported outbreaks on 20 separate premises, however our estimate of 10,000 animals killed is based on anecdotal information we have received from sources directly involved with affected ranches.
This summer the Texas Animal Health Commission has reported only one anthrax outbreak in Briscoe Country, Texas. Anthrax is seasonal and it is common for some summers to be worse than others, but anthrax is not common in Briscoe County which is around 400 miles north of the enzootic anthrax zone in Texas. Outbreaks in unexpected areas are concerning and add to the many reasons why we must continue developing this oral anthrax vaccine.
---
Project Backers
14

Backers

15%

Funded

$853

Total Donations

$60.93

Average Donation