About This Project
Each winter snowshoe hares turn from brown to white to blend in with the snowy landscapes. Because of warmer winters, hares become white before snow comes and their failed camouflage makes them easy targets for predators. We hypothesize that shorter snow seasons have a negative impact on hare populations and the carnivores that depend on them. To test this, we need to carry out spring field surveys and estimate hare population size.
Ask the Scientists
Join The Discussion
What is the context of this research?
Across many parts of North America snow seasons are getting shorter and this is bad news for lots of wildlife. Brown in the summer and white in the winter, snowshoe hares are the true masters of camouflage. What happens when they lose their invisibility? As snow comes later in the fall and melts earlier in the spring, white hares stick out against dark backgrounds like sore thumbs. Carnivores are getting more easy meals, but what about the hares? Will they be able to survive the increased predation and will those who depend on them be negatively affected as well?
What is the significance of this project?
An iconic mammal of the boreal forest is losing its once foolproof ability to blend in. Will snowshoe hares be able to gain their camouflage power back -- and what happens if not? We know that more camouflage mismatch means more hare deaths, but we do not know how many losses their populations can tolerate and at what point may declining hare populations negatively impact their predators. Hares play a critical role in North American forests and any changes in their numbers will impact the entire community. Maybe this is already happening? If we raise enough money we will be able to asses the extent of camouflage mismatch and the consequent changes in hares and their predators including lynx, bobcats, foxes and martens.
What are the goals of the project?
Using an established methodology and our network of remote camera traps, we will continue to investigate the impacts of mismatch on hares and the predators that need them to survive. Our 5-week field season will start in the last week of April when we head out to our sites in Vermont and New Hampshire to service our cameras and conduct pellet plot surveys. Then in June we will compile the camera trap photos and pellet plot data and calculate animal population sizes and compare them to previous years. We are excited to share our results with the public via social media, reports and peer-reviewed publications.
Budget
We have added new field sites the past year to increase our understanding of factors that are influencing snowshoe hare populations. This is great news but it means extra work in the field and in the lab processing data. Securing funds to pay technician Sam will allow Alexej and Marketa to work on data analysis and writing, and predict the fate of hares and their predators in a changing climate.
Endorsed by
How is climate change harming wildlife and ecosystems? This project will help answer that question, focused on a sentinel of global warming, the snowshoe hare. An important topic, a key question, an exciting project - can't wait to see how it turns out!
This is a great team of two high-performing graduate students who will collect critical field data to help answer some of the most important questions of our time: how might climate change affect wild animals, and what can we do to keep that from happening?
This is an exciting project that will help facing one of the most pressing societal challenges today - understanding the effects of climate change on wildlife. The results can guide action to preserve ecosystems and wildlife. It's hard to imagine something more important than that!
Project Timeline
We will start fieldwork in the last week of April, focusing on checking cameras to download the photos taken over the winter and to confirm that all cameras still work properly to document mismatch, which generally occurs during April-May. We will then start conducting pellet surveys during May to estimate hare abundance and then service cameras again in June. Finally, by the middle of August, we will enter all the camera data.
Feb 19, 2018
Project Launched
Apr 16, 2018
Check cameras, download winter data and ensure that they are working properly for crucial period to document mismatch.
Apr 30, 2018
Start snowshoe hare fieldwork (pellet plot surveys) at low elevation sites where snow is absent.
May 21, 2018
Start snowshoe hare fieldwork (pellet plot surveys) at northern and high elevation sites where snow is absent.
Jun 01, 2018
Finish snowshoe hare fieldwork (pellet plot surveys).
Meet the Team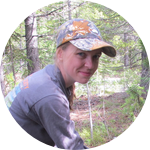 Marketa Zimova
PhD. Candidate
Affiliates
Wildlife Biology Program, University of Montana; Department of Interior, Northeast Climate Science Center
View Profile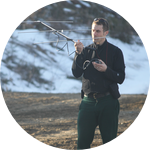 Alexej Siren
PhD. Candidate
Affiliates
Department of Interior, Northeast Climate Adaptation Science Center; University of Massachusetts Amherst, Department of Environmental Conservation
View Profile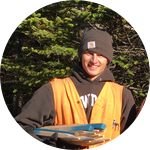 Sam Mayne
Field/Lab Assistant
Affiliates
New Hampshire Fish and Game Department; University of Massachusetts, Department of Environmental Conservation
View Profile
Marketa Zimova
I am a wildlife biologist and a Ph.D. candidate interested in the effects of environmental change on wild populations. I use the combination of field methods, statistical modeling and climate data to understand the consequences of mismatch in seasonal camouflage for color molting species including the snowshoe hare, mountain hares and Arctic foxes.
Alexej Siren
I am a PhD candidate studying the influence of abiotic and biotic factors on wildlife populations along distributional edges. I use a variety of field methods and statistical modeling techniques to investigate the impacts of climate change on winter-adapted carnivore and prey species. My current research evaluates how climate and forest dynamics, competition, and prey abundance influence distribution and range shifts of co-occurring species (e.g., Canada lynx and bobcats) along the edge of the North American boreal forest. I am also exploring how climate, forest dynamics, and carnivore occurrence influence the abundance and survival of snowshoe hares - a keystone species of the boreal forest.
Sam Mayne
I am a field/lab assistant working with Market and Alexej since the fall of 2017. I conducted research as an undergraduate student at Bowdoin College in Maine, studying factors that influence site selection and enemy avoidance in an invasive fly species. Since graduating, I have worked on various wildlife research projects across the United States. These experiences have deepened my knowledge of the natural world and sparked many new ideas and questions. I am currently pursuing graduate school and hope to start a program in the coming year.
---
Project Backers
45

Backers

100%

Funded

$4,520

Total Donations

$100.44

Average Donation