Genevieve V. Weaver, Neil Anderson, Kayla Garrett, Alec T. Thompson, Michael J. Yabsley
About This Project
There is an abundant population of ticks on Guam, which can cause devastating illness in animals. Many animals, with close interactions and overlapping environments with people, can serve as sentinels for human disease. The ticks of Guam are known to host at least eight pathogens, of which three are zoonotic. This is a threat to domestic animals, humans, and wildlife populations on Guam.
Ask the Scientists
Join The Discussion
What is the context of this research?
Currently, there are believed to be three main species of ticks on Guam; however, an island wide survey has not been conducted recently. Recent studies have found multiple pathogens in the ticks from deer and wild pigs on Guam, and small animal veterinarians report finding Anaplasma spp., Ehrlichia spp., and Babesia spp. regularly in dogs and cats. Despite these preliminary findings, a full characterization of the pathogens found in the ticks on Guam has not been done.
What is the significance of this project?
The main concerns about tick-borne pathogens on Guam are: 1) severe illness in domestic animals and wild animals resulting in extensive hospitalization and treatment (domestic animals) and population collapse concerns (wildlife), 2) the potential for disease in humans from existing pathogens, and 3) the possibility of an introduction of new tick vectors and novel pathogens. At least two of the tick species present on Guam are capable of hosting pathogens such as the agents of human ehrlichiosis and spotted fevers which can cause severe autoimmune conditions and organ failure in people. Guam's native and migratory birds are potential hosts for tick pathogens or the means of introduction of new tick species.
What are the goals of the project?
Our overall goal is to identify ticks and tick-borne pathogens present on Guam. We will first collect ticks from the environment, domestic animals (dogs, cats, cattle, goats, and water buffalos), and wildlife (deer, rodent, pig, and birds). We will identify the ticks, and any ticks not of the five recognized species will be submitted for further identification. We will then submit the ticks for PCR testing. We then plan to use GIS to map out the locations of the ticks and pathogens throughout the island. We hope to provide an assessment of the risks to people and animals based on the pathogens detected and their locations and to assist in the development of an on-going surveillance plan for ticks and tick-borne pathogens.
Budget
My goal is to test 50 samples (each sample=three-four ticks from same animal or location). The current cost of the laboratory test is $50. I am currently looking for the lowest cost laboratory that will be willing to do comprehensive PCR panels so that I will be able to test as many of my samples as possible.
Endorsed by
This is a very valuable and highly interesting project. Tick-borne diseases can pose serious health risks and span the interface between humans, livestock and wildlife. This study will provide crucial information on the presence of tick species and the potential pathogens they carry on Guam, help identify which areas are most at risk, and what may be needed in terms of surveillance.
Project Timeline
From May-July 2019, I plan to collect samples from the environment, dogs, cats, goats, cattle, and water buffalo. From December through March 2020, I will collect ticks from deer and feral pigs. I will identify ticks collected, and any ticks that are not believed to be one of the five already recognized species found on Guam will be submitted for proper identification. Ticks will then be submitted for a PCR panel.
May 10, 2019
Collection of the tick samples from the environment and domestic animals
Jun 03, 2019
Project Launched
Sep 01, 2019
Identification and laboratory results
Mar 31, 2020
Collection of ticks from deer and feral pigs during hunting season 
Jun 30, 2020
Results, completion of project 
Meet the Team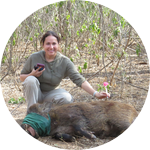 Genevieve V. Weaver, DVM, MPH
Dr.
Affiliates
University of Edinburgh, College of Medicine and Veterinary Medicine, Royal (Dick) School of Veterinary Studies, MVetSci Conservation Medicine Program
View Profile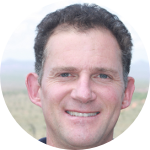 Neil Anderson
Dr
Affiliates
Royal (Dick) School of Veterinary Studies, University of Edinburgh, Roslin, UK
View Profile
Genevieve V. Weaver, DVM, MPH
I am a veterinarian on the island of Guam and currently work at a small animal hospital. I also assist the local aquarium and Department of Wildlife with any exhibit animals or injured wildlife. I have worked in the field of wildlife conservation in a variety of settings around the world over the last 20 years: field work, laboratories, zoos, aquaria, and wildlife sanctuaries. My undergraduate degree is in Environmental Biology from Columbia University. I received a DVM from Tufts University in 2004 and an MPH from the University of Iowa in 2010. I am currently in my last year of the MVetSci Conservation Medicine program at University of Edinburgh working on my dissertation project. I am interested in zoonotic diseases and have been especially curious about the tick-borne pathogens on Guam as I have seen devastating illness in animals.
Neil Anderson
I am a Senior Lecturer at the University of Edinburgh where I am the Programme Director of the MVetSci Conservation Medicine and MSc One Health programmes. I qualified as a veterinarian in 1996 and completed a PhD in wildlife epidemiology from the Centre for Tropical Veterinary Medicine in 2009. I have field experience working with free-ranging wildlife populations in southern Africa and the UK.
My research focusses on wildlife health and the application of interdisciplinary One Health and Conservation Medicine approaches. I have a particular interest in disease transmission across the human-wildlife-livestock interface and I have specific expertise on the ecology and epidemiology of African trypanosomiasis. I also provide veterinary and scientific support for conservation projects including the South of Scotland Golden Eagle Project for which I am Chair of the Scientific Advisory Panel.
Additional Information
---
Project Backers
36

Backers

100%

Funded

$2,500

Total Donations

$69.44

Average Donation