About This Project
The deep sea makes up more than 90% of our ocean yet receives little attention due to poor access to technology and expertise especially within Small Island States. This project aims to explore the Seychelles deep-sea (below 200 m) using the newly developed prototype - the Maka Niu - an affordable deep sea camera and sensor. The new understanding generated on deep-sea habitats will support effective ocean management and underpin community engagement with the benefits of the deep sea.
Ask the Scientists
Join The Discussion
What is the context of this research?
Deep sea (below 200m) habitats comprise 95% of habitable space on the planet and convey many benefits to society. The deep ocean has important and key functional roles such as regulating our planets climate and providing vital fisheries for growing economies. Yet, deep sea technology is both difficult to access and notoriously expensive. This means that many countries especially Small Island States are excluded from generating and visualising the deep-sea within their own EEZs.
We would use a low cost high tech system (Maka Niu) designed by our collaborators at MIT (now Ocean Discovery League and Oceanic) to better understand what habitats below scuba diving depth look like within the Seychelles waters.
What is the significance of this project?
This project will empower Seychellois nationals to undertake the first nationally led mission to understand the dominant habitat occurring between 0-1000 metres along the Seychelles continental shelf. Our proposed deployment location is regularly monitored by the Seychelles Fishing Authority's (SFA) dropline fish survey and it is anecdotally renowned for being a productive area. Understanding the dominant habitats and interaction of the fish with these features will add to long term monitoring and raise awareness of the deep ocean habitats that lies beyond our gaze.
We are further aiming to use our experiences on this pilot project to optimise our methodologies for future use in more locations around the Seychelles, to support management decisions.
What are the goals of the project?
To visually characterise the habitats between 0-1000m we will use the Maka Niu camera during the planned SFA dropline fish survey. Deployments will be prioritised at the depths consistent with SFA surveys (50, 150, 175 and 250 m) between the monsoon months (March-May and October-November). Deeper deployments to 1000m will follow.
Video footage from the expedition will be co-analysed with experts from the Nekton Oxford science group that have expertise in classifying and identifying deep sea habitats and species. Data generated will be analysed with SFA records to explore fish/seabed interactions and support management decisions. Community engagement activities will be used to share findings and create a dialogue.
Budget
The majority of our budget is for buying the equipment and consumables that will support the deployment our Maka Niu from a research vessel which will transport a team member to the deep water sites that will be explored.
We are already in possession of a Maka Niu which hugely decreases the overall costs. The Maka Niu collects both video and photos, whilst also collecting the dive profile, temperature and pressure. However, the camera is not yet equipped with a built in light and therefore we have budgeted for a deep-sea battery operated light which will be essential at the planned deployment depths.
Sharing our findings with the local community and creating an opportunity to share understanding and perceptions of the deep sea is an important step in a just and equitable ocean management and conservation.
Additional fundraising to conduct further deployments in other locations to ensure a representative view of the deep sea life of Seychelles is ongoing.
Endorsed by
The project lead, Sheena Talma, is an exceptional scientist who works tirelessly to generate information for and raise awareness of the big environmental issues impacting her country of Seychelles and the wider region. There is no one better to lead such a project!
This project is of main importance for the Seychelles marine biodiversity conservation and fishery management. It will help better understanding the Seychelles deep-sea ecosystems which are still poorly known. The project leader, Sheena Talma, is a passionated and exceptional young scientist with a strong experience in deep-sea research, in particular in Seychelles. I'm looking forward to collaborating with her on this exciting innovative project
This project is very interesting and will hopefully help provide more light into the deep sea research in The Seychelles. A little investment for a great reward!
Project Timeline
We expect deployment to occur during the planned expeditions conducted by the Seychelles Fishing Authority, and subsequent analysis of data and sharing of information with stakeholders and community members to be conducted over the following months. Meaning the discoveries are reported and used in a timely manner
Nov 02, 2021
Project Launched
Nov 30, 2021
Test Maka Niu: Deployment of the camera alone in shallow waters. We will upload photos and video footage from our test dives providing learning and engagement.
Dec 30, 2021
Order all additional equipment: Equipment detailed in the budget and vital for successful deployments along the drop-off will be purchased.
Apr 04, 2022
Deployment of Maka Niu in the deep sea: Camera and associated equipment to be deployed at the continental shelf of the Mascarene plateau
May 01, 2022
Analysis of videos and images: Marine life from the footage taken using the Maka Niu deep sea camera will be screened and analysed with the SFA records.
Meet the Team
Team Bio
The multidisciplinary and multinational team comes together in this project, joined by the aspiration of visualising the deep sea which has remained invisible to too many for too long. Key to the teams success includes Rodney Govinden the fisheries research manager at SFA and Dr. Nathalie Bodin an independent researcher.
Sheena Talma
I am a conservationist based in the Seychelles I work on a variety of projects and with an assortment of organisation. My role as the Science Program Manager of Nekton Foundation, a charity focused on equitable science research between 0-300 meters is where I spend most of my time. I specialized in fisheries and ichthyology as I think fish are really cool. I have worked for the Ministry of Environment, Energy and Climate Change in Seychelles on environmental sustainability initiatives. I have a passion for generating science within the Seychelles and the Indian Ocean. I am especially interested in education and awareness-raising programs that will garner a new generation of marine scientists and enthusiasts.
Katy Croff Bell
Dr. Katy Croff Bell is the Founder and President of the Ocean Discovery League and a National Geographic Explorer. She is on a mission to break down the barriers to the deep sea by combining low-cost technologies, AI-driven data analysis, and capacity building to make access to the deep sea more efficient and accessible to all, especially those historically excluded in the field. Dr. Bell's background in ocean engineering, maritime archaeology, and geological oceanography, and leadership of dozens of expeditions around the world uniquely position her to create efficient, equitable systems to broaden access to the deep sea.
Lucy Woodall
I am a marine ecologist who works in partnership to uncover the patterns of life in the ocean and looks for just and equitable solutions to ocean conservation and management.
Rodney Govinden
Rodney Govinden is the Fisheries Research Manager at the Seychelles Fishing Authority. He is also a Seychelles Sailor and has represented Seychelles at 2 Olympic games.
Nathalie Bodin
I am a marine ecologist and ecotoxicologist working on marine fisheries, food webs and seafood security issues.
Paris Stefanoudis
Paris is a marine biologist whose general research interests lie in
documenting the distribution patterns of marine life in the oceans and
identifying the underlying environmental factors shaping those. At
present, he is a postdoctoral researcher of the Marine Ecology and
Conservation Group at the Department of Zoology, working closely with
the UK-based NGO Nekton. His current research focuses on assessing
biodiversity and faunal connectivity across depth and geography in
tropical reef ecosystems in the Western Indian Ocean, including
mesophotic and deeper reefs.
Additional Information
This project will enable a diverse group of collaborators to uncover the mysteries of the Seychelles deep-sea and share the wonder of the deep-sea with the community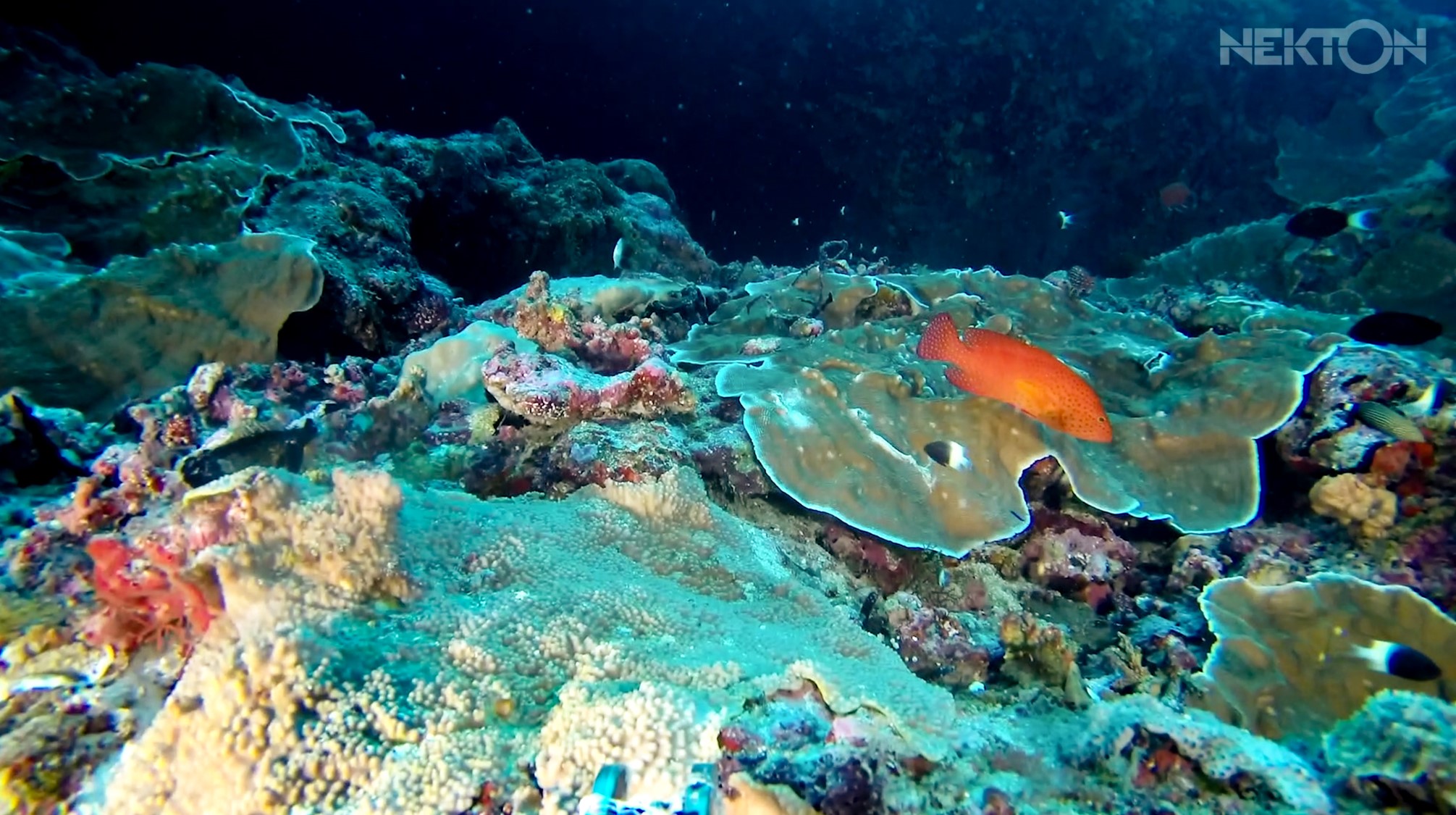 ---
Project Backers
35

Backers

103%

Funded

$4,745

Total Donations

$135.57

Average Donation