About This Project
African Penguin numbers are decreasing due to a lack of prey (sardine & anchovy) on the west coast of South Africa. The population is also vulnerable because it is split by a 600 km gap between the east and west breeding colonies. We hope to do what has never been done before: create a new African Penguin colony! This will bridge the gap and reduce vulnerability to catastrophic events. But one thing we need to know before we do this is what potential predators there are around the chosen sites.
Ask the Scientists
Join The Discussion
What is the context of this research?
African Penguins generally breed on islands where they are safe from terrestrial, mammalian predators. Along the South African coastline, there is a 600 km gap between the western and eastern islands where penguins breed, with no islands in between these two population centres. We have identified two sites on the mainland within this gap as places to start new colonies. This does mean that the penguins breeding at these new sites will be vulnerable to terrestrial predators. A predator proof fence will be constructed at each site along with other predator deterring measures, but it is important to have an understanding of the presence of potential land-based predators before penguins come to the sites to further tailor the predator management measures.
What is the significance of this project?
The African Penguin population has decreased by over 60% in the last 15 years. The big gap between population centres means that penguins are even more vulnerable to catastrophic events (e.g. oil spills) in either of these areas. And, the population in the west, formerly the breeding stronghold, is facing food scarcity due to decreased prey abundance as the sardine stock is shifting east towards the gap in the penguin distribution. We are trying to create new penguin colonies at two sites between the two population centres in areas where fish abundance is high. By creating new breeding colonies we will be moving penguins closer to their prey and bridging the gap in their distribution to create resilience to catastrophic events.
What are the goals of the project?
The overall aim is to establish new African Penguin colonies on the mainland of South Africa. The immediate goal of this project is to investigate the presence and diversity of potential penguin predators around the colony sites.
We will set up a series of camera traps at each site to record what animals are in the area and monitor the area for scat and tracks of animals that may predate on penguins. In the short-term, the results will be used to figure out what management interventions we need to put in place to keep predators out of the colony area. But the camera traps will also be in place for several years as a part of the long-term monitoring of the colony for predator incursions as well as penguin presence and behaviour.
Budget
Predator monitoring will be conducted through a combination of camera traps, and spoor and scat monitoring. The funds needed are to purchase the cameras and associated batteries and SD cards as well as to pay for a field assistant to check cameras regularly and download the photos and replace batteries.
Endorsed by
There's a massive challenge to save Africa's only penguin from extinction. The embattled African Penguin needs all the help it can get, and BirdLife South Africa's seabird conservation team are working hard to find solutions to address the threats. The establishment of the proposed new mainland colonies are immensely important management interventions. We appreciate your financial support which will enable us make this project a reality.
Numbers of African Penguins surviving in the wild collapsed in the present century largely as a result of a decrease of 90% of these birds off South Africa's west coast, the former core of the population. This followed an eastward displacement of their main prey (sardine and anchovy) into an area where no islands exist. It is necessary to establish a new mainland colony in this region to mitigate the decrease. Christina Hagen and Mark Brown have thoroughly investigated the feasibility of this project and demonstrated a good chance of success.
It is possible to re-establish penguin colonies, but getting the right predator reduction/exclusion program is essential for success. If the African Penguin is going to have any chance of seeing the next century then it is critical that mainland breeding colonies are established, particularly in this 'gap' area between the East and West African sites. With sound knowledge on the predators that currently access the potential breeding sites, the fencing and other exclusion techniques can be better targeted to have the greatest chance of providin
Meet the Team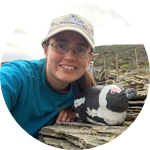 Christina Hagen
Mrs
Affiliates
BirdLife South Africa
View Profile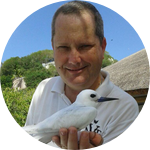 Mark Brown
Dr
Affiliates
Nature's Valley Trust; University of KwaZulu-Natal
View Profile
Christina Hagen
I've worked at BirdLife South Africa for 11 years, focusing mostly on the African Penguin. They are a great animal to work with as they are relatively easy to study (although watch out for their sharp beaks!) and they act as an indicator for the rest of the ecosystem. Helping to conserve the penguins will also hopefully save other species as well. I have an MSc in Conservation Biology from the University of Cape Town. I've always known that I wanted to be a conservationist.
Mark Brown
After over a decade working in a University environment, I took the plunge and moved across to full time NGO work in 2012.
While still affiliated to my base university, I maintain an active publishing research interest, while now taking my work one step further - integrating the outcomes of my work into conservation management plans, initiating awareness and education work, and ultimately into better conservation status for our region.
I am passionate about conserving our beautiful natural heritage, about opening peoples eyes to the natural world, and about mentoring the next crop of conservationists. Together we can make a difference.
---
Project Backers
65

Backers

100%

Funded

$5,400

Total Donations

$79.72

Average Donation