About This Project
Living nautiluses are the last members of an ancient lineage that traces back 500 million years. However, decades of nautilus fishing has resulted in significant population declines. I am working with an international team of researchers, educators, and students to determine just how many nautiluses are left. The data we collect is critical to developing effective management plans to protect nautiluses. Without action, these living fossils will simply be fossils. Please save the nautiluses.
Ask the Scientists
Join The Discussion
What is the context of this research?
An article in the New York Times (http://www.nytimes.com/2011/10/25/science/25nautil...) inspired much of the current research and also jump started the Save the Nautilus foundation (http://savethenautilus.com/). In 2014, our team published the first quantitative assessment of nautilus populations using the new, less invasive methods of baited remote underwater video systems (http://journals.plos.org/plosone/article?id=10.1371/journal.pone.0100799).
We now know that fisheries do negatively affect nautilus populations. However, questions remain regarding the impact of fisheries in other regions. Further,l natural history questions about nautiluses remain in question, such as the migratory behaviors. Additional surveys and awareness is critical at this point to protect nautiluses.

What is the significance of this project?
The Bohol Sea region of the Philippines represents an area that has supported nautilus fisheries for decades. We work with a local nautilus fisherman who was taught by his father, who was taught by a foreign shell collector. By working closely with the fisherman, we have learned that his overall catch rate of nautiluses has significantly declined since he was young. When it once took only 1 trap to catch 1 nautilus, it now takes 10-15 traps to catch just 1 nautilus. Conserving nautiluses not only protects nautiluses and the overall diversity of the deep sea, but also promotes good stewardship of the resource by fishermen. The extinction of nautiluses negatively impacts the ecosystem and the fishermen. By working together, we can ensure that everyone and everything survives.
What are the goals of the project?
Nautiluses are the 'canaries of the deep sea'. As the nautiluses go, so does the deep sea. Nautilus surveys also shed light on other species and environmental problems in the deep sea, such as sedimentation. Save the nautilus, save the world. This project will take place in the Summer of 2016 in Panglao, Philippines. This area represents 'ground zero' of nautilus fishing and is the most significant area to continue to survey. At the completion of this project, we will have 5 years of population data using baited remote underwater video surveillance. Specifically, we will use the BRUVS to calculate the abundance of nautiluses and other species that are living in the survey area. This data will be combined with previous surveys and compiled for regulatory and conservation agencies.

Budget
This project is part of a larger on-going project to survey nautilus populations in the South Pacific. Our team has been to the Philippines on four consecutive years from 2011-2014 and have solidified contacts and relationships on the ground to streamline our research and reduce expenses. The budget items listed are necessary to support the team (2 persons from USA and local Filipino residents and researchers) to conduct the research.
In addition to these budget items, previous support has been received from multiple sources and was used to purchase the specific sampling gear that includes baited remote underwater video systems, or BRUVS. The BRUVS include 3 underwater housings (to 1000m depths) with 3 HD camcorders and 2 underwater housings (to 1000m depths) with internal LED lighting. Additional gear such as hard drives, diving gear, etc., has already been purchased. These additional budget items total close to $100,000.

Meet the Team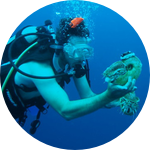 Dr. Gregory Barord
Conservation Biologist & Marine Biology Instructor
Affiliates
Save the Nautilus & Central Campus
View Profile
Dr. Gregory Barord
I was 4 years old when a squid documentary on TV got me interested in the ocean. Since that time, the only thing I've wanted to do was become a marine biologist and study the ocean, specifically cephalopods.
I received my B.S. in Marine Biology from Texas A&M University at Galveston, my M. Phil. in Biology from City University of New York, and my Ph.D. in Biology from City University of New York.
Currently, I am a Conservation Biologist for Save the Nautilus and a Marine Biology Instructor for Central Campus. Prior to this, I worked at the National Resource Center for Cephalopods (2003-2008), Prince William Sound Aquaculture Corporation (2005), the Aquarium at Moody Gardens (2006-2008), and Alaskan Observers Inc. (2008-2010).
I completed my doctoral dissertation, "On the Biology, Behavior, and Conservation of the Chambered Nautilus, Nautilus sp." My current research focus is addressing the remaining gaps in our understanding of several basic biological and behavioral questions about nautiluses to promote conservation and good stewardship going forward. A large part of this is educational outreach and awareness which is why I recently took a position at Central Campus in the Marine Sciences Department to not only provide high school students with a chance do their own research and ask their own questions, but also engage the next generation of students in the entire process of conserving nautiluses and the ocean as a whole. These students will directly impact and impact nautilus conservation by working on their own projects in the laboratory which address specific questions about nautiluses. Having students involved in the whole process legitimatizes the long term success of our over goal to protect nautiluses.
I am also a scientific advisor for the Association of Zoos and Aquariums Aquatic Invertebrate Taxon Advisory Board, a scientific moderator for The Octopus News Magazine Online, and a scientific advisor for the Nautilus Advisory Group.

Additional Information
The video here is a summary of our previous work and illustrates our methods and the strange and diverse creatures that we have observed in the deep sea, in addition to the nautiluses.
http://bcove.me/28oq8tm4
---
Project Backers
19

Backers

13%

Funded

$636

Total Donations

$33.47

Average Donation