About This Project
The University of South Carolina Beaufort only supports paper recycling for waste generated by a 2,100 student body. We will add recycling of plastics and metals by employing single-stream recycling (SSR). For this 2 year study, we expect the SSR method to lead to lower amounts of landfill trash. Weight of recyclables and trash at a sample site will be collected to assess for a statistical significance of recyclables. Results will be published in a scientific journal.
Ask the Scientists
Join The Discussion
What is the context of this research?
We want to implement change by improving recycling standards for coastal towns in South Carolina. In Beaufort County, institutional recycling of only paper and cardboard is relatively standard. We focus on USCB, with its 2,100 students as well as faculty and staff, as a community of sufficient size to perhaps offer some theories for improving the recycling program. Through the single-stream recycling (SSR) method, we will collect plastics, metals, and paper/cardboard waste. It is unclear as to how much recyclable material goes into the trash, but we expect to lessen the impact on landfill capacity. The trash and recycling companies will weigh collections from a specified sampling site and we will determine the percentage of recyclables (see additional information).
What is the significance of this project?
How much recyclable material is going into the trash generated by this university of 2,100 students?
The trash and recycling companies will weigh collected materials as a service. A sampling location was selected, the USCB Center for the Arts in Beaufort, SC, and trucks will go to their corresponding weigh stations. The trash company reports weight every two months and the recycling company will report on a monthly basis. The sample site will show the percentage of recyclables entering the trash but can also reveal an estimate of tonnage for the entire university.
The importance of knowing percent of recyclable materials entering the trash will serve as scientific evidence that the SSR program is important for the environment and as documentation to uphold the program for future use.
What are the goals of the project?
The goal of this project is to quantify the weight of recyclables generated by a student body of 2,100 students over the course of two years. We will implement a new plastics and metals recycling program. To measure the weight of recyclable material, the trash and recycling trucks will go to a weigh station before and after waste pickups from a sampling site at the university. We are able to collect the data because the two companies will provide the weight reports. At the end of two years, weights measured, avg. no. of people (sample site), and analysis of all trash & recyclables will be shared in a report.
Recyclables for SSR include plastics, metals, and paper waste. Nonrecyclable materials "Trash" include: foam, hazardous materials, plastic bags, glass, and aerosol cans.

Budget
Funding for the initial 6-month term ($3,200) to pay the recycling company will allow for SSR to take place at USCB's three campuses (Bluffton, Beaufort, and Hilton Head Island) that will handle recycling of a student body consisting of 2,100 students.
Each month, a weight report will be generated by the recycling company for recyclables collected at a designated sampling site (USCB Center for the Arts). The trash company will also weigh trash collected at the same sampling site.
After the initial 6-month term of funding, the university will begin to finance the SSR program with the recycling company.
Educational outreach expenses ($1,000) will be directed towards custom recycling bin labels, the printing of brochures, and the setup of a one-day USCB campus-wide Symposium on the topic of Solid Waste Management to be held in April of 2020. I am also planning on making the symposium open to the public.
Experiment.com requires an 8% platform fee: 8% of $4,200 ($336).

Endorsed by
Dr. D'Antonio is an excellent scientist and professor at USC Beaufort and he cares deeply about the environment. He recently visited Brazil and we had a discussion on aspects of solid waste management. I believe he is doing a large favor for his community and I would like to see more people follow this kind of passion and leadership. As the Vice President of S.O.S. Rio Dourado, an environmental organization based in São Paulo, I fully endorse Dr. D'Antonio because he has the intellect, competence, and drive to complete the project.
The dilemma of rising solid waste in landfills requires strict attention before such space runs out in the United States. Dr. D'Antonio's proposal that outlines an enactment of a more rigorous recycling program for USCB is exceptional and I fully endorse him. He is an environmental advocate and a meticulous scientist that really understands recycling. This kind of sustainability, education to the students, and environmental responsibility will serve as an important model in Beaufort County.
This project is what USCB and Beaufort County needs! I highly endorse this work. As the Director of the Marine Sensory and Neurobiology Lab at USCB, one environmental concern in our estuaries is the potential impacts of plastics and microplastics on marine life. Plastics can breakdown into microplastics and suspension feeders like oysters, clams, and mussels can accumulate these compounds. Plastics can be ingested by birds, sea turtles, and marine mammals. Recycling programs can keep these plastics in production and out of our estuaries.
As an educator in Beaufort County, there is no better classroom than our saltmarsh. We have an opportunity at USCB to teach and model the importance of recycling and proper waste management practices. We can foster an appreciation and conservation for our special salt marsh flora and fauna while showing simple everyday things all of us can do. Support of this project allows us to contribute in SCDHEC recycling goal of 40% and the state's 13billion dollar recycling industry. Highly endorse this !
Project Timeline
During the initial 6-month period of the recycling program, the money raised from this Experiment.com campaign will be used to finance the costs associated for the recycling pickups and a smaller portion will be used for educational outreach. Through demonstration of a successful recycling program during this pilot period, the university will then take on all of the financial responsibilities with the recycling company. Data collection will proceed for a 2-year period from a sample site.
Oct 11, 2019
Project Launched
Jan 06, 2020
Recycling company starts their first scheduled pick-up.
Jul 06, 2020
Pilot period of initial funding ends.  USCB Dept. of Maintenance initiates financing with the recycling company.
Jan 03, 2022
Two years completed of weight data collection from the trash company and recycling company.
Feb 01, 2022
Final report to be shared with the public, which includes all recorded weights of trash and recyclables, average number of students at the sample site, and a full analysis.
Meet the Team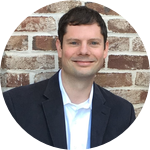 Dr. Edward L. D'Antonio
Professor of Biochemistry, Structural Biology, and Medicinal Chemistry
Affiliates
University of South Carolina Beaufort, Department of Natural Sciences
View Profile
Dr. Edward L. D'Antonio
My training is in Chemistry and I received my Ph.D. at North Carolina State University in 2010. From 2010-2013, I was a postdoctoral fellow at the University of Pennsylvania where I was trained in structural biology and medicinal chemistry. I have published a total of 20 scientific articles/patents and I have mentored 22 undergraduates at USC Beaufort. In 2016, Dr. Gustavo F. Mercaldi and I worked together on a high-throughput screening campaign (Campinas, Sao Paulo, Brazil), in which we ran a primary screen of 13,040 compounds against the target glucokinase in Trypanosoma cruzi (the etiological agent that causes Chagas' disease). We were successful in finding novel inhibitors and the manuscript of the project was published in 2019.
My webpage: www.uscb.edu/edant
Since 2013, the goal of my research program has been to identify chemical compounds that inhibit protein targets of pathogenic microorganisms. The drug discovery strategies that I employ include structure-based drug design, hit-to-lead expansions, structure-activity relationships, and high-throughput screening. Compounds are further developed by experimentally searching for higher efficacy and lower toxicity than clinically used drugs for the treatment of neglected tropical diseases.
Additional Information
Sample Site Calculations & Weight Records

The trash and recycling companies will weigh collections from a specified sampling site. The average number of students, faculty, and staff that go to this location, in which they use trash or recycling will be recorded to know what percentage the sampling site location represents (5 - 10%) with respect to the university total. Through analysis, in dividing mass of recyclables collected by the total weight (trash + recyclables) multiplied by 100%, we will obtain the percentage of recyclables collected at the sampling site. This information can then be used to predict the amount of recyclables generated by the entire university. It is important to point out that the entire university will be involved in the SSR program but weight records will only be tracked from the sampling site.
This project will involve documentation of weight records for a two-year period by my team. When the project is finished, only the trash company will still continue to weigh their collections at the sampling location since that is the method in which they charge for hauling off the waste. The recycling company will discontinue weighing recyclables collected from the sampling location after the completion of the project.
Single Stream Recycling (SSR)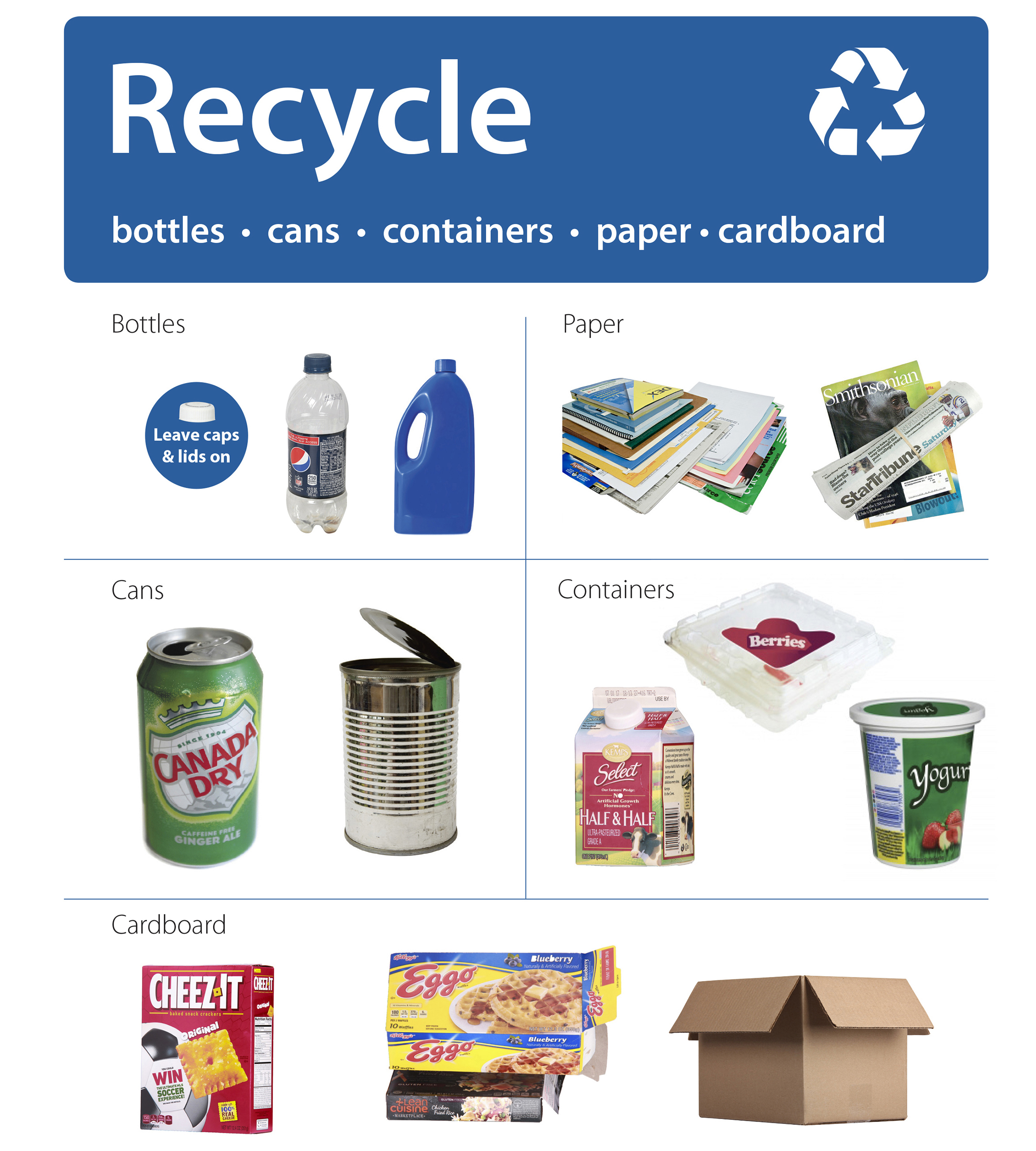 Materials that can be recycled by the Single Stream method.
Rewards***

The Environmental Club at USCB would like to offer a gift(s) to backers that contribute to the fundraiser in the following distributions:
***Note: To be eligible for a gift reward, you must have a mailing address within the United States. It is possible for us to mail a gift internationally if you would like to help offset the cost of shipping, and we would be willing to work with you.

Pledge $1 or more:

· Online notifications about project updates
Pledge $75 or more:
· Online notifications about project updates
· Gift #1: An Environmental Club Coffee Mug
Pledge $150 or more:

· Online notifications about project updates
· Gift #1: An Environmental Club Coffee Mug
· Gift #2: A Cedar Bird House with an Engraved Brass Plate personalized from the Environmental Club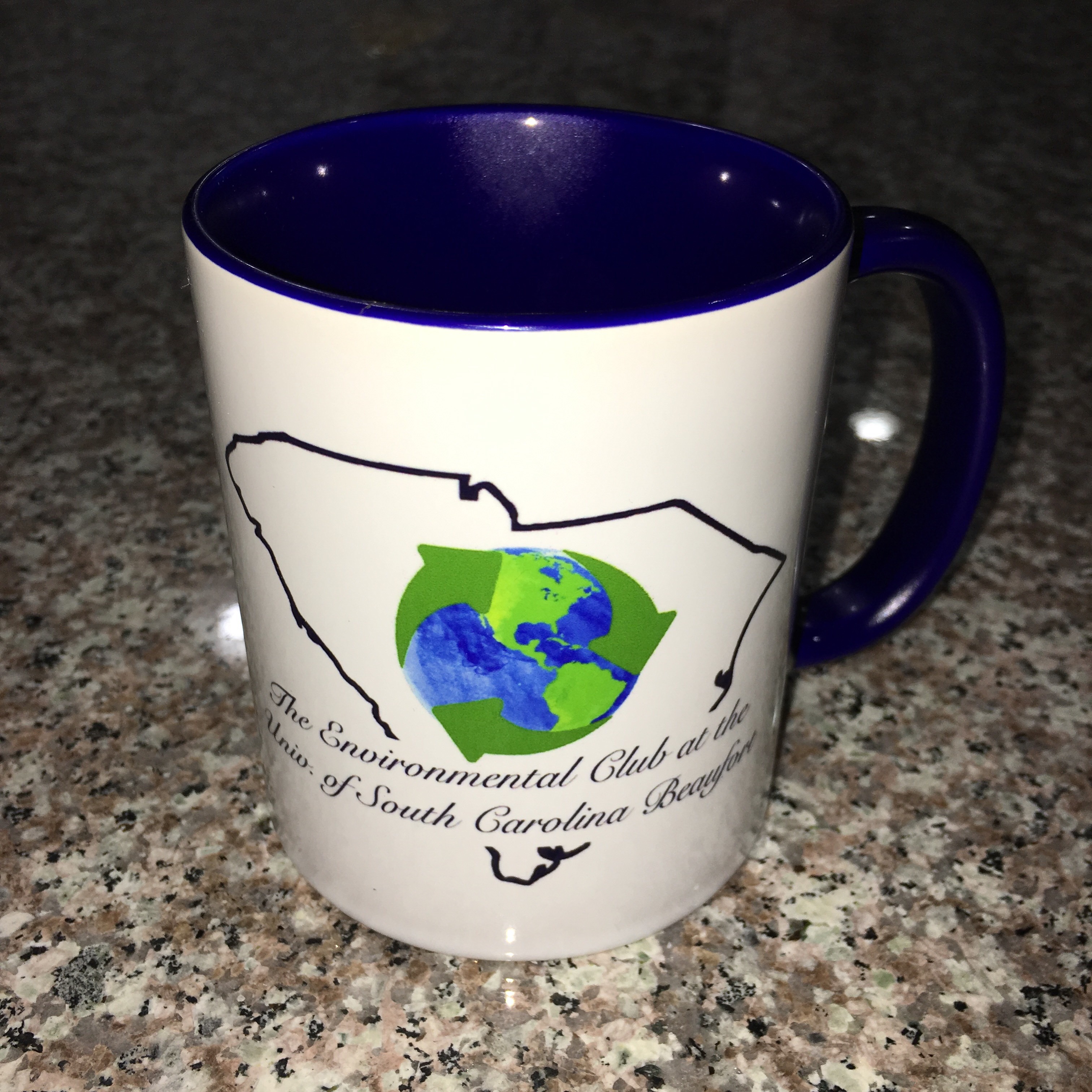 Gift #1: Environmental Club Coffee Mug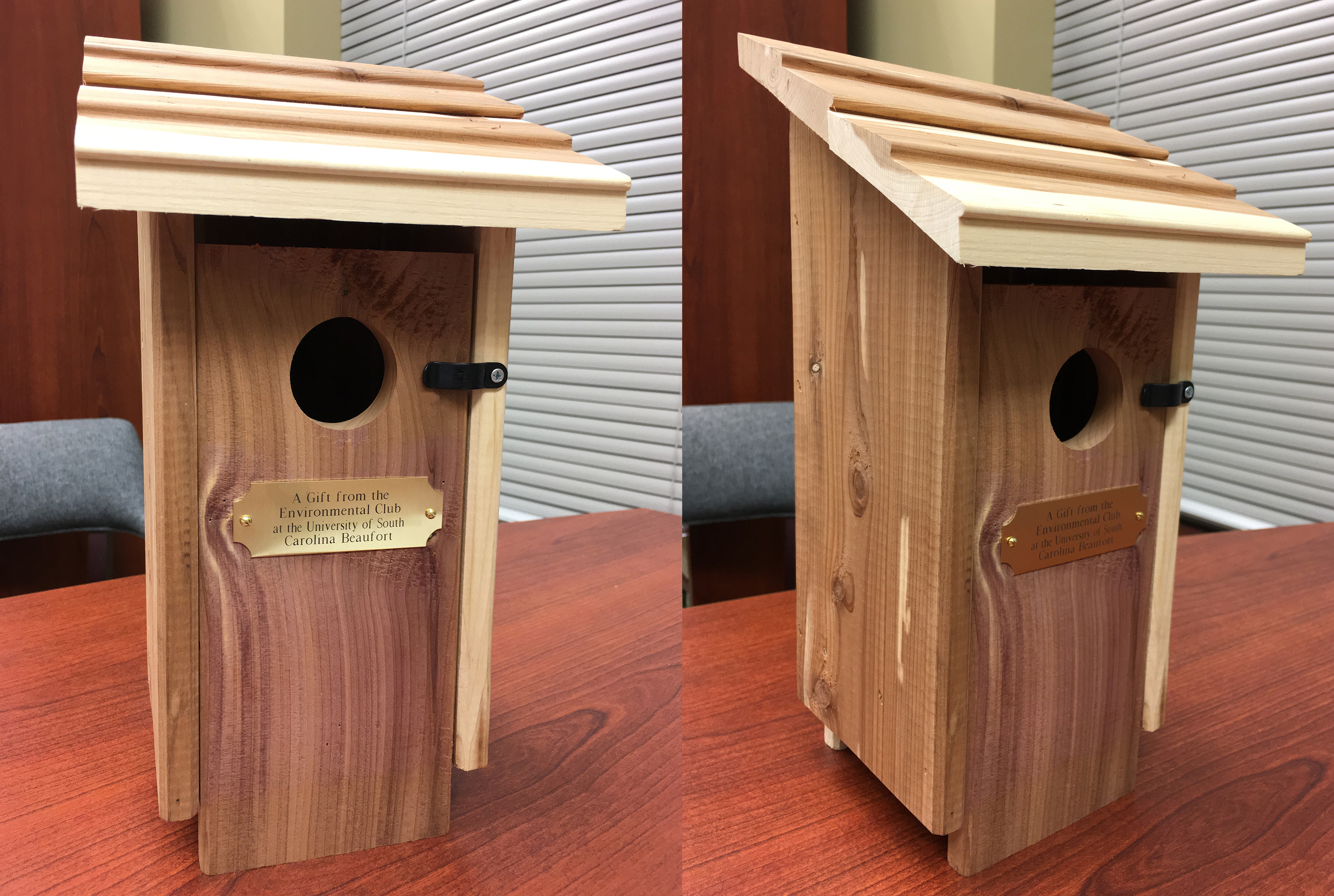 Gift #2: Cedar Bird House (Brass Plate: "A Gift from the Environmental Club at the University of South Carolina Beaufort")
Perspective

The May River and the Chechessee Creek are tidal waterways that are examples of some beautiful nature found in the coastal region of South Carolina. Viewing their landscapes helps us think more closely about the environment we must protect.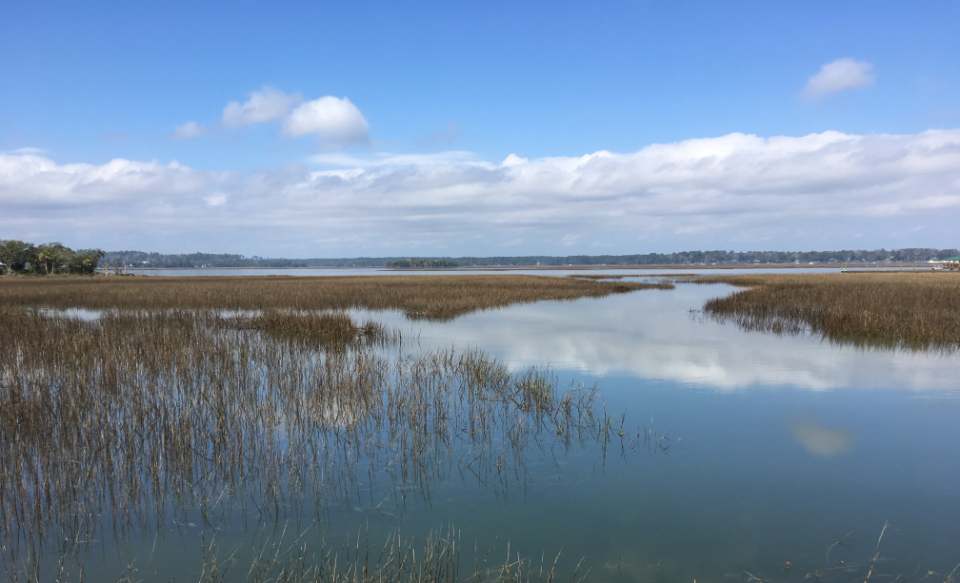 About Our Organization

The Environmental Club at USCB (Homepage of our team)

Key Members of this Project

Dr. Edward L. D'Antonio (Director of the Environmental Club at USCB and Associate Professor of Biochemistry)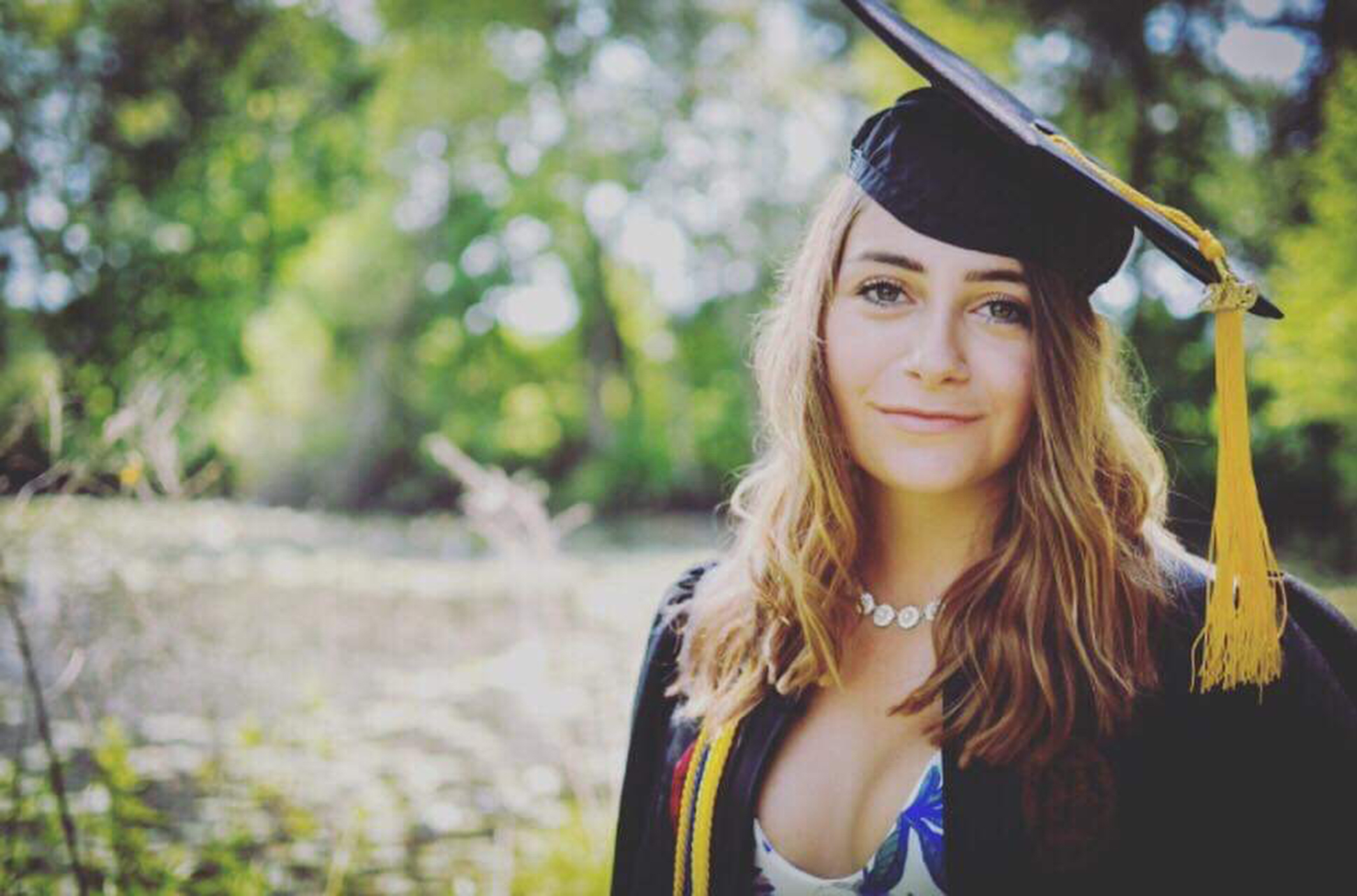 Ms. Claudia Doll (President of the Environmental Club at USCB, 2018/2019)

---
Project Backers
29

Backers

100%

Funded

$4,537

Total Donations

$81.04

Average Donation