About This Project
Mosasaurs were apex predators of the Late Cretaceous seas closely related to modern lizards, like the Komodo dragon. During the Late Cretaceous, much of North Dakota was covered by a warm, shallow sea. The Pierre Shale formation, deposited in that sea, preserves some of the last mosasaurs that lived before their extinction, but North Dakota's record is unstudied. This project will clarify what mosasaur species lived in North Dakota and what these fossils tell us about this ancient ecosystem.
Ask the Scientists
Join The Discussion
What is the context of this research?
Mosasaurs were the tyrannosaurs of the Late Cretaceous seas, reaching lengths of up to forty-five feet long and wielding two rows of teeth. Their lower jaws are hinged and their skulls are flexible, allowing them to eat very large prey whole, much like modern snakes. Some species also had teeth that were specialized for eating very specific prey animals, like large domed teeth for crushing shells. As a result, understanding how many species of mosasaur were present and identifying exactly which species they are can tell us a lot about what the environment was like in this sea and what prey animals were also living there. The North Dakota State Fossil Collection has six partial mosasaur skeletons, along with many isolated bones, most of which remain unidentified at this time.
What is the significance of this project?
The Pierre Shale represents a small yet important time interval because it spans the last few million years of life in that sea just before the extinction of the mosasaurs. The information gathered from the North Dakota mosasaur record will allow us to properly evaluate the diversity, geographic distribution, and evolution of Pierre Shale mosasaurs, both in the state and on a regional scale. By accurately identifying and describing which species are present in North Dakota and making those data freely available, we also will be providing valuable data to researchers working on broader evolutionary studies of life in this shallow sea across North America.
What are the goals of the project?
The primary goal of this study is to describe, photograph, and catalog all of the mosasaur specimens in the ND State Fossil Collection. Those data will then allow us to identify what species are present and compare the diversity of North Dakota mosasaurs to the rest North America. Those results will be submitted for publication in an online, open access journal, so that it is freely available to both the scientific community and interested members of the general public. We will also make all primary data (photographs, measurements, etc…) available on the NDGS website so that outside researchers will be able to easily incorporate these specimens into future studies, and the people of North Dakota can learn more about North Dakota prehistory.
Budget
These funds will help one of us (Nathan) travel to Bismarck to examine, identify, and document the mosasaur fossils in the North Dakota State Fossil Collection. The North Dakota Geological Survey has previously funded the costs of collecting and preparing most of the fossils to be studied, and will provide facilities where the research and additional preparation of fossils will take place. Having Nathan, who is knowledgeable in mosasaur anatomy and taxonomy, in Bismarck for a month-long visit is key to completing this project.

Fieldwork and fossil preparation costs include travel costs (gas) to reach field sites, materials needed for proper collection of specimens (burlap, plaster, adhesives), and lab supplies for cleaning and properly conserving specimens (adhesives, ethafoam planks and tyvek fabric for specimen cradles, replacement tips for pneumatic tools).
Meet the Team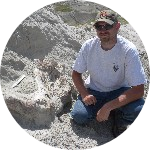 Clint A. Boyd
Senior Paleontologist, Curator of the North Dakota State Fossil Collection
Affiliates
North Dakota Geological Survey
View Profile
Clint A. Boyd
Clint grew up in rural southeastern Wisconsin, spending most of his free time outdoors building a fascination with the natural world. In high school his family began spending part of their summers in eastern Montana where he stumbled upon his first fossil discovery. Now hooked on fossils, he attended the University of Wisconsin-Madison, double majoring in Geology and Zoology. As a freshman he started volunteering in the Geology Museum's fossil preparation lab and by his junior year he was hired as the fossil preparation lab supervisor and took over the planning and execution of the museum's paleontology field program in the Hell Creek Formation of Montana.

His graduate studies at The University of Texas at Austin focused on evaluating the evolutionary relationships of ornithischian dinosaurs, but in the summers he worked for Badlands National Park in South Dakota where he assisted in the collection and preservation of fossils from the Eocene-Oligocene White River Group. Upon his graduation in 2012 he took over the paleontological locality field survey at Badlands National Park for six months before starting a postdoctoral fellowship at the South Dakota School of Mines and Technology. In the latter position he continued research and fieldwork activities at Badlands National Park and assisted with the unpacking and organizing of the Museum of Geology's paleontological collection into a new facility. He also assisted Dr. Darrin Pagnac with fossil surveys of the Pierre Shale and Niobrara Formations along the Missouri River in South Dakota.

In January 2015 he took over management of the North Dakota Geological Survey's paleontology program where he focuses on preserving North Dakota's paleontological resources for future generations and helping people learn more about the prehistory of North Dakota through scientific research and educational outreach.

Nathan Van Vranken
Nathan Van Vranken has always had a fascination with the past and lifelong obsession with studying it. Paleontology is one of Nathan's passions in life, sometimes he refers to it as the "driver in his life".
As a result of his studies Nathan has published papers on various paleontological subjects and preformed lectures at multiple professional conferences such as the Geological Society of America (GSA) and Society of Vertebrate Paleontology (SVP) and continues to professionally articulate his ideas on a global stage though social media and volunteered at various museums as a field worker and fossil preparator. He has worked on fossils from just about every section of geologic time.

Notable avenues of research Nathan has worked on was assisting in reconstructing the coastal paleoecology of the Woodbine Formation in North Central Texas on behalf of the Arlington Archosaur Site. While attending graduate school, Nathan's research specialization was on the Western Interior Seaway and more importantly the mosasaurs that inhabited it. He worked on the identification and phylogenetic relationships of a subadult Tylosaurus kansasensis specimen which later became the topic of his Master's thesis. Other topics he has been working on are Cretaceous ichthyosaurs, fossil fish from the Austin Chalk formation in Texas, and various phylogenetic studies dealing with theropod dinosaurs such as members of Dromaeosauridae.
Nathan's academic training was specifically designed to be rigorous and customized to allow him to research as a professional. The result, he holds degrees from the University of Texas such as a Bachelor's of Science in Interdisciplinary studies with emphasis on geology and biology and a Master's of Science in Geology with emphasis in vertebrate paleontology. As of late 2015, Nathan has been teaching historical geology classes at the local university in the Dallas-Fort Worth metroplex and continues to do research and public outreach as a freelance paleontologist.
---
Project Backers
32

Backers

50%

Funded

$1,983

Total Donations

$61.97

Average Donation