About This Project
Donate to our U Maine gift account. Golden-winged Warbler is one of North America's fastest declining forest bird species. To reverse this decline, it is important to conserve the breeding (US/Canada) and winter (Latin America) habitats of this migratory songbird. We will identify the habitats used by Golden-wings on their annual migratory journey to help make better conservation decisions for this imperiled bird. Watch our video to learn more. Please join the journey!
Ask the Scientists
Join The Discussion
What is the context of this research?
Young forest habitat in North America is important for many wildlife species, including Golden-winged Warblers. They depend on the dense shrubby cover that young forests provide. As young forest habitat declines so do the wildlife species that live there, like Golden-winged Warbler. Tropical forests (used by Golden-wings in winter) and their wildlife are also declining due to deforestation and degradation. To conserve declining forests, managers can use charismatic wildlife species, like Golden-wings, as forest conservation ambassadors. The Golden-wing story can encourage and inform effective conservation strategies. We want to know which forest habitats and specific locations are of highest conservation priority based on the Golden-wing's journey.

What is the significance of this project?
Geolocator technology has only recently become lightweight enough to be used on songbirds as small as 9 grams. This technology will allow us to track the movement of individual Golden-winged Warblers during a year of their life. Click here to see how geolocator data can help Golden-winged Warbler conservation. This information will help us understand a year of broad-scale habitat use by these birds, specifically identifying important migratory stopover and wintering habitats. By using this bird as an ambassador for forests and associated wildlife, we can understand habitat needs and create effective and efficient forest conservation strategies that will maximize the positive impact of limited conservation funds and manpower.
What are the goals of the project?
We aim to identify forest areas for conservation based on habitat use during the annual journey of Golden-winged Warblers. This project started in 2016 by capturing 28 male Golden-wings on their breeding territories in Wisconsin and fitting them with geolocators, essentially a small back-pack with leg-loop harnesses. In 2017 we must recapture the Golden-wings and recover their geolocators to download the logged migratory route data. Using this data and aerial imagery, we will describe the broad- scale habitat used by these birds. This will help identify forests of greatest conservation need for Golden-wings. By following the habitat choices of these birds over a year, they will show us how to prioritize forest conservation to benefit wildlife.
Budget
Light-level geolocators track long-distance animal movements and can be used to determine broad-scale habitat use. These devices are deployed for a year. The birds must be relocated and recaptured to remove their geolocators and retrieve the data. Twenty-eight geolocators were deployed on Golden-winged Warblers breeding in Wisconsin in 2016. The funds we've raised so far will help me retrieve all of the geolocators, in Wisconsin between May 15 and July 1.
Stretch goal funds will be used to purchase and deploy new geolocators in 2017 on recaptured Golden-wings. For every $250 raised we will track one bird for a second consecutive year of their migratory journey to see if the habitats they use and the routes they take differ between years.
Endorsed by
I am honored to advise this amazing young scientist and to endorse her exciting project to conserve an imperiled songbird, the Golden-winged Warbler. This species is being reviewed for protection under the Endangered Species Act. Through projects like this one, we hope to identify the places where our limited conservation dollars can do the most good. By being strategic in our efforts, we hope to prevent the need to list this species by being proactive in our activities. Please support this important project and join the journey!
Anna Buckardt is among the most intelligent, hard-working, and passionate graduate students that I've ever worked with and her novel research on this rapidly declining migratory warbler is critical to our understanding of it's migration ecology and habitat associations. Her and her team of experts are making significant contributions to its conservation.
I am 100% supportive of this project. This is important work, and these are the right people to do it.
I am privileged to have been involved with the first year of this study and am excited to see it continue. The ground-breaking data we are collecting will give us a whole new understanding of the lives of these amazing birds and others like them. Anna is a hard-working dedicated researcher and I have full confidence in her completing the project with excellent results that will shape the future of early successional forest management.
Meet the Team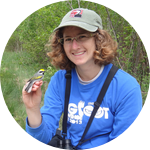 Anna Buckardt
MS Candidate of Wildlife Ecology at the University of Maine
Affiliates
University of Maine
View Profile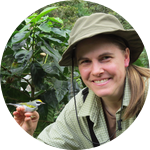 Amber Roth
Assistant Professor of Forest Wildlife Management
Affiliates
University of Maine
View Profile
Team Bio
This project is only possible through the help of my wonderful volunteers. In 2016, 10 dedicated volunteers spent many hours in the field assisting with bird surveys, netting and banding Golden-winged warblers, and vegetation surveys. This project would not be possible without their wonderful support and dedication!
Anna Buckardt
Hi! My name is Anna. I am a graduate student at the University of Maine working on my Master's degree. My thesis project focuses on bird response to young forest habitat management on private properties in Wisconsin, and how best to involve landowners in conservation and wildlife monitoring efforts. I have a B.S. in Wildlife Ecology and Management and Applied Ecology and Environmental Science from Michigan Technological University. I have been interested in birds since childhood and have experience working on bird and habitat research in Illinois, Hawaii, California, Michigan, Nevada, and Wisconsin.
In spring and summer of 2016, I started field work for my thesis by conducting bird and habitat surveys and interviewing landowners. I am excited to have the opportunity to conduct research with real world application to bird conservation, habitat management, and citizen science project creation. My favorite part about my research is sharing it with others! I can't help but smile when I have the opportunity to teach others about what I do and the natural world.
Amber Roth
Rusty Blackbirds are fascinating birds! I've been fortunate to be involved in research, monitoring, habitat management, and conservation planning for species associated with young forest habitats for over 20 years. My current research program at the University of Maine also includes American Woodcock habitat evaluation, woodcock migration ecology, development of indices for deer winter habitat, and Highland Guan biology and movement patterns in Nicaragua. I enjoy sharing my research with a wide range of audiences and hope you find this current project to be as interesting and exciting as I do. Help us solve the mystery of Rusty Blackbird population decline!
Additional Information
Global populations of Golden-winged Warblers have been in steep decline (-2.3% each year) for nearly 50 years. In other words, this population is now less than 40% of the numbers present in 1966. As a result, Golden-winged Warbler is listed as a species of high conservation need in all of the states where they breed and are being reviewed for protection under the Endangered Species Act. Many bird species require similar habitat and resources as Golden-winged Warblers. By protecting Golden-winged Warbler winter and breeding habitat, we will be providing important habitat for many other wildlife species as well.
This project is part of a collaboration with Audubon Vermont, Palisades Interstate Park Commission, Audubon New York, and Dr. Amber Roth. Through this collaboration geolocators were deployed on male Golden-winged Warblers in Michigan, New York, and Vermont, in addition to Wisconsin, in 2016. Data from all four states will help us understand the breeding-range-wide Golden-winged Warbler migratory journey. This work is very exciting and will improve and increase the conservation of this imperiled songbird throughout it's range. Watch the lab notes section for information on these parallel studies as geolocator data is recovered this summer.
Thank you to all the organizations and individuals who have supported this research:
U.S. Fish and Wildlife Service
University of Maine
Wisconsin Department of Natural Resources
Wisconsin Sustainable Forestry Initiative Implementation Committee
Natural Resource Foundation of Wisconsin
Ozaukee Washington Land Trust
Wisconsin Audubon Council, Inc. and associated Audubon chapters from across the state (Aldo Leopold, Chappee Rapids, Chequamegon, Winnebago, Northeast Wisconsin, Green-Rock, Hunt Hill)
Private Donors include Shirley Klapperich, Chris and Jude Ford, and John and Laurie Johnson
Geolocators donated by the Cornell Lab of Ornithology and Indiana University of Pennsylvania (7) and Audubon Vermont (1)
Inland Bird Banding Association Paul Stewart Avian Research Grant
---
Project Backers
59

Backers

148%

Funded

$3,911

Total Donations

$66.29

Average Donation