About This Project
American mastodons lived all across North America during the Ice Age. Paleontologists long suspected that western mastodons differed in subtle ways from eastern ones, and our initial data suggest they may have been distinctive in size and tooth proportions. We plan to examine various museum collections to build a robust database of mastodon measurements, allowing us to document regional population differences and helping us understand ecosystem variation and animal dispersal during the Ice Age.
Ask the Scientists
Join The Discussion
What is the context of this research?
For some time anecdotal data has indicated that California mastodons were smaller than their eastern counterparts, but the question was never rigorously examined. A single abstract (Trayler and Dundas, 2009) suggested that Rancho La Brea mastodons had unusually narrow molars, based on just 2 specimens. Springer et al. (2009) suggested California mastodons from Diamond Valley Lake were as large as eastern specimens, but a survey showed that while a few individuals were large, they all showed the narrow molar pattern observed by Trayler and Dundas. An initial survey of California mastodons and examination of limited published records from other locations suggests that the narrow tooth morphology is limited to mastodons in the western states.
What is the significance of this project?
Mastodons were major components of North American Ice Age ecosystems. They have been found from coast to coast and from Alaska to Central America, but we know very little about how these populations interacted. Were mastodons so mobile that they formed a single, continent-wide, homogeneous population, or were there significant barriers to their dispersal, such as mountain ranges, ice sheets, and vegetation changes? Documenting regional differences in mastodon populations may help us understand how Pleistocene faunas responded to changing climate conditions during the later stages of the Ice Age.
What are the goals of the project?
In order to compare mastodon populations, we need to measure and otherwise document large numbers of specimens from as many locations as possible. Fortunately, while west coast mastodons are relatively rare, they are common in many other parts of North America, and much of our data can be gathered from isolated teeth. Unfortunately, mastodon specimens are scattered across a large number of museums, and many specimens have never been measured or published in any form. In addition to gathering this data for our own project, we intend to make all our data freely available, giving other researchers a strong starting point for conducting future studies on mastodons.
Budget
This project involves comparing mastodon specimens from a large number of locations, and that means visiting up to 12 museum collections from California to Ohio to take measurements. Since we already have computers, calipers, measuring tapes, and photographic equipment to collect and record data, we're only seeking funds to cover travel expenses to visit these museums.
Meet the Team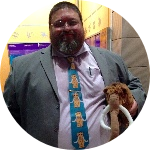 Alton Dooley
Executive Director of the Western Science Center
Affiliates
B.A., Geology, Carleton College Ph.D., Geology, Louisiana State University
View Profile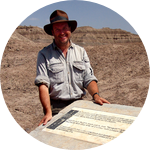 Eric Scott
Associate Curator for Paleontology
Affiliates
Dr. John D. Cooper Archaeological and Paleontological Center
View Profile
Alton Dooley
Even as a child, collecting fossil crinoids in the Appalachian Mountains, I knew I would grow up to be a scientist. The natural world has stories of unimaginable depth and complexity; once seen through the lens of science the world never looks the same again.

I've spent most of my life working for museums, starting as a volunteer and an unpaid intern. I spent 15 years at the Virginia Museum of Natural History as Curator of Paleontology, which gave me the opportunity to work on a vast range of fossils. Most of my work has focused on whales and other marine vertebrates from the Miocene Epoch, although I have published papers on a variety of fossils from different time periods ranging from Cambrian stromatolites to Pleistocene squirrels. In 2014 I left Virginia to become the Director of the Western Science Center in Hemet, California. Since relocating I've been working on Southern California Ice Age faunas, especially mastodons.

To help pay my way through graduate school, I worked as a high school science teacher in rural Louisiana. This experience made clear to me the importance of having researchers actively involved in educating the public about science. Working with my wife, who is also a geologist and an educator, I've spent my career trying to connect the public with paleontological research through blogs and social media, teaching kits, actual and virtual field trips, lectures, ... and crowdfunding. In my view, science is a crucial part of our society, and one of the most exciting aspects of crowdfunding science is that it allows everyone to share in the excitement of scientific exploration.

Eric Scott
Eric Scott is Associate Curator of Paleontology for the Dr. John D. Cooper Archaeological and Paleontological Center in Santa Ana, California, where he has worked since 2015. He is also an adjunct lecturer in biology at California State University, San Bernardino. He studies the evolution and extinction of Ice Age large mammals in western North America,with a strong emphasis on extinct horses and bison. Eric's studies include both field and museum work throughout the western United States as well as Mexico and eastern Africa, and he has authored numerous paleontology research articles in books and professional scientific journals. He is a 30+ year member of the Society of Vertebrate Paleontology, an international
society of professional scientists, where he currently serves on the Government Affairs and Communications Committees. Eric is also an Associate Editor for the Journal of Paleontology.


Prior to his present position as Associate Curator, Eric was Curator of Paleontology for the San Bernardino County Museum in Redlands, California, where he worked since 1991. Prior to that, he was Chief Excavator at the Rancho La Brea "tar pits" in Los Angeles from 1985 - 1991. He graduated from the University of California, Los Angeles in 1990. Eric presently lives in Bloomington, California with his wife, Kim, who is also a paleontologist. He has no sense of humor.
---
Project Backers
31

Backers

101%

Funded

$2,780

Total Donations

$76.77

Average Donation