About This Project
Multiple myeloma (MM) is a cancer of the bone marrow made up of plasma cells (a type of antibody-producing white blood cells). Low oxygen levels (called hypoxia) in the bone marrow increases gene expression in MM tumor cells as part of an adaptive survival response. We are targeting this hypoxic response with an experimental drug that blocks expression of these genes to ask if this molecule kills MM in the bone marrow. This is a novel approach to treat MM, an incurable disease.
Ask the Scientists
Join The Discussion
What is the context of this research?
We have shown that blocking the ability to recruit new blood vessels (a process called angiogenesis) increases hypoxia in tumors, and that this is correlated to cell death (http://www.ncbi.nlm.nih.gov/pubmed/23533410). However, low oxygen poses an interesting paradox; it can kill tumor cells by increasing oxygen stress, but it can also stimulate a pro-survival adaptive response by activating a hypoxia-inducible transcription factor (called HIF) that increases gene expression. HIF works by binding to specific DNA sequences and we are going to be targeting this by using a synthetic DNA binding molecule that can block HIF activity. The larger context of these studies will be to develop novel ways of overcoming MM resistance to chemotherapy and enhance treatment options in the clinic.

What is the significance of this project?
MM is a relatively rare cancer (~1.5% of new cancers, and ~2% of all cancer deaths), but it is the second most commonly diagnosed hematological (blood) malignancy. Each year over 15,000 new cases will be diagnosed and about 11,000 people will die of this disease. MM is incurable and while there have been advances in treatment and management of symptoms, more needs to be done. The Veterans Administration (VA) medical system cares for ~10-12% of all cases of MM in the USA, thus research into new therapies for treating this cancer is especially relevant since the veteran population is especially at risk. Our VA approved research into this disease is focused on developing strategies that can be translated to treating MM patients in the clinic.
What are the goals of the project?
The goal of this study is to test if an experimental synthetic DNA binding molecule (called HIF-PA) that is designed to block HIF from binding to its target DNA sequences can (1) inhibit this adaptive hypoxic response, and (2) can kill MM cells in the bone marrow. We will achieve these goals by using genetically modified, bioluminescent MM cells that can home to and engraft in the bone marrow of immunocompromised mice. The mice will then be treated with our experimental drugs and the effects on tumor growth and survival will be measured using a very sensitive X-ray/imaging system established in our laboratory. After treatment, the mice will be humanely euthanized and the MM cells will be collected from the bone marrow and studied for changes in gene and protein expression.

Budget
This is part of a Veterans Administration (VA) approved research project studying regulation of MM tumor growth in the bone marrow.
Donated funds will be administered by BBRI, a 501(c)(3) Public Benefit Corporation set up to support VA-approved research.

Stage 1: We are asking you to collaborate with us by helping to purchase antibodies/reagents for immunoblots, histology, and gene expression assays to help us explore these biological effects. We have all the equipment needed.
Funds will also be applied for cell line cultures, including plastic ware, feeding medium, antibiotics, and other culture reagents.
We will purchase 20 mice with genetically modified immune system that is unable to recognize and reject human tumor cells. They are a perfect model to study anti-tumor effects in a living system ($100/mouse). The care and upkeep of the mice, called "per diems" costs ~$500/experiment.
Stage 2: Funds in excess of our stage 1 goals will be applied to additional experiments to run the lab.

Endorsed by
I have been Patrick Frost's colleague for over ten years performing research on identifying potential therapeutic interventions against multiple myeloma. Dr. Frost has developed an in vivo system to address questions of drug effectiveness in the bone marrow milieu which is a difficult but important factor in considering the effectiveness of therapeutic interventions against myeloma. Their laboratory is experienced and capable of performing these cutting edge experiments.
Dr. Frost and associates are well qualified to perform the important work described in this project. Your support of this exciting project will put us closer to a cure for multiple myeloma.
I have known Patrick since 2007. He is an expert in animal models (a requirement for this project) and along with his team he has been studying hypoxic response in the past few years. On a personal note, he is a dependable colleague with a charming character. We collaborated in the past to develop a mouse model for studying tumor metastasis in a separate project and plan to continue our collaboration. Patrick's publication record is reflective of his contribution to his field of study.
The research undertaken to better understand multiple myeloma is a pivotal area within the study of blood borne cancers. Studies that helps elucidate the physiology and molecular biology of such tumor cells can lead to better approaches to therapy. This project fits precisely within that realm of research and can contribute to the field of knowledge required to better treat such malignancies.
Meet the Team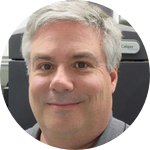 Patrick Frost, PhD
Adjunct Associate Professor
Affiliates
Education: UCLA (BS and PhD), California State University, Long Beach (MS). Fellowships: UCLA and GLA-VAHS. Current: GLA-VAHS Department of Oncology/Hematology
View Profile
Veena Mysore, PhD
Project Research Scientist
Affiliates
Greater Los Angeles VA Healthcare System and UCLA
View Profile
Team Bio
Dr. Mysore and I have a great deal of combined experience in studying many different aspects and types of cancer, with an extensive record of publications and presentations. Our unique skills make us very qualified to perform the proposed studies.
Dr. Frost is an expert in animal models of cancer and has developed cutting edge and highly innovative methods to study myeloma in the bone marrow.
Dr. Mysore is an expert in molecular, cellular and genetic biology techniques and procedures.
Patrick Frost, PhD
I earned my BS and PhD at UCLA in the field of tumor biology. Over the last 15 years, I have been working at the Greater Los Angeles VA Healthcare System (GLA-VAHS). During that time, I was a recipient of the prestigious Howard Temin K01 mentored fellowship grant from the National Cancer Institute. This highly competitive award is given to outstanding junior scientists who are committed to developing research programs highly relevant to the understanding and treatment of cancer.
Since 2011, I have been the principle investigator on a VA MERIT grant investigating how targeting angiogenesis and the adaptive hypoxic response in multiple myeloma cells affects tumor growth and survival.
My early publications in the area of tumor resistance established that subtoxic concentrations of chemotherapeutic drugs could sensitize tumor cells to killing by the immune system. We were also one of the first groups to recognize that the sensitivity of myeloma cells to rapamycin (a drug that inhibits protein expression) was linked to the inhibition of angiogenesis and induction of hypoxia in the tumors. This suggested to us that targeting the "resistant" phenotype of tumor cells could form the basis of novel anti-cancer therapies.
Building upon the above studies, and by using mouse models, we have been able to directly show that the induction of hypoxia is correlated to the killing of myeloma tumor cells. The logical next step is to understand what role hypoxia plays in this killing tumor cells and if we can use experimental drugs to target these effects in myeloma cells engrafted in the bone marrow.
Veena Mysore, PhD
I have a broad background in cancer biology with more than 12 years of research experience. Currently my work focuses on the effect of hypoxia on multiple myeloma cells and studying the effect of inhibiting HIF (hypoxia inducible factor) in cell proliferation and apoptosis.

My previous research involved studies to understand the molecular mechanisms of tumor development and the effects of targeting these gene networks using therapeutic agents. Using a cervical cancer model, I was involved in characterizing the tumor suppressor gene, cystatin E/M, in cell lines and primary tumor samples. In addition, I have worked extensively on the effect of curcumin, a natural plant compound, and its role as a tumor suppressor in head and neck cancers.

I am well versed in cancer biology and have extensive experience in biochemical, molecular, and microscopic analyses of clinical samples.

My bibliography: http://www.ncbi.nlm.nih.gov/sites/myncbi/1HWY89bFsd85x/bibliography/48478908/public/?sort=date&direction=ascending
---
Project Backers
43

Backers

100%

Funded

$5,000

Total Donations

$113.64

Average Donation