About This Project
Texas was a very different place 95 million years ago. Dinosaurs and crocodiles dominated a lush coast, preserved as a rich fossil bed in Dallas-Forth Worth called the Arlington Archosaur Site (AAS). This site provides an unparalleled glimpse into life during the Cretaceous, but it is also threatened by urban development. With your support, we can continue researching this world-class site, while also incorporating outreach with broad educational impact on the surrounding community.
Ask the Scientists
Join The Discussion
What is the context of this research?
If we took a step back 95 million years, the world was a very different place. During the Late Cretaceous Period a shallow seaway separated North America into separate eastern and western landmasses. The fossil record shows major patterns of change in animal groups in the west but almost nothing is known of ecosystems "across the pond" in the east. The Woodbine Formation in Texas preserves a rare fossil record of this time for the east, but many of these fossils are isolated and incomplete, making interpretations more difficult. Preliminary excavations at the AAS are providing hints at a more complete ecosystem, preserving similar patterns of change to what we see in the west. The area is undergoing a period of rapid urban development, adding new urgency to our field work (see below).
What is the significance of this project?
The AAS contains an extraordinary diversity, abundance, and quality of fossil material, preserving one of the most complete terrestrial ecosystems known for this time period and area. The AAS has a lot to tell us about Late Cretaceous life in the east. Over 2200 individual specimens have been found belonging to numerous groups including carnivorous dinosaurs, duck-billed dinosaurs, crocodilians, turtles, mammals, amphibians, sharks, bony fish, invertebrates, and plants. We even have fossil poop!
Many of the fossils found here represent brand new species. Studying these fossils will help to establish the geographic and environmental forces that shaped Cretaceous ecosystems in North America by providing a necessary comparison to the fossil record of the west. Were they alike or different?

What are the goals of the project?
We will use these funds to accomplish two main goals. First, we will support new discoveries by expanding the excavation, running an intensive month-long field program from June-July 2016 utilizing crews composed of volunteers, students, and scientists following best practices for fossil recovery. Second, we will continue studying the AAS ecosystem. When we are not out digging, we will spend time in the Perot Museum collections with the fossils, working to identify the many thousands of specimens and make comparisons to known fossil groups. Most importantly we will extensively analyze AAS sediments in the laboratory, including grain size, stable isotope, X-ray diffraction (XRD), and X-ray fluorescence (XRF), to reconstruct the original environment and climate when the AAS was deposited.
Budget
Continued field work is a necessary component of paleontological research. We have worked at this site for the past several years and exciting new discoveries continue to be made. Every dig has the potential to expose new fossils and additional data that will help us better understand the organisms that existed here in the past. Since our dig site is in an urban area much of our costs go towards travel to and from Dallas, food, and lodging at nearby hotels during a month long field season. We try to keep these costs minimal. The project already has sufficient tools and equipment for diggers to use. During field work we collect sediment samples for laboratory analysis that allows us to create a more detailed picture of the Cretaceous environment that these organisms inhabited and reveal important clues as to why they are preserved here.

For stretch goal budget items, please check out our detailed Lab Note.
Endorsed by
The Arlington Archosaur Site is an exciting locality that provides a rare window in to the dawn of the Late Cretaceous. This project has the strong potential to reveal so much more about how the world was changing towards the end of the Mesozoic and the origins of some of the well-known Late Cretaceous dinosaur and crocodilian groups. I have worked on a number of taphonomy projects with Christopher Noto and can attest to his professionalism and research abilities for this project.
The AAS is critical to understanding the evolution and ecology of dinosaurs during the last stretch of the Mesozoic in the Northern Hemisphere. In geological time the AAS is situated in the biggest gap of the Cretaceous vertebrate fossil record, and in space it is in the mysterious subcontinent of Appalachia. These facts make the AAS an important key to understanding Cretaceous ecosystems. The efforts of Drs. Noto and Drumheller-Horton and their team from summer to summer are integral to our knowledge of an unknown corner in world of dinosaurs.
Meet the Team
Christopher Noto
Assistant Professor, Biological Sciences
Affiliates
University of Wisconsin-Parkside
View Profile
Stephanie Drumheller-Horton
Assistant Adjunct Professor, Lecturer, Earth and Planetary Sciences
Affiliates
The University of Tennessee
View Profile
Team Bio
The AAS team is composed of both professional scientists and skilled amateur fossil hunters with a passion for paleontology. These volunteers are too numerous to mention, but form the heart and soul of the operation. Such volunteer-driven public participation in a fossil dig site is rare and the many discoveries from the site are due to their tireless efforts. Our scientific team is composed of early-career paleontologists united in our interest to study and preserve a singular fossil locality.

Christopher Noto
I grew up in upstate New York, where I developed a passion for fossils (particularly dinosaurs) and natural history at an early age. I received my Bachelor of Science degree in Geophysical Sciences from the University of Chicago and a PhD in Ecology and Evolution from Stony Brook University.
At heart I consider myself a paleoecologist, where I combine a range of approaches including taphonomy, comparative anatomy, paleobiogeography, and functional morphology in pursuit of my research interests. I have over a decade of field experience, including extensive field work in Texas, Wyoming, and Utah.
I have been working at the Arlington Archosaur Site since 2010. Through this time I have gained an intimate knowledge of the area and its people, building a strong rapport with stakeholders: the landowners, local institutions, amateur fossil hunters, and community leaders. I have published four journal articles and over a dozen conferences abstracts on discoveries from the site, with many more in the pipeline. I love sharing my knowledge and passion for science with the public and have given numerous public lectures to groups of all ages.
You can read more about me on my website.

Stephanie Drumheller-Horton
I grew up in east Tennessee, and received my BS from the University of Tennessee, majoring in geology and minoring in biology. While attending UT, I found my future path in an unexpected place, a forensic anthropology class taken on a lark my last year of undergrad. I went on to receive a PhD in Geoscience from the University of Iowa in 2012, taking similar principles to those used in forensics and applying them to fossils that are millions of years old.

My research interests fall into two broad categories, taphonomy (the study of the processes that act on remains after death) and crocodylian evolution and behavior. I am happiest when combining the two, such as when I joined Chris Noto and Derek Main in describing patterns of bite marks left by a new species of crocodyliform found at the Arlington Archosaur Site (AAS) in 2012. There is so much work left to do with the AAS crocs, and the site's unique age, location, and level of public participation make it an amazing resource.






Additional Information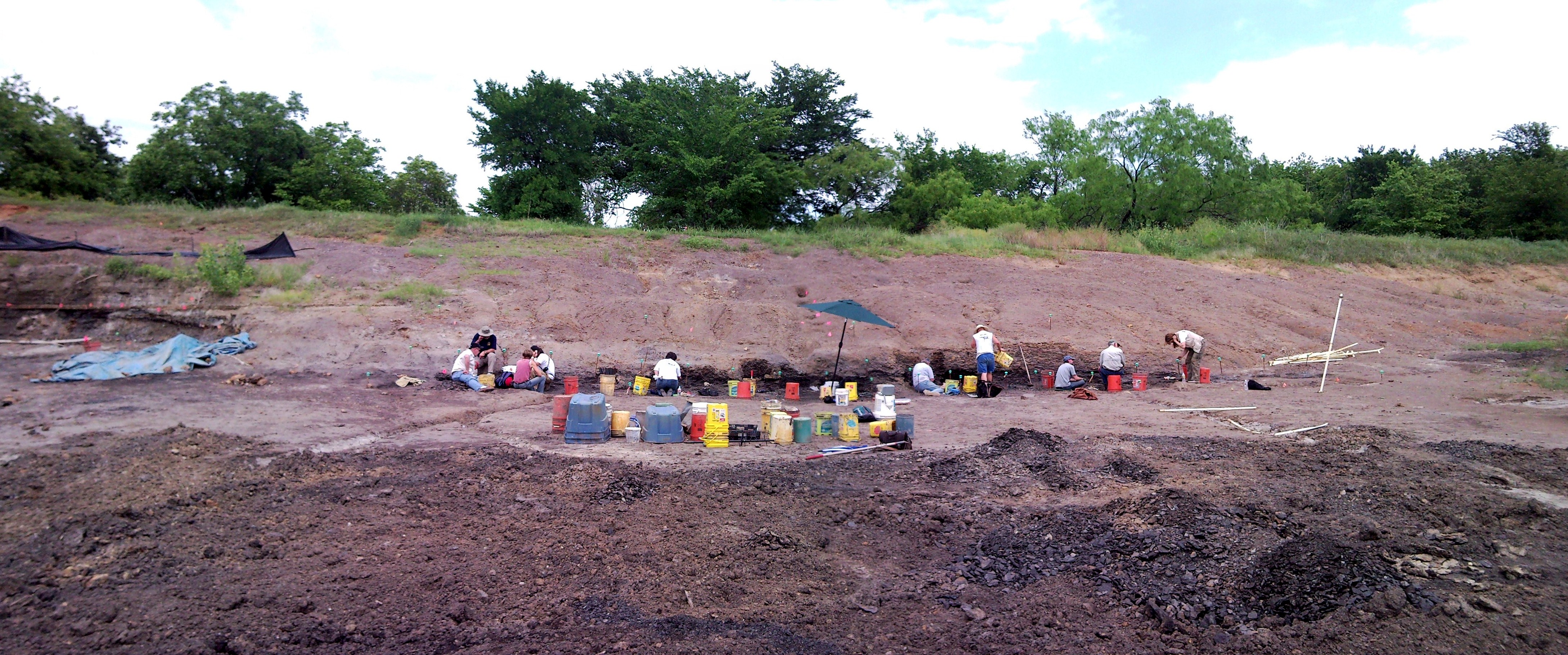 The AAS is a unique urban dig locality that operates as a partnership between professional scientists and amateur fossil enthusiasts. Click here for a slide show with photos of volunteers in action. The AAS offers a first-hand experience with a scientific fossil excavation, providing a place where members of the public can create a personal connection with science and paleontology through direct participation. In practice, the dig site acts as an open-air classroom for volunteers and visitors, leveraging exceptional fossil resources to teach people about the science of paleontology. All fossil material we discover is curated by the Perot Museum of Nature and Science in Dallas.

Watch a recent NBC5 news piece about the AAS here.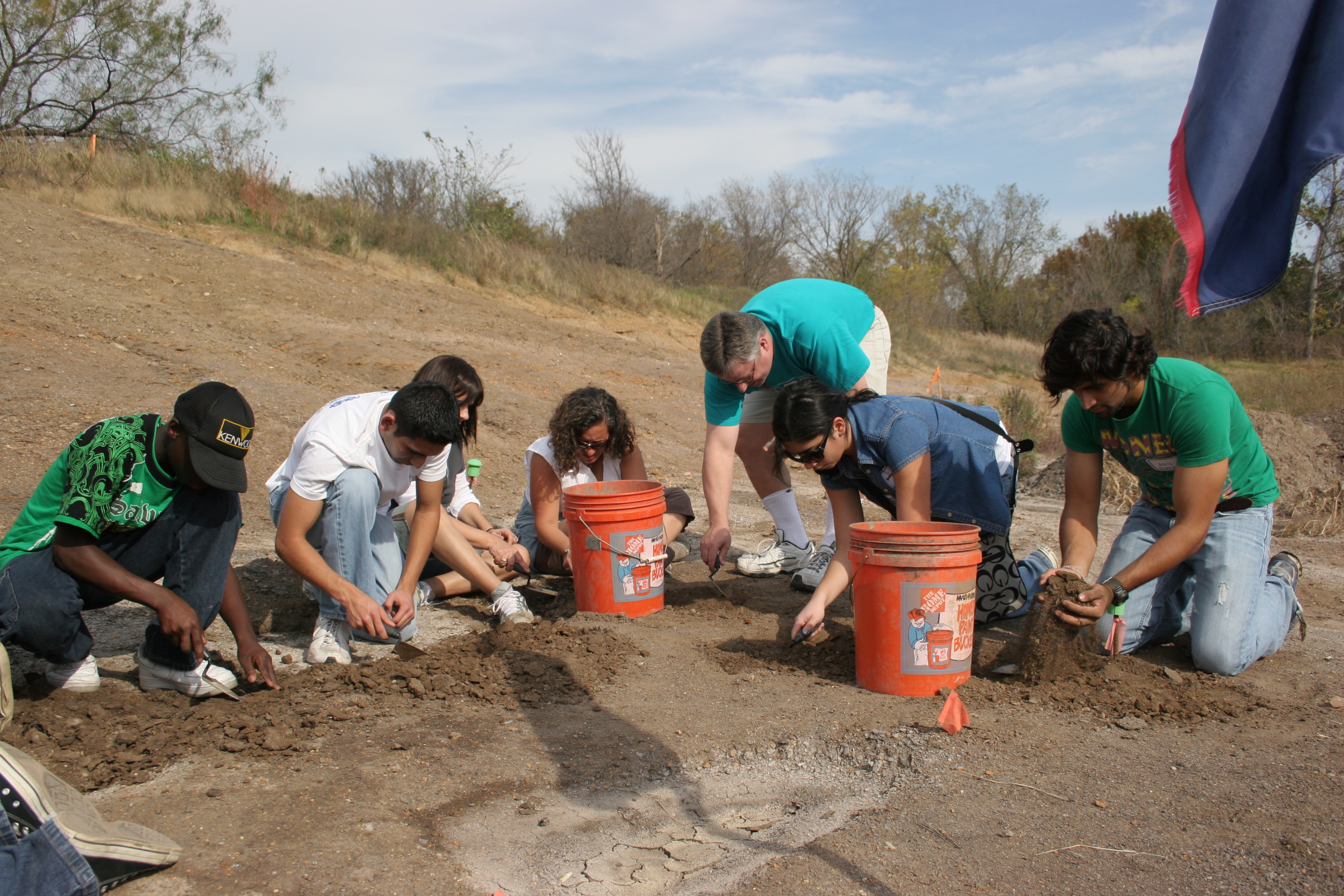 The location of the site places it under pressure from the surrounding community. We have a strong, positive relationship with the land owners, who recognize the importance of the site and have set aside a part of the land to continue the excavation. These conservation efforts are important for supporting the ongoing work at the AAS, but the rapid pace of development in the area means the long-term future of the site and its fossil resources is less certain. Therefore it is critical that we collect as many fossils and other data as possible now while continuing to demonstrate the scientific, educational, and cultural value of this site to the community.
For more information please visit our:
We are always looking for new diggers! If you are interested in becoming an AAS volunteer, please contact arlingtonarchosaursite@gmail.com for more information.

---
Project Backers
102

Backers

138%

Funded

$6,927

Total Donations

$65.46

Average Donation